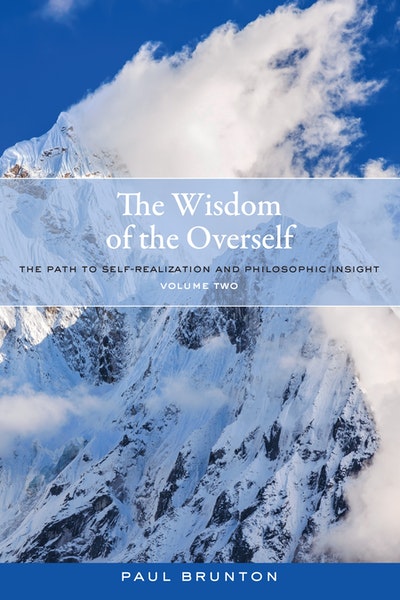 Published:

1 June 2015

ISBN:

9781583949146

Imprint:

North Atlantic

Format:

Trade Paperback

Pages:

592

RRP:

$36.00
The Wisdom Of The Overself
---
---
This masterwork was inspired by Paul Brunton's years spent with wise sages in Asia, who recognized that he had a significant role to play in the transmission of Hindu Vedanta and Buddhism to the West. The Wisdom of the Overself (and its companion volume The Hidden Teaching Beyond Yoga) is a profound re-creation of the teachings of those two great traditions for the contemporary spiritual seeker. In print since the 1940s, it remains one of the most comprehensive, clear, yet practical guides on the path to enlightenment. Brunton's teaching awakens us to our divine roots and the intelligence that underlies our world of experience.
Brunton unfolds a grand vision for human development through a graded exploration of consciousness as the source of all experience; the working of karma and destiny, free will and grace; the nature of individuality and the witness consciousness; the lessons and mystic potentials of dream and deep sleep; the passage through death to the next life; the nature and lessons of evil and suffering; and, especially, the wonder that is the Overself and the Mind of the World. He also provides seven ultra-mystic exercises and describes the specific development that each brings. These include a healing meditation on the sun for self and others, a meditation on the timeless self, and practices utilizing past and future as well as dream and sleep. These techniques lead to the deepest spiritual realizations, to the true "Wisdom of the Overself."
This new edition has been updated to incorporate Brunton's final revisions and includes an introduction by the Paul Brunton Philosophic Foundation.
Contents
Foreword by the Paul Brunton Philosophic Foundation
1. Prefatory
2. The Meaning of Mentalism
3. The Birth of the Universe
4. Studies in Dreams
5. The Metaphysics of Sleep
6. The Secret of the "I"
7. The Scorpion of Death
8. The Immortal Overself
9. The Shadows of Evil and Suffering
10. The War and the World
11. The World-Mind
12. The Unveiling of Reality
13. Initiation into Mystical Experience
14. The Yoga of the Discerning Mind
15. The Mystical Phenomena of Meditation
16. Some Fruits of Philosophy
Appendix: Additional Resources from The Notebooks of Paul Brunton, Compiled by the Paul Brunton Philosophic Foundation Editors
Published:

1 June 2015

ISBN:

9781583949146

Imprint:

North Atlantic

Format:

Trade Paperback

Pages:

592

RRP:

$36.00