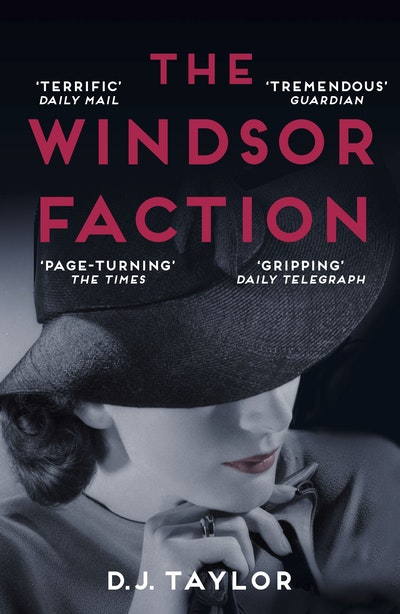 Published:

1 September 2014

ISBN:

9780099578895

Imprint:

Vintage

Format:

Paperback

Pages:

384

RRP:

$19.99
The Windsor Faction
---
---
---
A taut and gripping thriller: King Edward VIII is on the throne and keen to broker peace at any cost - WWII could turn out very differently...
'Terrific' Daily Mail 'Tremendous' Guardian 'Page-turning' The Times 'Gripping' Daily Telegraph
Autumn 1939. In an alternative world, where Edward VIII still sits on the throne, storm clouds gather over Europe, German troops amass and a 'King's Party' of fascist peace campaigners is stealthily undermining the war effort.
For Cynthia Kirkpatrick, the war brings a new-found freedom - lunchtime drinks at the Ritz, rented attic rooms, late-night rackety parties and intriguing new acquaintances.
But two new friends loom larger than others, her glamorous colleague Anthea and Tyler, an enigmatic American working at the Embassy. Initially Cynthia is dazzled by them both but soon discovers they have secrets which could prove dangerous, both to her and the country at large.
Published:

1 September 2014

ISBN:

9780099578895

Imprint:

Vintage

Format:

Paperback

Pages:

384

RRP:

$19.99
Praise for The Windsor Faction
Compulsively enjoyable

Independent
A tense phoney-war thriller, as evocative in its period representations as it is compelling in its denouement

Mail on Sunday
With its meticulous period detail and its dissection of the English class system at work, this new novel from the author of the highly accomplished Derby Day proves that good historical fiction does not have to take place in a past that actually happened

Nick Rennison, Sunday Times
It is much harder to show historical change occurring through incremental creep rather than sudden swerves of direction. That DJ Taylor's novel achieves this so well makes in an unusually smart and subtle addition to the genre… Gripping entertainment

Robert Douglas-Fairhurst, Daily Telegraph
A splendid "what if" thriller… Terrific

Daily Mail
This galloping, might-have-been thriller… Taylor cleverly uses genuine historical details to make the nightmare horribly convincing

Kate Saunders, Saga
A highly successful literary thriller with one eye on a shocking chapter in the nation's genuine history and another on the potential for authorial invention

Christian House, Independent on Sunday
Offers a chilling alternative view of the direction the Second World War might have taken had the man who later became the Duke of Windsor…remained on the British throne

Mark Nicholls, UK Regional Press
A crafty and pitch-perfect novel of Nazi sympathizers and secret agents in wartime London

Independent
It is Taylor's achievement to have written a tense, page-turning thriller, enriched by acute social observation, within which unfolds a subtle meditation upon where the quest for peace ends and the path to treason begins

Graham Stewart, The Times
A highly successful thriller

Oldie
The novel is much more than an intriguing exercise in alternative history… This is as skilful and enjoyable a novel as you can ask for, the work of a master-craftsman

Allan Massie, Scotsman
Mrs Simpson died childless, but her thronging offspring have been the biographies and fictions spun from her intervention in the British monarchy. The Windsor Faction is a clever and diverting addition to her literature

Mark Lawson, Guardian
A fascinating foray into the 'what if?'… Ingenious and extremely plausible

Trevor Heaton, UK Regional Press
A gripping and highly convincing novel… Here are intrigue and clever parallel narratives… One emerges from immersion in this tantalizing creation admiring both Taylor's art and the cleverness of his imagination

Allan Massie, Scotsman
This is a gripping tale of intrigue

Good Book Guide
A splendidly disrespectful counterfactual history that questions the perceived patriotism of King Edward VIII and his notoriously pro-Hitler views

Mark Perryman, Huffington Post
A gripping and highly convincing novel… Here are intrigue and clever parallel narratives… One emerges from immersion in this tantalizing creation admiring both Taylor's art and the cleverness of his imagination

Allan Massie, Scotsman
This is a gripping tale of intrigue

Good Book Guide
A splendidly disrespectful counterfactual history that questions the perceived patriotism of King Edward VIII and his notoriously pro-Hitler views

Mark Perryman, Huffington Post
A witty, meticulous detailed alternative version of the second world war

Observer