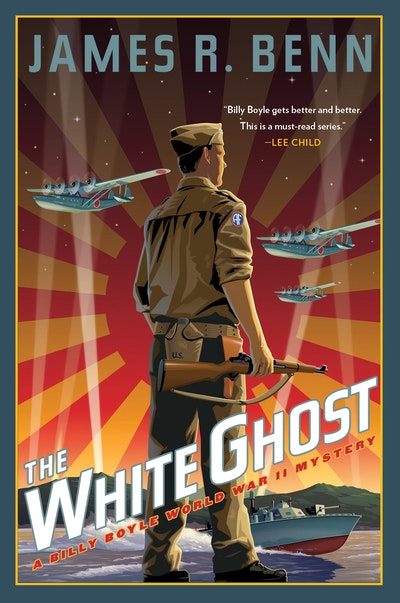 Published:

15 October 2017

ISBN:

9781616957117

Imprint:

Soho Press

Format:

Trade Paperback

Pages:

368

RRP:

$27.99
The White Ghost
---
---
In the Pacific during WWII, Billy Boyle must discover if skipper, and future president, Jack Kennedy is a cold-blooded killer.
1943: In the midst of the brutal, hard-fought Solomon Islands campaign between the Allies and the Japanese forces, Lieutenant Billy Boyle receives an odd assignment: he's sent by the powerful Kennedy family to investigate a murder in which PT skipper (and future president) Jack Kennedy has been implicated. The victim is a native coastwatcher, an allied intelligence operative, whom Kennedy discovered on the island of Tulagi with his head bashed in. That's Kennedy's story, anyhow.
Kennedy was recovering in the Navy hospital on the island after the sinking of his PT-109 motor torpedo boat. The military hasn't decided yet whether to make him a hero for surviving the attack, or have him court-martialed for losing the boat, and the last thing the Kennedy clan wants is a murder charge hanging over his head. Billy knows firsthand that he shouldn't trust Jack: the man is a charmer, a womanizer, and, when it suits his needs, a liar. But would he kill someone in cold blood? And if so, why? The first murder is followed by two more, and to find the killer, Billy must sort through a tangled, shifting web of motives and identities, even as combat rages all around him.
Published:

15 October 2017

ISBN:

9781616957117

Imprint:

Soho Press

Format:

Trade Paperback

Pages:

368

RRP:

$27.99
Praise for The White Ghost
Praise for The White Ghost "Billy Boyle gets better and better. This is a must-read series." —Lee Child  "A complex tale that maps the human cost of warfare in the South Pacific—and delivers a deft portrait of a young Jack Kennedy struggling to recover from the losses of PT-109. Poignant and riveting." —Francine Mathews, author of JACK1939 "Cleverly told . . . The book weaves fascinating military facts with obscure historical details about the islands and native life." —The Arizona Republic "Page-turning . . . For avid readers of all things World War II–fact and fiction–author James Benn's 10th suspenseful Billy Boyle mystery novel again provides the captivating mix of both in The White Ghost."  —Examiner.com "Remarkable . . . Benn's research gives readers a you-are-there feeling about that long ago war, but the strongly developed characters always remain front and center. Readers will assume—with good reason—that our future president will not become the villain in The White Ghost but Benn maintains suspense as we see both the charm and the ruthlessness of Kennedy." —CT News "The White Ghost is a strongly conceived, brilliantly executed murder mystery, interweaving real-life historical figures into a fictional storyline. This is one of the best series mysteries currently being written, and each new book is better than the last." —Mysterious Reviews "One fun aspect among the multiple glories of the Billy Boyle World War II mysteries is the author's clever and creative way of interjecting actual historical figures into the plots." —The Day "Riveting . . . Great historical fiction for readers who crave a good mystery as well as a good war story." —Historical Novel Society "[Benn's] characters are wonderfully drawn, especially his star duo but also in this case also Jack Kennedy, not the easiest historical figure to capture convincingly. And his picture of the world of the Pacific Theater of the Second World War is terrifically evocative . . . The White Ghost [is] a delicious summer hour's read." —Open Letters Monthly "The tension between a murder investigation and wartime action has always been at the heart of this series—How can one killing matter in a world where hundreds die every day?—but here it is ramped up to a new level, in terms of both suspense and character development. Working with recently declassified documents about the Solomon Islands Campaign, Benn spins an absolute corker of a war story. The best of an always satisfying series." —Bill Ott, Booklist, Starred Review "Billy's 10th case features a delicious premise, a full-bodied portrait of young JFK, and a beautifully textured look at military life in World War II." —Kirkus Reviews "The historical details are stellar in Benn's tenth series outing."  —Library Journal  "Benn does a good job of capturing life under the constant threat of Japanese attack—and depicting the Kennedys as flawed human beings." —Publishers Weekly  Praise for The Rest Is Silence "With its very smooth mix of mystery and historical references (with a dash of Downton Abbey), just about everybody will find something of interest in this fizzy retro cocktail." —Library Journal  "This series continues to grow, with the characters adding depth in each episode, and the ever-fascinating historical material dexterously tucked into the plot." —Bill Ott, Booklist "Benn offers a thrilling mix of fact and fiction in his ninth whodunit featuring Boston cop-turned-army investigator Billy Boyle. The affable and capable Boyle continues to grow as a character, and Benn effectively uses the impending Allied invasion of Europe as the background for the whodunit plot." —Publishers Weekly  "[W]hiz-bang first-person narrative keeps the story afloat, and its Greatest Generation plot gives it an appealing sense of nostalgia." —Kirkus Reviews "A double-edged sword of a novel. A ripping murder mystery and a meditation on the terrible costs of war—hidden and otherwise." —Reed Farrel Coleman "This Billy Boyle World War II mystery is an exceptionally written book . . . the plot and historical sights and sounds are top-notch. Whether a reader holds WWII books or suspense books close to their heart, this one will be a true find." —Suspense Magazine "[W]ill be savored by any fan of historical mysteries… don't miss The Rest is Silence! Highly recommended." —I Love a Mystery "Everything about this particular entry in the Billy Boyle series and the series in general makes for great reading. Benn does his research, and it shows in the quality of his writing. The scenes are intense, the dialogue powerful and genuine. Spend some time with Billy Boyle. You'll be glad you did."  —The Weirs Times Praise for the Billy Boyle series "This book has got it all—an instant classic." —Lee Child "Terrific . . . Razor sharp." —Joseph Finder "Full of action, humor and heart." —Louise Penny "Spirited wartime storytelling." —The New York Times Book Review "A fast-paced saga set in a period when the fate of civilization still hangs in the balance." —Wall Street Journal "Consistently entertaining." —WWII Magazine "Stark and poignant." —Denver Post "Benn's Billy Boyle mysteries are always entertaining, filled with riveting characters, and beautifully plotted stories." —Seattle Post-Intelligencer "Benn does a superb job of simultaneously capturing the personal anguish of war and creating a splendid adventure novel." —Library Journal, Starred Review From the Hardcover edition.