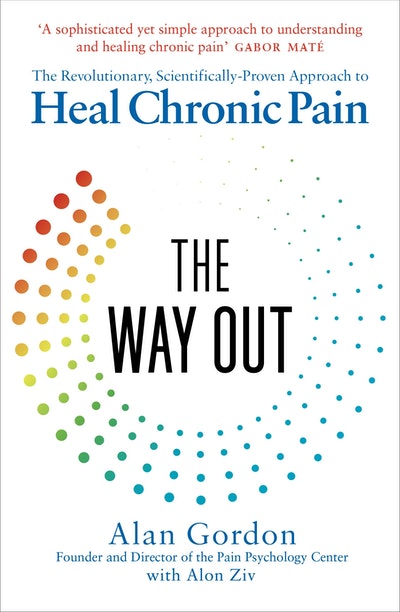 Published:

26 August 2021

ISBN:

9781473575950

Imprint:

Ebury Digital

Format:

EBook

Pages:

224
The Way Out
The Revolutionary, Scientifically Proven Approach to Heal Chronic Pain
---
---
---
The revolutionary, scientifically-proven solution to end chronic pain, for the 1.2 billion sufferers worldwide.
Rewire your brain, end your pain.
From back pain to migraines, arthritis and sciatica, over 1.2 billion people worldwide suffer from regular or chronic pain, 28 million in the UK alone. It's a global epidemic that regularly resists treatment and can totally derail people's lives. But it doesn't have to be this way.
This is the revolutionary message from psychotherapist Alan Gordon who, frustrated by the lack of effective treatment for his own debilitating pain, developed a highly successful approach to eliminating symptoms without surgery or medication, offering a viable and drug-free alternative to existing - and often addictive - methods.
Based on the premise that pain starts in the brain not the body, Gordon's Pain Reprocessing Therapy (PRT) enables you to rewire your neural circuits and turn off 'stuck' pain signals. In a ground-breaking study, PRT helped 98% of patients reduce their pain levels and 66% were completely cured. What's more, these dramatic changes held up over time.
In The Way Out, Gordon provides an easy-to-follow guide to ending your pain with PRT. Drawing on cutting-edge research along with his own experiences as a chronic pain sufferer, he will help you:
- Understand how the brain can unintentionally 'learn' chronic pain
- Turn off pain signals that have become 'stuck' - these are false alarms
- Use revolutionary techniques to break the cycle of fear that causes chronic pain
- Develop long-term strategies for living pain-free
Game-changing, practical and full of real-life stories from Gordon's clinical practice, this book will change the way you think about pain forever - and give you a way out of your pain today.
Published:

26 August 2021

ISBN:

9781473575950

Imprint:

Ebury Digital

Format:

EBook

Pages:

224
The Way Out highlights the role of neuroplasticity in chronic pain and explores how to tackle it. This is a great positive step forward in chronic pain treatment.

Clifford Woolf, MD, professor of neurology and neurobiology, Harvard Medical School
The Way Out is a groundbreaking approach to the treatment of chronic pain that gives hope to those who were thought to be incurable. All chronic pain patients owe it to themselves to read this book.

Andrew Weil, MD, #1 New York Times bestselling author of Spontaneous Healing
The Way Out offers a wonderfully clear and compelling combination of personal experience and the latest breakthroughs in brain science to show how to reduce chronic pain. Beautifully written - a transformation that will affect both you and those with whom you share your life.

Mark Williams, emeritus professor of clinical psychology, University of Oxford, coauthor of Mindfulness
A compelling journey and fascinating read. In The Way Out, Gordon and Ziv bring together serendipity and science, demonstrating the power of the mind, and how we all can harness our own brains for healing.

Judson Brewer, MD, PhD, New York Times bestselling author of Unwinding Anxiety and The Craving Mind
Alan Gordon writes with compassion, empathy, and a deep understanding of living with pain. Finding relief from his own suffering prompted him to find freedom for others.

Sharon Salzberg, author of Lovingkindness and Real Change
At long last, a successful treatment for chronic, disabling pain. The Way Out provides valuable information about the ailment of pain, and many helpful suggestions on how to heal.

Aaron T. Beck, MD, founder of cognitive behavioral therapy (CBT), emeritus professor of psychiatry, University of Pennsylvania School of Medicine
Every person who suffers with chronic pain will find comfort and healing in the pages of The Way Out. Every clinician who treats chronic pain should read The Way Out, they will become a wiser and better guide for their patients.

Steven Richeimer, MD, Chief of Pain Medicine, USC Keck School of Medicine
It's long been assumed that chronic pain is irreversible, but The Way Out introduces an approach that proves otherwise. The Way Out is quite simply the most effective treatment for chronic pain.

Howard Schubiner, MD, clinical professor at Michigan State University College of Human Medicine, and founder and director of the Mind-Body Medicine Program, Ascension Providence Hospital
Quite possibly the most important pain book ever written. The Way Out will be the answer for millions who live in constant agony. Read this book, you deserve it.

Annie Grace, author of This Naked Mind
The strain in pain lies mainly in the brain. This accessible, warm book is a re-minder of how you can learn to better control pain by learning to think differently about it.

David Spiegel, MD, Willson Professor and Associate Chair of Psychiatry & Behavioral Sciences, Director of the Center for Integrative Medicine, Stanford University School of Medicine, coauthor of Trance and Treatment
With straightforward and practical wisdom, The Way Out presents a sophisticated yet simple approach to understanding and healing chronic pain-an approach grounded in advanced science and proven clinical experience.

Gabor Maté MD, author of When the Body Says No