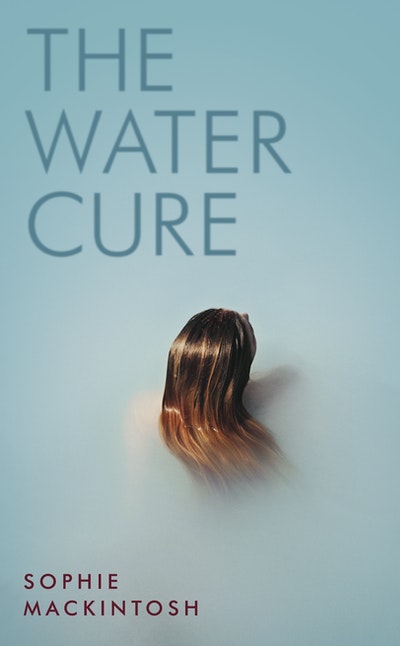 Published:

7 May 2019

ISBN:

9780241983010

Imprint:

Penguin General UK

Format:

Paperback

Pages:

256

RRP:

$19.99
The Water Cure
LONGLISTED FOR THE MAN BOOKER PRIZE 2018
---
---
---
A dreamlike and compulsive feminist dystopia for the #metoo generation
You are a girl. Your body is vulnerable. Men will break it if they can - and out there, they absolutely can.
Suffering will prepare you for the worst. The cure is nothing compared to what you've been spared in the sickness. It takes a lot of love to hurt you like this.
Now, come outside. It's time to play the drowning game.
Published:

7 May 2019

ISBN:

9780241983010

Imprint:

Penguin General UK

Format:

Paperback

Pages:

256

RRP:

$19.99
Praise for The Water Cure
Eerie, electric, beautiful. It rushes you through to the end on a tide of tension and closely held panic. I loved this book

Daisy Johnson, author of 'Fen'
Creepy and delightful, a portrayal of post-apocalyptic puberty, intermingling desire and despair. It has a pinch of Shirley Jackson, a dash of chlorine, and an essence all of its own

Rowan Hisayo Buchanan, author of 'Harmless Like You'
Powerfully unsettling, immensely assured, calmly devastating. It conjures a world both alien and familiar, exploring the physical and psychological cruelties enacted on women, by men, in the name of their protection, and the noble and ignoble uses to which anger can be put in a perverse world. This is a gem of a novel, and I was bowled over by it

Katherine Angel, author of 'Unmastered'
A work of cool, claustrophobic beauty. Sophie Mackintosh writes devastatingly well about the complexities that women face in loving men, and in loving each other

Eli Goldstone, author of 'Strange Heart Beating'
Stunning... A haunting story of abuse, death, and desire... Chilling and topical, a breathtaking debut

Dazed
[A] wildly confident debut... Take the strange social ceremonies of The Lobster and the pheromone-rich claustrophobia of The Beguiled and you come close to the world Sophie Mackintosh conjures

AnOther Magazine
Bold, inventive, haunting... With shades of Margaret Atwood and Eimear McBride, you'll be bowled over by it

Stylist (61 Books to Read This Spring)
[A] lyrical debut, original and very atmospheric

Good Housekeeping
A hypnotic read... This extraordinary debut is a feminist, quasi-dystopian read - great for fans of Hot Milk, The Girls and The Vegetarian

Elle
Bewitching... [An] ambiguous utopia

Guardian
Eerily beautiful, this strange, unsettling novel creeps up and grabs hold of you

Paula Hawkins, author of 'The Girl on the Train'
Otherworldly, brutal and poetic: a feminist fable set by the sea, a utopia gone awry, a female Lord of the Flies. It transported me, savaged me, filled me with hope and fear. It felt like a book I'd been waiting to read for a long time

Emma Jane Unsworth, author of 'Animals'
Powerful, mythic, seductively sinister... Her alternative world is as carefully imagined as one of Margaret Atwood's... [Sophie Mackintosh] is a writer to be reckoned with

Book Oxygen
Eerie and unsettling, the novel exerts a hypnotic grip as the tension builds

Daily Mail
An extraordinary debut... Otherworldly, luminous, precise

Guardian
In raw, visceral prose, Mackintosh probes at ideas of the threat of male violence, the ways women are told to protect ourselves, love and sisterhood and survival. A hypnotic, stormy book, with one of my favourite endings I've read in a long while

The Pool
Searing, richly drawn, eerily compelling... As foreboding in what it holds back as in what it reveals

Stylist
Uneasy, mythic, lawless... The atmospheric landscapes cloak trauma and violence in wisps of uncertainty, where bad feelings coalesce as both presciently felt and strangely unknowable

Frieze
Compulsive, eerily gorgeous, [it] will have you gripped until the end... A film adaptation feels inevitable... As far as debuts go, this is superb

Irish News
[An] eerie, uncanny literary debut... Beautifully written, pared down and hypnotic

Sunday Times Culture
A superb debut

i
Electric [and] beautifully strange... Her novel is an exercise in minimalism

Times Literary Supplement
Elemental... [A] utopia portrayed in spectral, organic prose... Mackintosh is a wonderful stylist; the full scope of her imagination, as well as the cohesion of her vision, is evident on every page... A seriously impressive feat

Irish Times
The Water Cure is eerily still and pure - with saline bite... Mackintosh asks if it is the traumas of our pasts that ultimately pose the greatest threat to our futures

New Statesman
The Water Cure deserves a Sofia Coppola-style big-screen treatment, although its cultish overtones and sinister denouement are as reminiscent of The Wicker Man as The Virgin Suicides

The Literary Review
Darkly gratifying, dreamy, primal, and arresting [as] a fairy tale... The overgrown grounds, with their perimeter of rusty barbed wire and shark-infested waters, resemble Sleeping Beauty's castle

New Yorker
A feminist dystopian fairy tale, a sexual coming-of-age story and a survival-of-the-fittest tale. Evocative, suspenseful and bleak - in short, everything this age seems to be demanding

NPR
Article