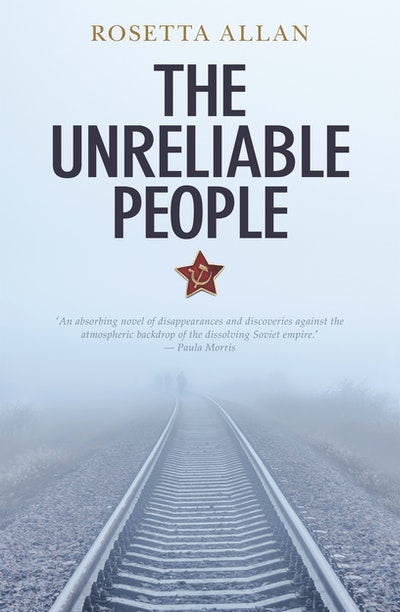 Published:

7 May 2019

ISBN:

9780143773566

Imprint:

Penguin

Format:

Trade Paperback

Pages:

352

RRP:

$32.99
The Unreliable People
---
---
---
A whole community deported across Soviet Russia, a rice farmer and his wife separated through time, a young art student searching for her identity and for love . . .
Is all love doomed under a heartless regime?
Antonina is a student at the prestigious Academy of Art in St Petersburg. At times, though, she feels she might be a better fit at the Centre of Nonconformist Art across town. She knows she stands out as different, being neither Russian, Korean nor Kazakh — and yet she embodies all three. She is Koryo-saram: a descendant of the exiled population that Stalin labelled the Unreliable People. But what does that mean? And who was the strange, elegant woman who came to the window when Antonina was a young child? And why did she entice Antonina to climb out and go on a long train journey through Kazakhstan?
This is a compelling story where love and loss intersect unexpectedly with a Korean fable about a crow king and a rice farmer's wife.
Published:

7 May 2019

ISBN:

9780143773566

Imprint:

Penguin

Format:

Trade Paperback

Pages:

352

RRP:

$32.99
Praise for The Unreliable People
An absorbing novel of disappearances and discoveries against the atmospheric backdrop of the dissolving Soviet empire.

Paula Morris
. . . There's all kinds of layering going on; there's personal lives set against complex, overwhelming political forces and yet people are still managing to fall in love and make connections and bring up their families . . . the cast of characters is incredibly well fleshed out, so it's not just the main characters who feel real but their friends and networks; it's a really good layering of the social and the political and the historical . . . It is excellent . . . the prose is beautiful . . . I found it very compelling . . . highly recommended.

Louise O'Brien, Radio NZ
Beautifully written, this tale will draw readers deep into the fascinating lives of Antonia, a student at the Academy of Art in St Petersburg. It's a love story, however there are many layers with its rich history and marvellous characters.

Linda Hall, Hawke's Bay Weekend
Allan's evocation of place is particularly vivid and there are some wonderful descriptions of St Petersburg . . . Allan also uses the striking physicality and history of the city to figuratively describe the relationship between Antonina and her art teacher Makar . . . The Unreliable People is a thoroughly researched vivid evocation of a time in European history with which many readers may not be familiar. It is ambitious in its scope and subject matter and as such is a notable addition to recent fiction explored by New Zealander writers in non-New Zealand settings.

Majella Cullinane, Landfall