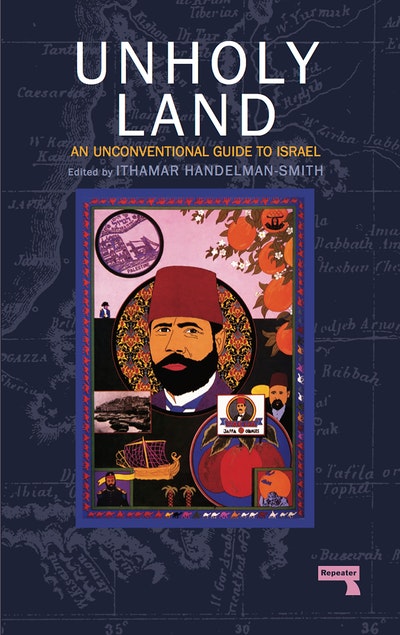 Published:

1 November 2018

ISBN:

9781910924587

Imprint:

Watkins

Format:

Paperback

Pages:

254

RRP:

$24.99
The Unholy Land
---
---
The essays in this ambitious volume explore the invisible walls that divide the modern state of Israel. Part hipster travelogue, part from-the-ground-up look at Israeli politics, Unholy Land is a sometimes irreverent, sometimes moving collection from a cache of Israel's most talented young writers.
Shlomzion Kenan finds rich material in the stories and legends of the 100 year-old home she rents in Jaffa.
Tel Aviv-based writer Dana Kessler wryly reflects on the 1972 cult film Metzitzim (the Israeli Midnight Cowboy) and filmmaker Uri Zohar's eventual conversion to Orthodoxy.
Actor Rana Werbin captures a slice of life at the Mersand Cafe in Tel Aviv: four friends sipping arak and chatting about bras, clonix, one night stands, and their monotonous jobs.
Fashion journalist Sahar Shalev ponders Israeli gay men's love affair with the sleeveless t-shirt.
The first of Ron Levy Arie's two essays traces the rise of the ubiquitous Sabich sandwich from it's origins in Iraqi Jewish kitchens to its dominance as a street-food staple. The second records a series of impressions during a road trip through three Northern towns: Haifa, Akko, and Tveryah. We meet a Rastafarian walking with a group of pilgrims; attend the largest fringe fest in Israel; and ponder what type of fish Jesus fed his disciples at their miraculous feast.
Eran Sebbag lovingly unearths connections between the black slaves that invented the Delta Blues and the Jewish-American producers who made Rock N Roll and mass phenomenon: Blacks + Jews = Blues.
Novelist Reuven Miran writes elegiacally about a drive from Kfar Saba to Jerusalem with Ella Fitzgerald playing on the radio.
Filmmaker Tom Shoval hunts for traces of Hollywood in Jerusalem and stumbles on a trip that Technicolor master, Jack Cardiff, took there in 1937.
Filmmaker Dan Shadur tells an amusing story about two stoned-out journalists on the tail of a telenovela actress near the Dead Sea.
Karin Gatt Rutter puts herself in the place of a dog named Ramses in East Jerusalem, enjoying the smells of trash while sidestepping the Green Line along Route 1.
Reporter Shay Fogelman reminisces about nature walks in the Golan Heights with his Six Day War veteran father.
Nili Landsman recalls her grandfather's Zionist idealism on a kibbutz near Galilee.
Nadia T Boshnak writes about her people - a Muslim minority called the Circassians who live in a small village in the North.
David Sorotzkin discusses the junkies and squatters he finds in the ancient city of Beersheba amid its sad dismemberment by a spate of overly-utilitarian city planners.
Poet Roy Arad captures a farcical scene in which the hollowed-out employees of a doomed textile plant in Dimona stage a last-ditch protest.
Sagi Benita gently satirizes the kibbutzim movement while talking about the time when he and his friends were cast as a extras in Rambo.
Ronen Shamir finds the roots of division between an Arab and Jewish neighborhood in the way power lines were laid in the 1920s. He also recalls the glory days of the Lydda Junction train station that once sustained Christian pilgrims going to Jerusalem, Jaffa merchants on their way to the markets of Damascus, and Palestinian dignitaries en route to Cairo.
The book's editor, Ithamar Handleman-Smith, has contributed humorous pieces on sexuality, culture, and politics. There are also moving essays from Ithamar's partner, British international relations specialist, Julia Handelman-Smith. She writes about a tense trip to Bethlehem with her sheltered parents on Christmas Eve, an out-of-the way hotel in Tiberius, and pleasant tour through Jerusalem's Holy City during the off-season.
Published:

1 November 2018

ISBN:

9781910924587

Imprint:

Watkins

Format:

Paperback

Pages:

254

RRP:

$24.99