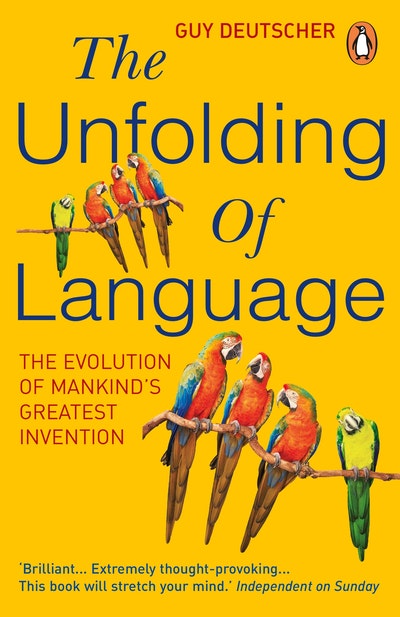 Published:

1 July 2010

ISBN:

9781407070285

Imprint:

Cornerstone Digital

Format:

EBook

Pages:

368
The Unfolding Of Language
---
---
---
'Enthralling' A.S. Byatt
A brilliant and original exploration of how languages evolve and have evolved, comparable to Steven Pinker's The Language Instinct in its accessibility, wit and ambition.
'A persuasive and beautifully written take on how languages are constantly evolving... an enthralling read about human psychology and anthropology as well as linguistics.' ALEX BELLOS
___________________________________
'Language is mankind's greatest invention - except of course, that it was never invented'. So begins Guy Deutscher's fascinating investigation into the evolution of language. No one believes that the Roman Senate sat down one day to design the complex system that is Latin grammar, and few believe, these days, in the literal truth of the story of the Tower of Babel. But then how did there come to be so many languages, and of such elaborate design? If we started off with rudimentary utterances on the level of 'man throw spear', how did we end up with sophisticated grammars, enormous vocabularies, and intricately nuanced shades of meaning?
Drawing on recent, groundbreaking discoveries in modern linguistics, Deutscher exposes the elusive forces of creation at work in human communication. Along the way, we learn why German maidens are neuter while German turnips are female, why we have feet not foots, and how great changes in pronunciation may result from simple laziness...
_____________________
'Powerful and thrilling' SPECTATOR
'Really ought to be read by anyone who persists in complaining that the English language is going to the dogs' SUNDAY TELEGRAPH
'I was enthralled' A.S. Byatt, for GUARDIAN 'Books of the Year'
'Highly original... clever and convincing... this book will stretch your mind' INDEPENDENT ON SUNDAY
'Fascinating' BOSTON GLOBE
Published:

1 July 2010

ISBN:

9781407070285

Imprint:

Cornerstone Digital

Format:

EBook

Pages:

368
Praise for The Unfolding Of Language
'Highly original... Brilliant... How did...regular and complex languages come to exist? Deutscher's chosen task is to unravel [a] paradox, and he does so brilliantly, witholding the secret with great skill. If I told you how it works, you wouldn't buy the book. Both clever and convincing... this book will stretch your mind' Independent on Sunday
'He really ought to be read...by anyone who persists in complaining that the English language is going to the dogs...Interesting and substantial' Sunday Telegraph
'Powerful and thrilling' Spectator
'I was enthralled by Guy Deutscher's The Unfolding of Language, a history of how words came to take the forms they do, and therefore a history of the forms of the human mind.'

A.S. Byatt in the Guardian 'Books of the Year
Fascinating... Any curious reader...will find something worth knowing in The Unfolding of Language'

Boston Globe