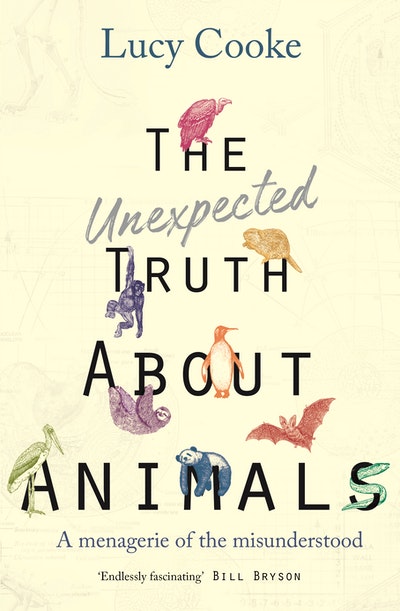 Published:

13 November 2017

ISBN:

9780857524102

Imprint:

Doubleday

Format:

Trade Paperback

Pages:

400

RRP:

$27.99
The Unexpected Truth About Animals
---
---
---
In this menagerie of the misunderstood, zoologist Lucy Cooke explores centuries of animals myths, revealing the fascinating and often hilarious truths behind some of the strangest animal theories.
History is full of strange animal stories, invented by the brightest and most influential, from Aristotle to Disney, and they reveal as much about us and the things we believe as they do about the animals they misrepresent. We once thought that eels were born from sand, that swallows migrated to the moon, and that bears gave birth to formless lumps that were licked into shape by their mothers.
In The Unexpected Truth About Animals, zoologist Lucy Cooke unravels many such myths, revealing the fascinating - and often hilarious - facts she's uncovered while chasing hyenas, spying on tobogganing penguins and stalking drunken moose. You'll learn why sloths risk their lives to poo, how bats joined the Allies in the Second World War, and the mystery of the beaver's balls. And you'll discover that even the most outlandish theories may have some truth in them after all.
Published:

13 November 2017

ISBN:

9780857524102

Imprint:

Doubleday

Format:

Trade Paperback

Pages:

400

RRP:

$27.99
Praise for The Unexpected Truth About Animals
Clever, thoughtful, accessible and, above all, so SO funny.

Henry Nicholls
This 21st century bestiary is as surprising as it is diverse. Consummate natural history writing: illuminating, remarkable - and very, very funny.

Professor Alice Roberts
Fascinating facts combined with hilarious ridiculousness.

Tony Robinson
Fantastic. The new Origin of Species. A proper page turner.

Vic Reeves
A compendium of intriguing and revelatory animal information - you may find dolphins go down in your estimation, while hyenas go up ...

Robin Ince
Lucy Cooke's modern bestiary is as well-informed as you'd expect from an Oxford zoologist. It's also downright funny ...

Richard Dawkins
An eye opening , informative and hysterical history of our ideas about animals - very funny !

Chris Packham
The rising star of natural history ... is she the new David Attenborough?

Sam Machell, The Times
Beautifully written, funny and jam-packed with astonishing information.

John Lloyd
Endlessly fascinating.

Bill Bryson
A riot of facts....Cooke scores a series of goals with style and panache.

James Marriott, The Times
BOOK OF THE WEEK: Highly amusing and enlightening new book [from] brilliant zoologist Lucy Cooke.

The Idler
Beautifully written, meticulously researched, with the science often couched in outrageous asides, this is a splendid read. In fact, I cannot remember when I last enjoyed a non-fiction work so much.

William Hartston, Daily Express
TOP AUTUMN BOOK PICKS: Lucy Cooke's fascinating book is full of mind-boggling stuff. Cooke takes much pleasure in throwing in all manner of amazing facts.

Reader's Digest
Lucy Cooke's The Unexpected Truth About Animals was a joy from beginning to end. Who could resist a writer who argues that penguins have been pulling the wool over our eyes for years, and that, far from being cute and gregarious, they are actually pathologically unpleasant necrophiliacs?

John Crace, Guardian
Best science pick. Sigmund Freud's first paper involved the dissection of eels in an attempt to locate their testes. To his frustration, Freud failed to find any. The eel's life cycle remains slippery, notes natural-history broadcaster Lucy Cooke in her deeply researched, sassily written history of "the biggest misconceptions, mistakes and myths we've concocted about the animal kingdom", spread by figures from Aristotle to Walt Disney. Other chapters spotlight the sloth, vulture, hippopotamus, panda, chimpanzee and others, and dismantle anthropocentric clichés with scientific, global evidence.

Barbara Kiser, Nature
The eclectic stories come thick and fast, with an equally varied human cast dedicated to uncovering the truth, scientifically or otherwise. Cooke illuminates and mickey-takes in equal measure, and the truth as she tells it is not only unexpected but often bizarre, bawdy and very, very funny.

Amy-Jane Beer, BBC Wildlife
Lucy Cooke unravels myths that will make you laugh out loud. Her knowledge of all things, furry, slimy and scaly is jaw-dropping.

Sun
Best of the year's Natural History. Best for Fun Facts. Fascinating.

Mail on Sunday
Brilliantly researched and hilariously informative

William Hartson, Daily Express
Packed with knowledge and eye-opening animal history . . . almost every page contains something startling. In bringing us all this information, Cooke has clearly done her homework - travelling the world to see the animals for herself, and consulting many obscure books . . . a winning combination of thorough knowledge, lots of good jokes and a passionate love of animals that means Cooke can even mount convincing defences of such despised creatures as vultures. An often eye-popping, occasionally hair-raising, but ultimately joyous reminder of just how strange our world is.

Daily Mail
Each of Cooke's thirteen breezy yet fact-stuffed chapters traces the origins of a long-standing myth about a species or class of animal.

Jennie Erin Smith, TLS
A bloody fabulous read. Thoroughly recommend.

Sue Perkins (Twitter)