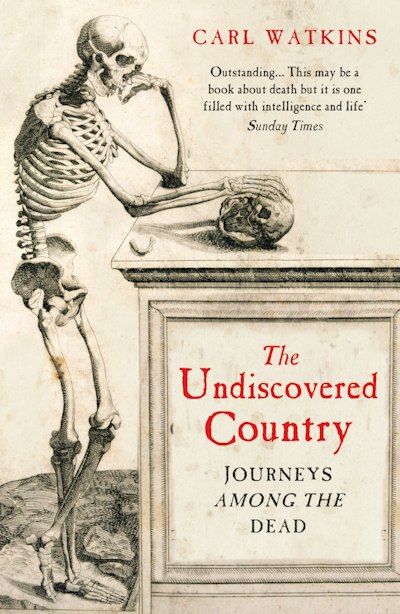 Published:

17 January 2013

ISBN:

9781448161058

Imprint:

Vintage Digital

Format:

EBook

Pages:

336
The Undiscovered Country
Journeys Among the Dead
---
---
---
A fascinating history of the changing – and enduring – beliefs about death, and what lies beyond.
'This is a wonderful book: curious and insightful' Ian Mortimer, author of The Time Traveller's Guide to Medieval England
We know what happens to the body when we die, but what happens to the soul? The answer may remain a great unknown, but the question has shaped centuries of tradition, folklore and religious belief.
In this vivid history of the macabre, Carl Watkins goes in search of the ancient customs, local characters and compelling tales that illuminate how people over the years have come to terms with our ultimate fate. The result is an enthralling journey into Britain's past, from medieval hauntings on the Yorkshire moors and eccentric memorials on the Cornish coast to séances in Victorian kitchens and gallows tales from a Bristol gaol. Impeccably researched and elegantly told, The Undiscovered Country ventures beyond the veil to bring the dead back to life.
Published:

17 January 2013

ISBN:

9781448161058

Imprint:

Vintage Digital

Format:

EBook

Pages:

336
Praise for The Undiscovered Country
A first-class study of British attitudes to death and dying from the Middle Ages to the 20th century... A fascinating work of social history that is both scholarly and accessible to general readers

Financial Times
Watkins has a gift for conveying a feeling of place, and is good at conjuring up the dead, lifting the veil so that we can have a peek into the grave and beyond

Good Book Guide
Outstanding ... This may be a book about death but, paradoxically, it is one filled with intelligence and life

Sunday Times
Superbly written, shows how the meaning of life is still everywhere connected to what it means to die

Ian Thomson, Financial Times
A sensitive and fascinating history of an "undiscovered country" which, in many ways, mirrors the story of Britain

John Gallagher, Sunday Telegraph
Watkins is one of those rare guides who never overstays his welcome. He wears his research lightly as he journeys around the British landscape, teasing out themes and cultural shifts from the particulars of individual lives

Iain Sinclair, Guardian
This is a wonderful book: curious, insightful and beautifully written

Ian Mortimer, Author of The Time Traveller's Guide to Elizabethan England
This is a wonderful book: curious, insightful and beautifully written. It has something of the qualities of James Fraser's The Golden Bough about it – a discovery of life that is not concerned with day-to-day existence but deeper symbolism and meaning. I love the details, from medieval stories of walking spirits to Age-of-Reason sceptics, bodysnatchers and ceremonies of the dead. All in all, it is a walk along the shoreline of death over the centuries, watching the tides of belief change, and hearing the waves of imagination, superstition and wonderment crash on the reality of our lives.

Ian Mortimer
A scholarly but compelling meditation on the nature of death and dying. Persuasive, humane and beautifully written, Watkins writes like a latter day Thomas Browne - this is Urn Burial for the 21st century. Watkins wears his learning lightly as he conducts us through the nether regions of the underworld. Highly recommended.

Catharine Arnold
From lost medieval souls to the rattling tables of nineteenth-century spiritualism, The Undiscovered Country is an evocative journey through a landscape of superstition, belief and doubt. It is also a brilliantly perceptive exploration of how our desire to connect with the departed, and with the idea of death itself, shapes who we are. Carl Watkins is a gifted historian and a masterful storyteller - and this is a marvellous book.

Thomas Penn
Watkins does several things particularly well. He tells a good story, or a string of them spanning the centuries. He makes locations accessible with some very vivid writing about place. But above all, he is good at summoning the spirits of the long gone and mostly unillustrious

Anthony Sattin, Observer
Abounds with details…conveyed by way of wonderful stories that, taken together, amount not just to a remarkable and engaging history of our beliefs about death, but to a deeply affecting chapter in the history of bereavement

Matthew Adams, Spectator
Watkins draws on a wide range of books, monuments and anecdotes, some relatively well know – such as the Phantom Drummer of Tedworth and the Tomb of the Unknown Soldier – others far less familiar… Fascinating

Stuart Kelly, Scotsman
An impressive tapestry of social history

Helen Fulton, Times Higher Education Supplement
A fine work of literature, dealing with a complexity of issues in an accessible and enjoyable form

Ronald Hutton, History Today
A well-researched book on our unusual relationship with the idea of the dead and death

Thomas Saunders, Compass Magazine