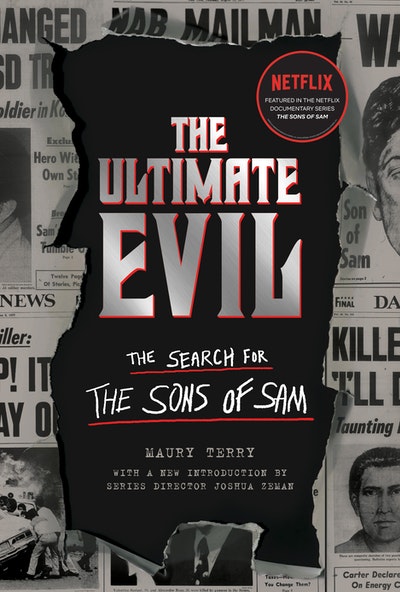 Published:

2 July 2021

ISBN:

9781683692843

Imprint:

Quirk Books

Format:

Paperback

Pages:

512

RRP:

$29.99
The Ultimate Evil
The Search for the Sons of Sam
---
---
A true crime cult classic that has been out of print over a decade, The Ultimate Evil is the inspiration for an upcoming Netflix docuseries and companion podcast about journalist Maury Terry's terrifying investigation into the true evil behind the Son of Sam murders.
On August 10, 1977, the NYPD arrested David Berkowitz, a mailman from Yonkers, for the Son of Sam murders that had terrorized New York City for over a year. Berkowitz confessed to shooting sixteen people and killing six with a .44 caliber Bulldog revolver. The case was officially closed soon after. Journalist Maury Terry was suspicious of Berkowitz's confession. Spurred by conflicting eyewitness descriptions of the killer and the Queens District Attorney, who was convinced Berkowitz didn't act alone, Terry investigated the case for a decade. In the original publication of The Ultimate Evil in 1987, he presented his theory that Berkowitz was a member of the Process Church of the Final Judgment, a Satanic cult responsible for the Son of Sam murders, as well as other ritual murders across the country. The epilogue of the 1999 edition included an interview in which Berkowitz confirmed Terry's theory. But the full extent of the Process Church's reach is still coming to light.
After Terry's death in 2015, documentary filmmaker Josh Zeman (Cropsey, The Killing Season) followed leads Terry left for him, which led to his Netflix series Sons of Sam. Together with Tenderfoot Media's podcast Down the Rabbit Hole and this reissued edition of The Ultimate Evil--which includes an introduction by Zeman--these works reveal the stunning intersections of power, wealth, privilege, and evil in America--from the Summer of Sam till today.
Published:

2 July 2021

ISBN:

9781683692843

Imprint:

Quirk Books

Format:

Paperback

Pages:

512

RRP:

$29.99