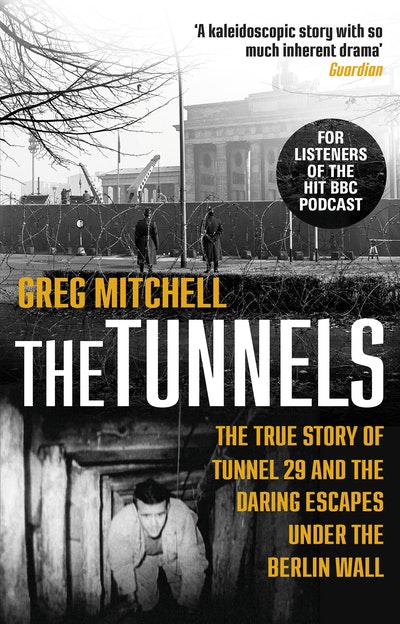 Published:

13 November 2017

ISBN:

9780552172042

Imprint:

Corgi

Format:

Paperback

Pages:

400

RRP:

$24.99
The Tunnels
The Untold Story of the Escapes Under the Berlin Wall
---
---
---
A thrilling Cold War narrative exploring the harrowing attempts to rescue East Germans by tunnelling beneath the Berlin Wall.
Inspired by the hit BBC Tunnel 29 podcast? Read the incredible true story of the daring escapes from East Berlin. 'A story with so much inherent drama.' The Guardian
'One of the great untold stories of the Cold War.' Alex Kershaw, author of Avenue of Spies _______________
In the summer of 1962, the year after the construction of the Berlin Wall, a group of young West Germans risked prison, Stasi torture and even death to liberate friends, lovers, and strangers in East Berlin by digging tunnels under the Wall.
As Greg Mitchell's riveting narrative unfolds we meet a host of extraordinary characters who demonstrate astonishing courage in the face of adversity: the legendary cyclist who became East Berlin's most wanted man; the tunneller who had already served four years in the East German gulag; the young East Berliner who escapes with her baby, then marries one of the tunnellers; an engineer who would later help build the tunnel under the English Channel; and the Stasi informer who betrays them all.
Capturing the spirit of a divided Berlin and celebrating the subversive power of ordinary people in desperate circumstances, The Tunnels is an exhilarating real-life thriller with themes that reverberate today. _________________
'A stark reminder that barriers can never cut people off entirely but only succeed in driving them underground.' New York Times
Published:

13 November 2017

ISBN:

9780552172042

Imprint:

Corgi

Format:

Paperback

Pages:

400

RRP:

$24.99
A story with so much inherent drama it sounds far-fetched even for a Hollywood thriller... Mitchell tells a kaleidoscopic cold war story from 1962, recreating a world seemingly on the edge of a third world war.

The Guardian
A fascinating and complex picture of the interplay between politics and media in the Cold War era.

The Washington Post
The greatest strength of The Tunnels is in the details... Days after finishing the book I could not escape one of Mitchell's images - of a hat with a small hole in it landing softly on the Western side of the border while its owner's dead body fell back into the East, waiting for the guards to hurry it out of sight. For those who see walls as the answer to policy problems, this book serves as a stark reminder that barriers can never cut people off entirely but only succeed in driving them underground.

New York Times Book Review
The Tunnels is one of the great untold stories of the Cold War. Brilliantly researched and told with great flair, Greg Mitchell's non-fiction narrative reads like the best spy thriller, something le Carre might have imagined. Easily the best book I've read all year.

Alex Kershaw, author of <i>Avenue of Spies
Every hour of my year in East Berlin - 1963/64 - the escape tunnels beneath our feet were being dug. This is their story: those who dug them, those who used them and those who betrayed them to the Stasi. Fascinating - and it is all true.

Frederick Forsyth
I was stunned by the tunnelling exploits detailed by Greg Mitchell. This intricately detailed account was eye-opening and an exhilarating read. Not knowing who made it out of the East, and who was arrested, or worse, kept me glued to this book until the last page. [An] important work.

Antonio Mendez, author of <i>Argo
An extraordinarily revealing political thriller... Mitchell presents us with a radically changed perspective on one of the Cold War's most dramatic episodes. His book is both priceless as history and just about impossible to beat for sheer narrative grip.

Frederick Taylor, author of <i>The Berlin Wall
Greg Mitchell's The Tunnels uncovers an unexplored underworld of Cold War intrigue. As nuclear tensions grip Berlin, a whole realm of heroes and villains, of plot and counterplot, unfolds beneath the surface of the city. True historical drama.

Ron Rosenbaum, author of <i>Explaining Hitler and How The End Begins
When you have read the last page of Greg Mitchell's The Tunnels you will close the book. But not until then.

Alan Furst, author of <i>A Hero of France and Night Soldiers
Greg Mitchell is the best kind of historian, a true storyteller. The Tunnels is a gripping tale about heroic individuals defying an authoritarian state at a critical moment in the Cold War. A brilliantly told thriller—but all true.

Kai Bird, author of <i>The Good Spy
A compelling look at a wrenching chapter of the Cold War that chronicles the desperate flights for freedom beneath the streets of post-war Berlin and the costs that politics extracted in lives

Barry Meier, author of <i>Missing Man
A riveting story. Mitchell, an exemplary journalist, goes deep into the political dynamics of Cold War Berlin. John Le Carré couldn't have done it better.

Bill Moyers
A narrative full of interest and acute observation.

Allan Massie, The Scotsman
Tense, fascinating... Mitchell delivers a gripping, blow-by-blow account.

Publishers Weekly
A gripping page-turner that thrills like fiction.

Kirkus Reviews
One of the most gripping stories of the Cold War.

Omnivoracious - The Amazon Book Review