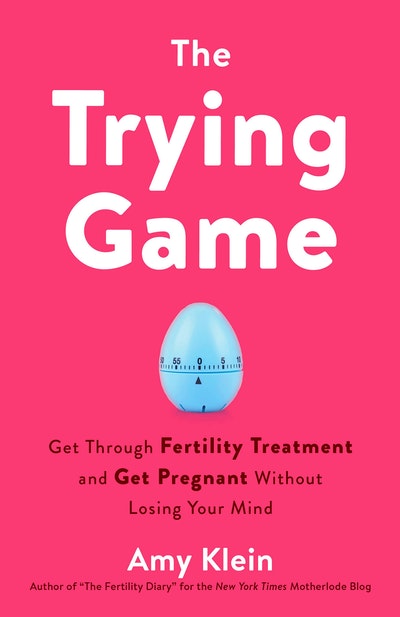 Published:

7 April 2020

ISBN:

9781984819154

Imprint:

Ballantine

Format:

Paperback

Pages:

416

RRP:

$29.99
The Trying Game
Get Through Fertility Treatment and Get Pregnant without Losing Your Mind
---
---
From the author of the New York Times "Fertility Diary" column comes a girlfriend's guide to both the emotional and technical process of trying to get pregnant, written with the smarts, warmth, and honesty of someone who has been in the trenches.
There are so many ways for women to be Not Pregnant: You can be young and have endometriosis or older and not have enough eggs; your partner might have slow sperm (don't tell him that, though), or you may not have a partner involved at all. Or maybe there's nothing wrong except for the fact that you are Just. Not. Pregnant.
Amy Klein has been there. From starting off optimistic about her own fertility to becoming someone who quickly got a med school-like education in reproductive endocrinology, she's had nine rounds of IVF, four miscarriages, three acupuncturists, two rabbis, an amazing reproductive immunologist, and finally...one real, live baby. And she wrote about it all for the New York Times Motherlode blog in her "Fertility Diary" column that ran for three years.
Now, Amy has written the book she wishes she'd had when she was Not Pregnant. With advice from medical experts as well as stories from real women, she outlines your options every step of the way, telling you all the questions you should ask, and even offering suggestions on how to tell your busybody mother-in-law to mind her own beeswax. In this comprehensive roadmap to every single aspect of infertility, you'll find topics such as:
* Mind/Body/Soul/Baby: Is the Alternative Route for Me?
* IVF: What to Expect on Your First Cycle
* Busybodies, Bosses, Frenemies & Family: How to Talk About Your Situation
* Thoughtful tips, helpful charts, and more!
Empowering, compassionate, and down-to-earth, The Trying Game will show you what to expect when you're not expecting with heart and humanity when you need it the most.
Published:

7 April 2020

ISBN:

9781984819154

Imprint:

Ballantine

Format:

Paperback

Pages:

416

RRP:

$29.99