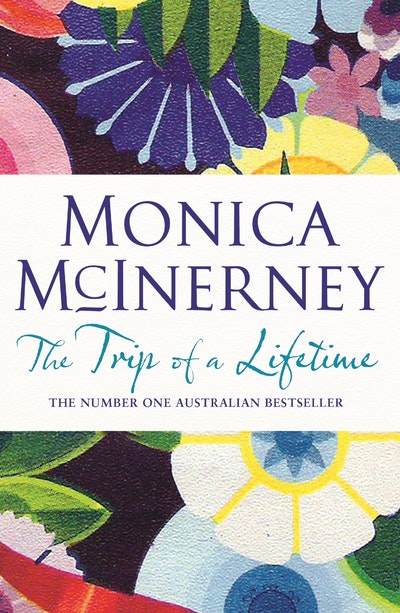 Published:

18 June 2018

ISBN:

9780143789321

Imprint:

Penguin

Format:

Paperback

Pages:

464

RRP:

$22.99
The Trip of a Lifetime
Extract
CHAPTER ONE
Bett Quinlan had a weekly ritual. Every Wednesday morning – the day the local newspaper she edited was published – she would walk up one side of the main street of the town of Clare and then down the other. She'd pass the bakery, the chemist, the charity shop, the hardware store, the butcher, the banks. Sometimes she even did the walk twice.
It delivered better feedback than any market research. On an average Wednesday, she would be stopped at least eight times, with townspeople expressing their opinions about the stories on the front page, or the back page or indeed, any of the pages inside. Rarely was everyone happy. It was usually the unhappy ones who stopped her. But without fail, it helped her with what she called 'taking the temperature' of the Clare Valley's citizens.
'Have you ever thought about wearing a bullet proof vest?' her grandmother Lola asked one week, when the front page story was a particularly spicy one about local politics. 'Or a disguise?'
'I'm hoping you'll come with me next time,' Bett said. 'Who would pick on me if I was helping a frail, elderly Irishwoman stretch her frail, elderly Irish legs?'
'Your frail elderly Irish grandmother is busy elsewhere most Wednesdays, fortunately,' Lola said.
'Out with the Golden Oldies?'
'We're not called that anymore. We took a vote. We've got a new name now. The One Footers. As in one foot in the grave. There's nothing golden about being olden, in my eyes. Not that I can see too well either at the moment. Or hear too well. Or move too well. See how apt the new name is?'
'So what are you all doing this Wednesday? Apart from listing your ailments to each other?'
'Water-skiing, I think. Or maybe whitewater rafting?'
'In the one inch of water in the local creek?'
'Perhaps. I can't remember. My memory's going too.'
Bett's latest weekly walk delivered the goods again. The previous evening, her assistant had read the front page headline – "Fiery scenes in council chambers" – and given her a knowing look. 'That'll be one lighthearted stroll tomorrow,' he said.
He was right. She'd barely left the office the next morning before a passerby stopped her. She had the story all wrong, she was told. Ten metres on, another person grabbed her hand and shook it vigorously. She had it absolutely right. Up and down her approval ratings went as she walked along the street.
Halfway down the opposite side, she was glad to see a friendly face. An old schoolfriend, Jenny Randall. She was now the occupational therapist at the local old folks' home.
'Have you got a minute, Bett?' Jenny asked.
'Do you want to abuse me?' Bett said. 'Then no. Do you want to praise me? Sure, I've got hours.'
Jenny smiled. 'It's not about the paper. But if it was, I'd praise you. I think you got that story spoton.' She dropped her voice. 'It's actually about Lola.'
Six months previously, Bett and Jenny had met for a confidential conversation about Lola. At the age of eighty-five, Lola had started dropping hints to Bett that she might, not immediately, not exactly now, but one day perhaps give some thought to moving into a room at the old folks' home. For now, she had assured Bett, she was more than happy sharing a house in the town with her friend Margaret. It was working beautifully. But just looking ahead…
Bett had spoken to Jenny about it, informally. Lola's name had – equally informally – been added to the waiting list. Bett had just as casually told her grandmother.
'"Waiting list"? As in, I move up a spot when someone dies?' Lola had said. 'That's the most sinister list in town.'
'Who died?' Bett said to Jenny now. 'Sorry, you know what I mean.'
'I do and don't worry. It's not about a room.' She hesitated. 'Bett, is Lola okay at the moment?'
Bett thought about it. 'Okay' seemed far too ordinary a word to describe Lola. She pictured her grandmother. Tall, slender, straight-backed even at her age. White hair cut short, often decorated with a sparkly hair-pin or an artificial flower or two. As for her unique approach to clothes… What would she be wearing today, for example? One of her daytime outfits, perhaps a leopard-skin cape with purple leggings and a jaunty feather-trimmed hat? Or something a little more festive, for midweek wear? One of her bright orange ponchos – she had two – teamed with a vertically striped pair of flares? Lola's volunteer work in the local charity shop aided and abetted her wardrobe choices, but Bett was sure she'd have no difficulty sourcing the outfits from elsewhere if necessary. There had been a suspicious number of parcels arriving at Lola's house recently, since she'd discovered online vintage shopping.
Jenny elaborated. 'How does she seem mood-wise to you?'
'Just the same,' Bett said. 'But I've only seen her briefly this week.' The start of the week was Bett's busiest time, juggling her editing with sharing the care of her twin son and daughter with her husband Daniel. He worked in two jobs, as a weekend wedding photographer and a part-time production manager on a newspaper in Gawler, an hour away.
'I'm worried about her, Bett. She's not herself. You know I started holding those drop-in classes?'
Bett nodded. She'd written an article about the programme Jenny had devised for her residents and any interested locals. Music afternoons. Craft sessions. Poetry readings.
'Lola's been to all of them,' Jenny said. 'Without fail. For the past three weeks. She's waiting outside the activities room before I open the door and she's always the last to leave.'
'Is that a problem? Has she been misbehaving? Upsetting the other residents? Insulting anyone?'
'No more than usual. It's just not like her to be there all the time. She's always had so much else going on in her life. The charity shop. Her friends. But now, it's as if we're all she has. She asked me if there was any possibility of weekend activities. She suggested a poker game on Saturdays. And a DVD night each Sunday.' Jenny paused. 'Bett, I think she's really lonely. Lonely and bored. And possibly depressed.'
Before she could insist that of course Lola wasn't any of those things, Bett's phone rang. It was the office, her assistant. An urgent query. Was there any chance Bett could –
'I'll be there in five minutes,' she told him. She turned to Jenny. 'Thanks for telling me. Can you leave it with me and I'll ask her myself?'
'Of course. As I said, she's still a few people down on the waiting list, but if you think it's getting urgent, that it might be time for her to come to us full-time, I could –'
'Move her up a few spots? Jenny Randall, I don't even want to imagine how you'd do that.'
Jenny grinned. 'It'd make a great front page for your paper, put it that way.'
An hour later, the crisis dealt with at work, Bett stepped outside to make two private calls. The first was to her husband. On Wednesdays Daniel stayed home with the twins. It took him a long time to answer. When he did it was hard to hear him. Yvette and Zachary, nearly two years old, had recently discovered the joys of spoon-and-saucepan musical instruments. She and Daniel had a brief shouted conversation, Bett confirming she'd be home by six and would buy dinner on the way.
Her second call was to Lola. Her grandmother answered before the second ring.
'Bett! Are you going to visit? Great! See you soon.'
'Don't you say hello anymore?'
'It wastes time. Wonderful. I'm here. Come whenever you can. Come now. I'll put the kettle on.'
Without another word, Lola hung up.
A quick explanation to her assistant, and Bett was on her way. She was glad she'd taken her coat, even for the short walk to Lola's house on the edge of the town. It was late April, an autumn chill creeping into the Valley as the vineyards all around transformed into warm reds and oranges. The trees lining Lola's street were also in full autumn glory. It was Bett's favourite time of year.
Lola had moved into her friend Margaret's house a year earlier, an arrangement that suited them both. Margaret, a widow in her late sixties, had raised her three children there. It was spacious enough for she and Lola to not only have their own bedrooms, but their own separate living areas, one at each end of the house. They shared the cooking and cleaning duties.
As Bett knocked and obeyed her grandmother's call to come in, she heard the whistling of the kettle. Lola was in the kitchen preparing a tea-tray. Bett had been close with her wardrobe guess. Lola was indeed wearing the orange poncho, although not with the striped flares. She'd teamed it with a green taffeta skirt. With her white hair she looked like a walking Irish flag.
'Nice outfit,' Bett said, kissing her grandmother's heavily-rouged cheek. 'Happy St Patrick's Day.'
'You're a disgrace to your Irish ancestry. You know very well that was in March,' Lola said cheerily.
She handed Bett the tray and the two of them made their way from the bright kitchen into Lola's even brighter living room. It was a riotous clash of colours, from the vivid blue curtains to the rainbow swirls on the mat. The shelves were filled with books, coloured glass vases, ornaments and other bric a brac, all sourced from the charity shop in which Lola volunteered. Family photos and framed prints and paintings, mostly of flowers, filled the space on every wall. The previous year Lola had gone through a phase of collecting paintings of seascapes. Before that, it was animals.
The windows were wide open, fresh air and autumn sunlight filling the room. The view was of the side garden, now full of late-blooming roses, a vibrant green hedge and a plum tree on which Lola had hung several bird feeders. Bett could hear bird song, as well as the music coming from Lola's ancient stereo. Lola generally had a soundtrack to her day, either gentle piano music, old show hits, or lavish orchestral arrangements. Today it was piano. Bett named it, Chopin's Minute Waltz, and received a satisfied nod from Lola.
'That's my Bett. All those years of piano lessons paid off, didn't they?'
'If only listening counts. It's months since I've played a note.'
'It was such a shame you couldn't have the piano from the motel.'
'Don't worry. The only time I'd get to play it would be in the middle of the night. I'm not sure how Daniel and the twins would feel about that.'
'You could always play Brahm's 'Lullaby', couldn't you? Or Beethoven's 'Für Elise'. That always put me to sleep.'
Bett had grown up playing the piano, first as Lola's reluctant pupil, then because she loved it so much. The feel of the keys, the soothing sounds, the way she could lose herself in the familiarity of well-remembered tunes or in the concentration necessary to learn new pieces. When her parents had left their family motel in the Valley the previous year, she'd secretly hoped the piano in the function room wouldn't be part of the lease deal. She was disappointed. The new managers hoped to have occasional sing-along sessions, apparently.
As they settled into the floral-patterned armchairs, Bett got to the point. 'I ran into Jenny Randall in the street today.'
'I hope you weren't in your car.'
Bett ignored that. 'She was talking to me about you.'
'I'll sue her for libel.'
'She was telling me you've been attending her classes at the home.'
'Is that a crime?'
'All her classes. Five a week. Most people only go to one a fortnight, if that.'
'I always was a keen student.'
'Jenny said you're first there and last to leave.'
'Good time-keeping is a virtue.'
'She said you asked her to put on extra classes.'
'She has a big mouth.'
'Lola, she's worried about you. And so am I now. Jenny asked me if I thought you were okay. If I thought you might be –' Bett hesitated.
Lola stayed silent.
'A bit lonely,' Bett said. 'And a bit bored.'
'She's got that wrong,' Lola said.
'She has?' Bett said, relieved.
'I'm desperately lonely, not just a bit lonely. And I'm incredibly bored, not only a bit.'
'But all those classes you're doing – '
Lola made a scoffing sound. 'Nothing against your friend, but I may as well enrol at the kindergarten for the amount of mental stimulation I'm getting at that home. An hour's music we were promised. You know what we got? Forty minutes of warbling 'Shine on Harvest Moon', over and over again. The poor old dears couldn't remember anything else, apparently. As for the craft class. I thought I might get a fruit basket or something to bring home. No. We painted ice-cream sticks. Dozens of them. I'm still not sure why. To keep the fire going at the crematorium, perhaps?'
'Lola!'
'I passed the scouts clubroom on the way home yesterday. I nearly joined up. At least I'd get a few camping trips. They have to let females in now, don't they?'
'I think so. I'm just not sure how they feel about eighty-five year old females.'
Lola put her head back against the chair and sighed. 'It could be worse, Bett. I could be addicted to online gambling in an attempt to amuse myself.'
'As well as online shopping?'
'That's just a hobby. I don't buy anything. I try it on, then send it back. It gives me an excuse to go to the post office too.'
'Lola, what's happened? When did this all start?'
'My long glorious life? Bett, haven't you been paying attention? I was born eighty-five years ago in the county of Kildare in Ireland –'
'Not your life. This boredom. This loneliness. I'm so sorry, I know we haven't seen you as much as usual. Daniel's been busy with all those weddings, I've been busy at work too, and with the kids –'
'Stop that, please. If I wanted to be at your house, I'd invite myself, you know that.' Her smile took away any sting. 'Carrie said the same thing. Apologised for not having me over every day.'
'You've talked to Carrie about this already?' Bett was surprised by a sudden fizz of jealousy at the mention of her younger sister.
'Yes, of course. She's always been my favourite of my three granddaughters. I had a séance and talked to Anna about it too.'
'Lola!' Anna, Bett's beloved older sister, had died of cancer five years earlier, leaving behind her young daughter Ellen, husband Glenn and her devastated family. Bett didn't think she'd ever be able to joke about her death.
'I'm sorry, Bett. I haven't spoken to Carrie or to Anna. I wouldn't be speaking to you either if it wasn't for Big Mouth Randall.'
'She's not a big mouth, she was concerned. I am too.'
'Don't be. All that's happened is I've realised something. I've known it for years, but lately it has really hit me.'
'What has? Are you sick?'
'No. Nothing new anyway. The same aches and pains. The new hips that are now old hips. But I'm facing facts, Bett. I'm eighty-five. I can still walk, still talk, but for how much longer? I've been on borrowed time for years already. Look what happened to my Alex. Here one day, gone the next. Without any warning.'
Bett noticed a sudden tremor in Lola's voice. She knew Alex had been the love of her grandmother's life. After meeting him in her early years in Australia, as a single mother, their brief, intense romance had been cut short when he'd had to return to his home country of Italy. They had been separated for fifty years, until a chance reconnection the year before had brought unexpected joy into both their lives. They had spoken daily on the phone, Lola in the Clare Valley, Alex in Melbourne. Until Alex had tragically died before he and Lola had been able to meet in person again.
'I can't avoid it any longer, darling,' Lola said. 'If there is anything left for me to do, I'm running out of time to do it. I need to seize the day while I still have a day to seize.'
'Draw up a bucket list, you mean?'
'Not a 'list', exactly. More of an 'item'.' Lola stood up. 'But I need to give it some more thought. And you've a job to do. Off you go and find a scoop somewhere, there's a good girl.'
'I already did. It's on the front page.' She handed her grandmother a copy of the newspaper.
'Oh, very controversial. Excellent,' Lola said. 'Thank you, darling. I'll read it closely when I get back.'
'From where?'
'The library. I'm doing a creative writing course there every Wednesday afternoon. Last week was memoir writing. Today it's 'how to make your love scenes sizzle.' I can't wait.'
'How do you actually find the time to get lonely or bored?'
'It's just a knack I have. Goodbye my darling. Close the door on the way out, won't you?'
---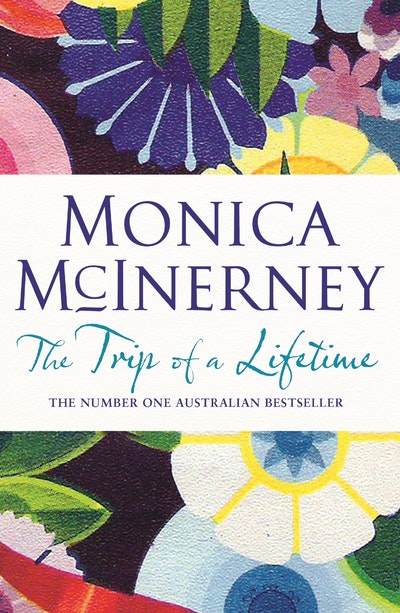 The long-awaited and highly anticipated new novel from one of Australia's most beloved bestselling authors.
Buy now
Buy now
---