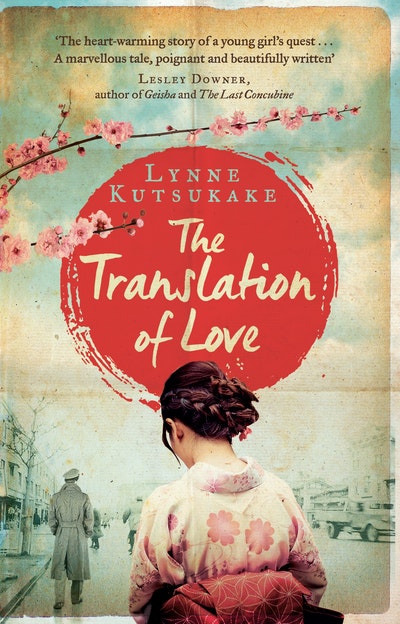 Published:

1 August 2016

ISBN:

9781784161149

Imprint:

Black Swan

Format:

Paperback

Pages:

432

RRP:

$22.99
The Translation of Love
---
---
---
A deeply touching, powerful debut about a young girl searching for her sister amongst the Ginza bars of post-war Tokyo.
WINNER OF THE KOBO EMERGING WRITERS PRIZE FOR LITERARY FICTION
LONGLISTED FOR THE HWA AWARDS DEBUT CROWN
"The Translation of Love is sweepingly gorgeous book about two little girls, and their heart-stopping search for a lost sister in the underbelly of Tokyo. From the desperate clutch of friendship in the time of tumult, to the bustling night markets and brothels - every brutal, moving moment is beautifully wrought. An incredible debut." Lisa Gabriele, author of 'Tempting Faith DiNapoli'
"An epic tale of defeat, despair and redemption ... a beautiful debut." Toronto Star
"Conjures the voices of an agonised time with elegant simplicity and moments of indelible poignancy." New York Times
"Kutsukake's moving debut focuses on the intertwining stories of several protagonists in post–World War II Tokyo… The result is a memorable story of hope and loneliness with a cathartic ending." Publisher's Weekly
During the American occupation, the citizens of Japan were encouraged to write to General MacArthur – "if you have a problem, write a letter, this is what democracy means" – and so write they did. MacArthur received over 500,000 letters, letters of entreaty, rage, gratitude, complaint, even adoration.
Twelve-year-old Fumi Tanaka has a problem – her beautiful and beloved older sister, Sumiko, has disappeared. Determined to find her, Fumi enlists the help of her new classmate Aya, forcibly repatriated with her father from Canada after the war. Together, they write to MacArthur and deliver their letter into the reluctant hands of Corporal Matt Matsumoto, a Japanese-American GI whose job it is to translate the endless letters.
When weeks pass and they hear nothing from Matt, the girls take matters into their own hands, venturing into the dark and dangerous world of the black market and dancehalls. They're unaware that their teacher, Kondo Sensei, moonlights as a translator of love letters, and that he holds the key to Sumiko's safe return.
Published:

1 August 2016

ISBN:

9781784161149

Imprint:

Black Swan

Format:

Paperback

Pages:

432

RRP:

$22.99
Praise for The Translation of Love
The heart-warming story of a young girl's quest . . . A marvellous tale, poignant and beautifully written

Lesley Downer, author of 'Geisha' and 'The Last Concubine'
An epic tale of defeat, despair and redemption ... Kutsukake artfully paints a picture of a country haunted by trauma, but nevertheless moving forward and learning to find joy in life once again. Richly researched and deeply moving - a beautiful debut.

Toronto Star
Conjures the voices of an agonised time with elegant simplicity and moments of indelible poignancy.

New York Times
Kutsukake's moving debut novel focuses on the intertwining stories of several protagonists in post–World War II Tokyo…consistently engaging…The result is a memorable story of hope and loneliness with a cathartic ending

Publisher's Weekly
The Translation of Love is sweepingly gorgeous book about post-war Japan, a shattered country trying to piece itself back together. It begins with a letter passed to General MacArthur by two little girls, and ends with a heart-stopping search for a lost sister in the underbelly of Tokyo. From the desperate clutch of friendship in the time of tumult, to the bustling night markets and brothels - every brutal, moving moment is beautifully wrought in Lynne Kutsukake's expert hands. An incredible debut.

Lisa Gabriele, author of 'Tempting Faith DiNapoli'
Lynne Kutsukake paints a vivid portrait of the American Occupation of Japan in The Translation of Love and keenly tackles the layered complexities of national identities in flux: Japanese, Canadian, and American. At the heart of this book is a young girl's page-turning quest to find her missing sister, and a touching, masterfully-woven tale of bystanders who cannot look away.

Suzanne Rindell, author of 'The Other Typist'
Kutsukake is an accomplished writer, adroitly handing the dark effects of discrimination, hunger, poverty, and disease after the war ... the novel is an engaging and compelling read.

Asian Review
A story of nationality and identity, family and friendship, love and loss….Through this coming-of-age tale Japanese Canadian Kutsukake, a former librarian, offers a fresh perspective on life in postwar Japan. An excellent choice for readers who loved Jamie Ford's The Hotel on the Corner of Bitter and Sweet.

Library Journal
Lynne Kutsukake is a beautiful writer. The Translation of Love is shaped by her spare and elegant prose into an accomplished and powerful story.

Helen Humphreys, author of 'Coventry'
An evocative and compelling tale of friendship, family and a country in transition. Lynne Kutsukake's novel is an elegantly crafted reminder that no one is left untouched by the ripple effects of war, and that our quests for outside truths can often lead us to secrets we've been keeping from ourselves.

Sarah Bird, author of 'Above the East China Sea' and 'The Yokota Officers Club'
In clear, confident prose, Lynne Kutsukake examines the lives of people who have been affected by the horrors of war and who must now navigate a new world order. In doing so, she explores the complexities of the human heart and the universal need to belong. A must-read, a strong and impressive debut.

Judy Fong Bates, author of 'Midnight at the Dragon Café'
Moving from the gorgeously epic to the unflinchingly intimate, The Translation of Love takes us to the emotional core of Occupied Japan. It captures the strange, liminal time between destruction and recovery, and the uttermost vulnerability of those carrying on in the rubble of uncertainty and loss. This beautiful and mesmerizing book will be a special treat for anyone who loves dramatic history and ingenious storytelling.

Kyo Maclear, author of 'The Letter Opener'
An exquisitely crafted tale of war's survivors that shimmers with grace, wisdom and compassion. It compels the reader right up to its gorgeous and deeply humane conclusion.

Kerri Sakamoto, author of 'The Electrical Field'
Lynne Kutsukake's remarkable debut spans the emotional terrain between identity and loyalty, love and loss, victory and defeat. The Translation of Love resonates with vivid images of post-war Japan and the universal urge to build a new life atop the wreckage of the old. This is a bold, beautiful book.

Brian Payton, author of 'The Wind Is Not a River'
A Translation of Love is an unusual historical novel, one suggesting that even in a hopeless situation and a rapidly changing world, perseverance, loyalty, and resourcefulness go a long way.

Everyday Ebook
One of the themes that stood out in the novel was the many layers of change—people and countries shifting, and the tension that comes with that. On the micro level, you have a young girl adjusting to a culture that's at once her own and totally new, while on the macro level Japan is in a huge state of flux.

Paste Magazine
A heady blend of detailed historical research and compelling storytelling ... an elegant, moving debut

The Japan Times
Offers insight into the minds of those who lived through this time, showing the difficulty of starting over when everything you know has been lost [and] book showcases the strength of character and determination that helped Japan rebuild itself.

Historical Novels Review
A charming and touching novel... sensitively written

Sandra Danby
The Translation of Love is a rarity: a haunting mystery that is also a moving coming-of-age story. A remarkable, beautiful first novel.

Chris Bohjalian, author of 'The Guest Room' and 'Close Your Eyes, Hold Hands'