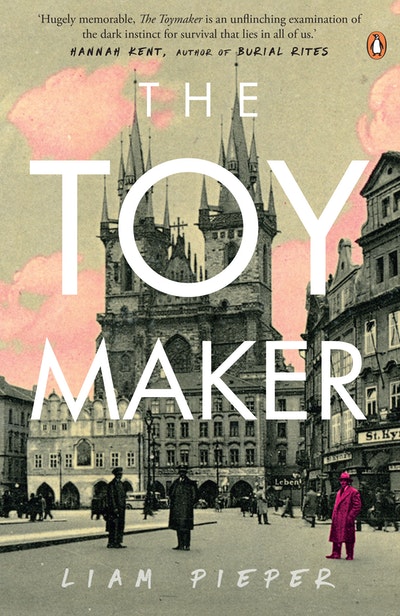 Published:

30 January 2017

ISBN:

9780143784623

Imprint:

Penguin

Format:

Paperback

Pages:

272

RRP:

$22.99
The Toymaker
---
---
---
Bold, dark and compelling, The Toymaker is a novel about privilege, fear and the great harm we can do when we are afraid of losing what we hold dear.
A person is defined by the secrets they keep.
Adam Kulakov likes his life. He's on the right side of middle age; the toy company he owns brightens the lives of children around the world; and he has more money than he can ever spend, a wife and child he adores, and as many mistresses as he can reasonably hide from them.
And he is not the only one with secrets. In 1944, Adam's grandfather, Arkady, was imprisoned in Auschwitz and given an impossible choice. Now, as he's coming to end of his life, he has to keep the truth from his family, and hold back the crushing memories of his time with one of history's greatest monsters.
As a mistake threatens to bring Adam's world tumbling down around him, the past reaches for Arkady. Everything he's spent a lifetime building will be threatened, as will everything Adam and his family think they know of the world.
Bold, dark and compelling, The Toymaker is a novel about privilege, fear and the great harm we can do when we are afraid of losing what we hold dear.
Published:

30 January 2017

ISBN:

9780143784623

Imprint:

Penguin

Format:

Paperback

Pages:

272

RRP:

$22.99
Hugely memorable, The Toymaker is an unflinching examination of the dark instinct for survival that lies in all of us

Hannah Kent, author of Burial Rites
The Toymaker is a bold and compelling tale, from a writer properly assured of his skills.

Peter Pierce, Weekend Australian
The Toymaker is a compulsively readable collision between the past and the present that results in a surprising future. Secrets and survival, optimism and opportunism are the kindle that fuels this funny, furious and unforgettable book.

Sydney Arts Guide
The narrative is subtle, measured and worth every second. I can't let the story go . . . The author delivers on his hook, drawing in readers as he skilfully highlights the nuances of evil played out for 'best interests' and self interests. This a modern lesson, one valid decades on from the Holocaust.

Amanda Ellis, West Australian
At times harrowing to read, The Toymaker will stay with you beyond the last page. It is superbly written, utterly engrossing and morally challenging. Pieper has written a masterful story with the skill of a sure hand. An amazing debut novel.

Melissa Sargent, LOVEthatBOOK http://melissa-sargent.com/review-the-toymaker-by-liam-pieper/
The Toymaker is confronting, original and engaging – a deep, often disturbing look at the dark heart of the modern world.

Pile By the Bed http://pilebythebed.com/index.php/2016/the-toymaker-by-liam-pieper/
As the novel draws to a close and Pieper reveals his narrative hand, a shocking twist gives The Toymaker an entirely new dimension, one that asks the reader to think long and hard about the price of secrets, and what morality really means. Read it once, then read it again.

Readings.com.au
Very well drawn characters (unlikeable as some may be) and a compelling and often shocking story burning under the present day narrative. Towards the last chapter, I gasped. I'll say no more. Excellent debut fiction.

Zan Rowe
Pieper's use of a dual narrative is creative and evocative; it serves the story well. Pieper handles the contrasting journeys in different time periods with ease and style . . . The author's crisp turn of phrase and the efficiency with which he crafts the two differing but comparable fictional journeys. Pieper achieves said craftsmanship with as much, if not more, assurance than many of his more heralded contemporaries. For this feat alone, his work is worthy of commendation.

Laurie Steed, Australian Book Review
Haunting, dark and enthralling, Pieper's storytelling spans the gamut of situations guaranteed to provoke extreme emotions.

Rosalea Ryan, Bendigo Weekly
Compelling . . . explores how our secrets can shape our lives.

Sunday Life
It's clear within pages of The Toymaker that he is a professional writer of prodigious talent. This is a juicy book with an intricate, layered plot, three-dimensional characters, and with brio – it is at once a Holocaust novel, a family drama, and a contemporary literary treat . . . Issues of identity plague this novel, and by the end, Pieper has choreographed an exquisite twist.

Louise Swinn, The Age
Powerfully affecting . . . An important new testament to the horrors and secrets of the Holocaust.

Australian Women's Weekly
Liam Pieper has written a stunning debut novel with a shattering final twist that will leave you breathless (and perhaps even outraged) from its impact. His exploration of the darker side of human nature, survival at any cost and the dire consequences of keeping too many secrets will keep you clamouring for more from this outstanding new author.

Pauline Latham, South Coast Register
Fellowship of Australian Writers Awards
Winner • 2016 • Christina Stead Fiction Award
Indie Book Awards
Longlisted • 2017 • Indie Book Awards
Article
Silence is deadly
Liam Pieper's The Toymaker asks people to speak up when it matters.
Article