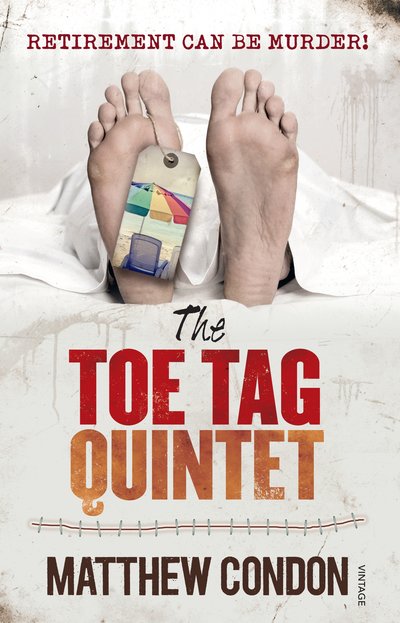 Published:

3 December 2012

ISBN:

9781742756691

Imprint:

Vintage Australia

Format:

Paperback

Pages:

352

RRP:

$27.99
The Toe Tag Quintet
---
---
---
Retirement can be murder!
Retirement can be murder!
The adventures of a former Sydney detective from 21 Division who, in his prime, collared some of the most murderous criminals in Australian history yet, on retiring to the Gold Coast in Queensland, along with half of the criminal milieu he once pursued, is shot, king-hit, tortured, and thrown from buildings in his relentless pursuit of justice.
With his trademark wit, warmth and humour, Matthew Condon takes us on a crazy ride - in boats, kombis, peugeots and window-washing platforms - through art galleries, libraries, swampy islands and caravan parks to illustrate that we are never too old for adventures.
Published:

3 December 2012

ISBN:

9781742756691

Imprint:

Vintage Australia

Format:

Paperback

Pages:

352

RRP:

$27.99
Praise for The Toe Tag Quintet
Matthew Condon is a writer who confounds expectations. A love of eccentricity is evident, too, in Condon's characterisations, with The Toe Tag Quintet bringing his wit to the fore in a way his previous work did not. We always knew he was capable of descriptive brilliance, but we discover here that Condon also has a gift for the ingenious put-down. Condon's comic intelligence shines though, placing The Toe Tag Quintet a cut above the average crime novel and opening up yet another field for this extremely fecund writer.

Simon Collinson, Australian Book Review
In complete control of the genre, Matt Condon adds his own secret herbs and spices to his collection of murder mysteries: an uncanny knack for writing great characters, a gift for observation and description of place, and a splash of poetic and cinematic imagery. The result isThe Toe Tag Quintet,a brilliant romp through the sweaty, flatulent underbelly of south-east Queensland.

Annette Hughes, Newtown Review of Books
all-out entertaining

Fiona Hardy, Readings
The five enjoyable novellas in this collection from Australian author Condon (The Trout Opera) chart the adventures of a 37-year veteran of the New South Wales police force, recently retired to Queensland's Gold Coast. What the unnamed former policeman fails to reckon with is his abnormal skill for being at the wrong place at the wrong time—whether it's a chance encounter with an old enemy that drops him into the middle of a violent quarrel over lost paintings, library visits that leave him a target for a mad man, or a friend's sudden death that drags him into the deadly world of food reviews. He accepts his role as fate's chew toy with remarkable good humor, surviving knocks that should leave him a motionless form in a chalk outline or otherwise a bloody corpse. For those who like a light approach to serious crimes.

Publishers Weekly