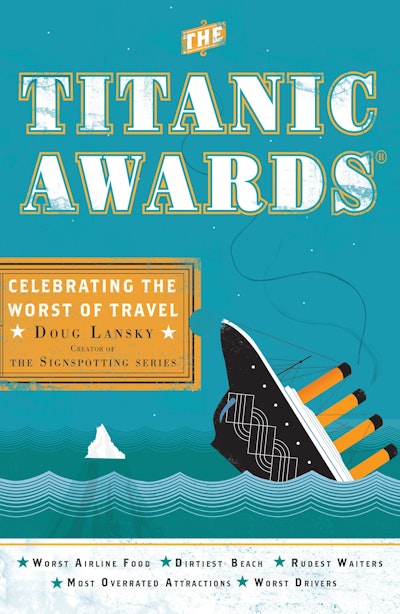 Published:

4 May 2010

ISBN:

9780399535840

Imprint:

Tarcher

Format:

Paperback

Pages:

224

RRP:

$23.99
The Titanic Awards
Celebrating the Worst of Travel
---
---
Read Doug Lansky's posts on the Penguin Blog.

"In a nutshell, the Titanic Awards are the Darwin Awards for travel- only nobody dies." -Los Angeles Times
Everyone who's ever checked (and lost) their luggage or discovered that their hotel misplaced their reservation knows there are few perfect vacations. The Titanic Awards takes a different approach to these often spectacular travel underachievements: celebrating them.
From worst airport layout to most confusing subway system to the most overrated tourist attraction, Lansky looks at these flawed travel destinations with a gimlet eye and a sense of the absurd.
Published:

4 May 2010

ISBN:

9780399535840

Imprint:

Tarcher

Format:

Paperback

Pages:

224

RRP:

$23.99
Praise for The Titanic Awards
"Mr. Lansky's new book, The Titanic Awards: Celebrating the Worst of Travel (Perigee Trade) is dedicated 'to all the travelers who overcame annoyances and obstacles to make it to their destinations, and then willingly decided to set out traveling again.' Hey, that's us! And as business travel begins to rebound after a long slump, it's perhaps useful to be reminded that on the road, 'something invariably goes wrong,' as Mr. Lansky says. 'At times, very wrong.'." -The New York Times "...Doug Lansky has an innate knack for zeroing in on the strangely humorous... When you think your trip isn't going, just remember: You could be checking into the Resist Bacteria Hotel in Singapore." -TravelandLeisure.com "...Details some of the misadventures that make your recent misadventure (and you know you have one) seem like a walk inn the park." -LosAngelesTimes.com "So out of respect for all those who wouldn't guess from the title, here's a spoiler alert about Doug Lansky's new book, The Titanic Awards: Things go wrong. More precisely, the book is all about things going wrong or things being wrong. That's the point: It's always more interesting that way." -SanFranciscoChronicle.com "A lively compendium of ineptitude, turpitude, and just bizarre behavior that would be even funnier if it weren't so depressingly familiar." -BloombergBusinessWeek.com