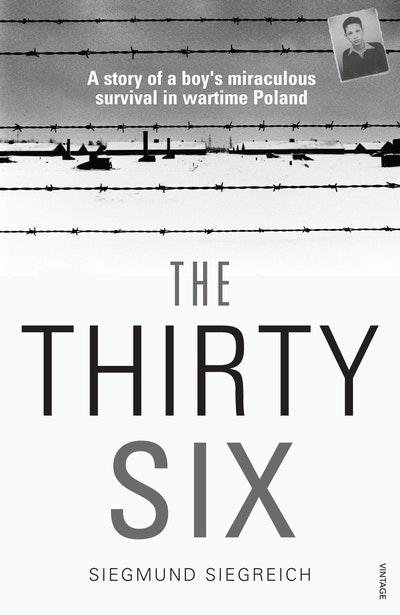 Published:

1 September 2009

ISBN:

9781741668438

Imprint:

Vintage Australia

Format:

Trade Paperback

Pages:

400

RRP:

$36.99
The Thirty-Six
---
---
---
Do I believe in the Thirty-Six? I believe in miracles.
Do I believe in the Thirty-Six? I believe in miracles.
Sigi had just turned 15 and was living a carefree life in Poland when WWII was declared. Within days, Germany crossed the Polish border and randomly, to assert their intentions, exterminated Jews and Poles. The Siegreich family relocated further into Poland, to Bedzin, hoping the war would pass quickly.
It was not to be. Their train enroute to their new home was attacked and they lost many of their belongings, and some friends. Within days of setting up in Bedzin, while out shopping for food Sigi was picked up by German soldiers and taken off with other Polish citizens where he was forced to dig a large trench. The German soldiers then shot the Polish men, one by one. In the first miracle of his life, Sigi was saved by a man who grabbed him and threw him into the trench before him. And Sigi's new life of horror, pain, drudgery, miracles and adventures began.
Sigi went on to lead the most extraordinary life in order to survive. Operating a bicycle courier service between Jewish ghettos in Poland, escaping from his first workcamp, working with the Polish resistance and, toughest of all, being returned to another workcamp where he was able to use his job in the armaments factory to sabotage the German munitions. Here he also fell in love with Hanka who helped him survive his last period in the workcamp when he was forced into hiding.
Only just twenty when his camp was finally liberated by the Russians in 1945, he and Hanka determined to live a life of happiness and love. It has taken more than six decades for Sigi Siegreich to be able to talk to his children and grandchildren about his life in wartime Poland - the life of a privileged young Jewish boy who witnessed heinous acts of inhumanity he will never forget, but was also - many times - touched by miracles.
The Thirty-Six tells of Sigi's miraculous survival and the good and bad he saw of life and humanity in Poland during WWII.
Published:

1 September 2009

ISBN:

9781741668438

Imprint:

Vintage Australia

Format:

Trade Paperback

Pages:

400

RRP:

$36.99
Praise for The Thirty-Six
This is, among other things, a compelling documentation of the sheer brutality of the German invasion and the random nature of events, on the street one minute, facing a firing squad the next. Harrowing, deeply sad, but triumphant, Siegreich means "victorious".

The Age
'Not another Holocaust memoir,' I groaned under my breath when I received my review copy. And there is really nothing new in Sigi Siegrich's story of the horrors of war-time Poland - the deprivations of daily life, the humiliations (and worse) suffered at the hands of the Nazi occupiers, the overnight disappearances of family and friends - never to be seen again. But (big, big 'but'), this particular telling - this particular viewpoint - is mesmerising. It is personal and well beyond personal, self-aware without self-pity and honest without hatred. The publishers are marketing this book as an adult title, though I think (because it is so well written and so well told) that young readers will also find it compelling. So, get a copy for your teenage nephew, niece or grandchild. They will be horrified and they may even shed a few tears. I can guarantee that they won't forget it - and that is the main thing!

Simon Auld, Readings
One of the things that I loved the most was the voice of Siegmund, it was so real and immediate and engaging. I also loved the fact that till the end he was looking at every person as an individual, he was still able to appreciate some humanity in a few of these German characters and at the same time notice that not all Jews were good to all other Jews. It would have been so much easier to make everything just black or white but he was intelligent enough to understand that the world even under the extreme conditions is still not just black or white. It may be also that that very capacity of always looking for good that allowed him to survive the years of war. I don't think that anybody can ever truly imagine how it would feel to live through the things that Siegmund and so many others lived through, or understand the incredible courage and integrity that people like Moniek had, but at least we can glimpse it through the eyes of Siegmund. When I closed the book I kept thinking about how amazing the human spirit is: capable of unimaginable cruelty but at the same time possessing this almost indestructible will to live and love.

Anna O'Grady, Category Manager Books, Lagadere Services Asia Pacific