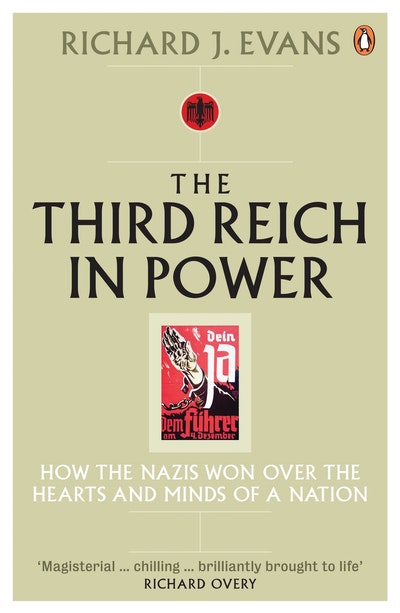 Published:

31 July 2006

ISBN:

9780141009766

Imprint:

Penguin Press

Format:

Paperback

Pages:

960

RRP:

$35.00
The Third Reich In Power, 1933 - 1939
---
---
---
The second book in his acclaimed trilogy on the rise and fall of Nazi Germany, Richard J. Evans' The Third Reich in Power: How the Nazis Won Over the Hearts and Minds of a Nation explores how Hitler turned Germany from a vibrant democracy into a one-party state.
Before Hitler seized power in 1933, Germany had been famous for its sophistication and complexity. So how was it possible for a group of ideological obsessives to re-mould it into a one-party state directed at war and race hate? How did the Nazis win over the hearts and minds of Germany's citizens, twist science, religion and culture, and transform the country's politics to achieve total dominance so quickly?
From the Nuremberg Laws to the Olympic Games, Kristallnacht to the Hitler Youth, this gripping account shows how a whole population became enmeshed in a dictatorship that was consumed by hatred and driven by war.
'Impressive ... perceptive ... humane'
Ian Kershaw
'Excellent ... powerful ... it makes an indelible impression'
Robert Service, Sunday Times
'Likely to be the standard work for some years to come'
Spectator Books of the Year
'A rich and detailed description of just what the Third Reich did in every compartment of the state and every corner of society ... Evans's magisterial study should be on our shelves for a long time to come'
Economist
'Written with great style and human sympathy'
Daily Telegraph Books of the Year
'Evans brilliantly conveys how the Fuhrer reignited Germans' pride as he led them to catastrophe'
Neal Ascherson, Observer
Sir Richard J. Evans is Professor of Modern History at Cambridge University. His previous books include In Defence of History, Telling Lies about Hitler and the companions to this title, The Coming of the Third Reich and The Third Reich at War.

Published:

31 July 2006

ISBN:

9780141009766

Imprint:

Penguin Press

Format:

Paperback

Pages:

960

RRP:

$35.00