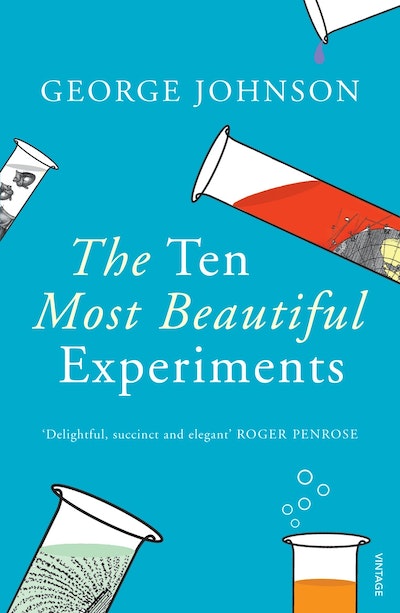 Published:

1 September 2010

ISBN:

9781409088233

Imprint:

Vintage Digital

Format:

EBook

Pages:

208
The Ten Most Beautiful Experiments
---
---
---
One of the world's finest science journalists tells the story of the ten greatest scientific experiments - which in a moment profoundly changed our understanding of the universe.
From the universally praised New York Times science writer George Johnson ("He provides some of the best science writing I have come across in a long time"—Paul Davies), an irresistible book on the ten most fascinating experiments in the history of science—moments when a curious soul posed a particularly eloquent question to nature and received a crisp, unambiguous reply.
Ch. 1 - Galileo: The Way Things Really Move
Ch. 2 - William Harvey: Mysteries of the Heart
Ch. 3 - Isaac Newton: What a Colour Is
Ch. 4 - Antoine-Laurent de Lavoisier: The Farmer's Daughter
Ch. 5 - Luigi Galvini: Animal Electricity
Ch. 6 - Michel Faraday: Something Deeply Hidden
Ch. 7 - James Joule: How the World Works
Ch. 8 - A. Michelson: Lost in Space
Ch. 9 - Ivan Pavlov: Measuring the Immeasurable
Ch. 10 - Robert Millikan: In the Borderland
The diligence of all these scientists was rewarded: in an instant, confusion was swept aside, and something new about nature leapt into view.
Published:

1 September 2010

ISBN:

9781409088233

Imprint:

Vintage Digital

Format:

EBook

Pages:

208
Praise for The Ten Most Beautiful Experiments
Johnson's mix of the personal, the erudite and crystalline prose is -- like the pull of gravity (see beautiful experiment number 1) -- an irresistible force.

Scientific American
As a science journalist, Mr. Johnson is a seasoned translator of technical jargon. He also has a sharp eye for human plot, both in and out of the laboratory . . . a certain spirit of wonder breathes through Mr. Johnson's chapters.

New York Sun
Johnson has a good feel for detail . . . and an easy touch with larger concepts . . . Johnson's lively book nicely evokes the lost world of the tabletop experiment .

New York Times Book Review
Johnson's lively book... finds beauty throughout science - even among dead frogs and drooling dogs

Scotsman
Johnson manages to convey the heart-stopping wonder of discovery

Radio 4, Today programme
In describing these beautifully simple works of genius, Johnson reveals as much about the corporatist nature of modern science as he does about early research

Scotland on Sunday
Johnson's essays balance human interest and scientific wonder in equal measure, making for a delicious succession of vignettes

Guardian
Most of us know the outlines of the stories he tells but in his hands they again evoke the eureka moment that in each case changed people's undrstanding of how the world worked.

Nicholas Bagnall, Sunday Telegraph
A delightful read that will stimulate the scientist inside everyone

Bluesci
Delightful, succinct, elegant.

Roger Penrose