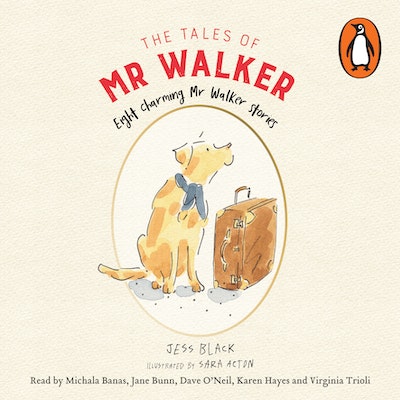 Published:

5 November 2019

ISBN:

9781760895853

Imprint:

Penguin Random House Australia Audio

Format:

Audio Download

Length:

5 hr 10 min

Narrators:

Michala Banas, Virginia Trioli, Jane Bunn, Dave O'neil, Karen Hayes

RRP:

$15.99
The Tales of Mr Walker
---
---
---
Introducing Mr Walker – a hotel dog with a nose for adventure! Eight charming Mr Walker stories read by a variety of Guide Dog Ambassadors.
On a brilliant autumn's day, Mr Walker arrives at the grandest hotel in town. While things get off to a wobbly start, this charming labrador is determined to put his best paw forward. And it's just as well because the most unexpected adventures await . . .
The audiobook edition of The Tales of Mr Walker contains eight delightful stories inspired by the real-life Mr Walker, a Guide Dog Ambassador who now calls Park Hyatt Melbourne home.

Royalties from sales of this audiobook go to Guide Dogs Victoria.
Published:

5 November 2019

ISBN:

9781760895853

Imprint:

Penguin Random House Australia Audio

Format:

Audio Download

Length:

5 hr 10 min

Narrators:

Michala Banas, Virginia Trioli, Jane Bunn, Dave O'neil, Karen Hayes

RRP:

$15.99
Praise for The Tales of Mr Walker
This book consists of four stories of Mr Walker after his arrival at his new home and I do hope there will be more as they are charming and heart-warming. Beautifully illustrated the stories follow Mr Walker's experiences as he learns to interact with both his new family and the various guests he encounters. Royalties from this book go to support the Guide Dogs of Victoria which is a truly lovely bonus.

Sue Warren, Just So Stories blog
As the machinations of a hotel are revealed through the eyes, ears and, particularly, the nose of this charmingly affable dog, we meet a host of guests and staff. We enjoy his triumphs and good-natured perspectives as he sniffs out a delicious pastry or greets a world-renowned musician with a wag of his tail. Jess Black understands dogs and as you read you feel you could reach down and pat Mr Walker.

Alexa Dretzke, Readings
...this is a beautifully designed and presented book which would suit children aged 8 to 11 years who enjoy chapter books.

Dianne Bates, Buzz Words
Written in a chatty narrative that will appeal to all those who love stories about dogs, especially true ones, this book contains four illustrated stories about Mr Walker's adventures at the hotel - where he still remains lounging on his custom-made Tasmanian oak bed.

Barbara Braxton, The Bottom Shelf blog
This is an absolutely beautiful book for ages 7 and up. Once trained to be a guide dog, Mr Walker finds himself as an ambassador at the Park Hyatt in Melbourne. He is an endearing dog, with likeable traits who soon finds himself popular with the guests. The book contains four heart warming stories that are beautifully illustrated.

Kathryn Schumacher, ReadPlus
The Tales of Mr Walker is also split into four short-stories and the writing of Jess Black will draw readers of all ages into the story of this dog as your imagination almost brings this pooch into your home.

Impulse Gamer
Simply, I love all that this book stands for. It teaches children how to be kind to animals, demonstrates kindness, shows how it is important for everyone to be loved and cared for, and how to give back through services like the Royal Guide Dogs Australia.

Allison, Little Big Reads blog
Australian Book Industry Awards
Longlisted • 2019 • Book of the Year for Younger Children
CBCA Book of the Year Awards
Notable Book • 2019 • Younger Readers