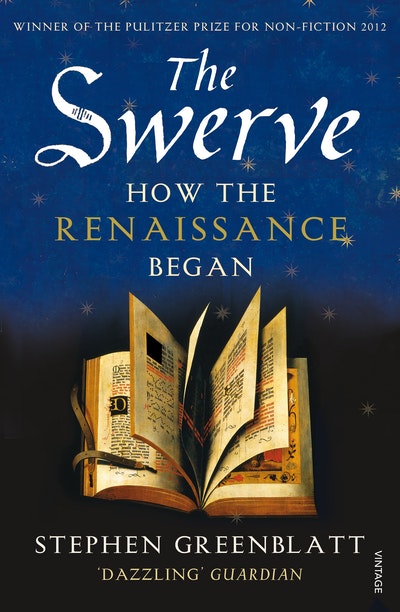 Published:

18 September 2012

ISBN:

9780099572442

Imprint:

Vintage

Format:

Paperback

Pages:

368

RRP:

$22.99
The Swerve
How the Renaissance Began
---
---
---
A riveting, exemplary tale of the great cultural "swerve" known as the Renaissance
One of the world's most celebrated scholars, Stephen Greenblatt has crafted both an innovative work of history and a thrilling story of discovery, in which one manuscript, plucked from a thousand years of neglect, changed the course of human thought and made possible the world as we know it.
Nearly six hundred years ago, a short, genial, cannily alert man in his late 30s took a very old manuscript off a library shelf, saw with excitement what he had discovered, and ordered that it be copied. The book was the last surviving manuscript of an ancient Roman philosophical epic, "On the Nature of Things," by Lucretius -- a thrillingly beautiful poem of the most dangerous ideas: that the universe functioned without the aid of gods, that religious fear was damaging to human life, and that matter was made up of very small particles in eternal motion.
The copying and translation of this ancient book, the greatest discovery of the greatest book-hunter of his age, fueled the Renaissance, inspiring artists such as Botticelli and thinkers such as Giordano Bruno; shaped the thought of Galileo and Freud, Darwin and Einstein; and had revolutionary influence on writers from Montaigne to Thomas Jefferson.
Published:

18 September 2012

ISBN:

9780099572442

Imprint:

Vintage

Format:

Paperback

Pages:

368

RRP:

$22.99
Superbly readable... An exciting story, and Greenblatt tells it with his customary clarity and verve

Robert Douglas-Fairhurst, Daily Telegraph
Superb history ... this concise, learned and fluently written book tells a remarkable story

Charles Nicholl, Observer
Dazzling

Guardian
In this outstandingly constructed assessment of the birth of philosophical modernity, renowned Shakespeare scholar Greenblatt deftly transports reader to the dawn of the Renaissance...Readers from across the humanities will find this enthralling account irresistible

Library Journal
More wonderfully illuminating Renaissance history from a master scholar and historian (starred review)

Kirkus Reviews
In this gloriously learned page-turner, both biography and intellectual history, Harvard Shakespearean scholar Greenblatt turns his attention to the front end of the Renaissance as the origin of Western culture's foundation: the free questioning of truth (starred review)

Publishers Weekly
More wonderfully illuminating Renaissance history from a master scholar and historian (starred review)

Kirkus Reviews