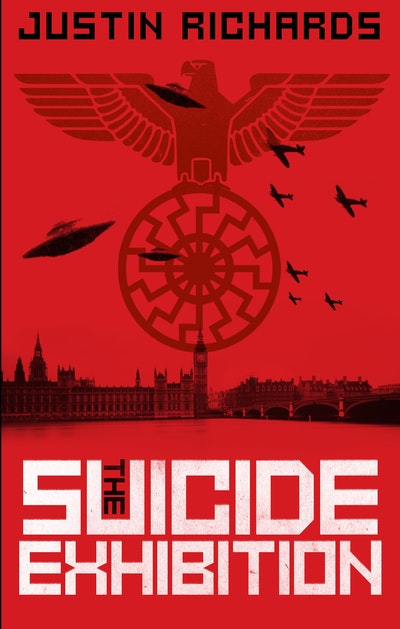 Published:

30 April 2020

ISBN:

9781473584815

Imprint:

Cornerstone Digital

Format:

EBook

Pages:

400
The Suicide Exhibition
The Never War
---
---
---
The Thirty-Nine Steps meets Indiana Jones and Quatermass!
WEWELSBURG CASTLE, 1940.
The German war machine has woken an ancient threat - the alien Vril and their Ubermensch have returned. Ultimate Victory in the war for Europe is now within the Nazis' grasp.
ENGLAND, 1941
Foreign Office trouble shooter Guy Pentecross has stumbled into a conspiracy beyond his imagining - a secret war being waged in the shadows against a terrible enemy.
The battle for Europe has just become the war for humanity.
This is The Thirty-Nine Steps crossed with Indiana Jones and Quatermass. Justin Richards has an extremely credible grasp of the period's history and has transformed it into a groundbreaking alternate reality thriller.
Published:

30 April 2020

ISBN:

9781473584815

Imprint:

Cornerstone Digital

Format:

EBook

Pages:

400
Praise for The Suicide Exhibition
Justin Richards has reworked an old myth to nightmarish effect. You get the feeling that if the Nazis could have done this, they would. The Suicide Exhibition has a ghastly plausibility.

Stephen Baxter
this promises to be a compelling series

Daily Mail
perfectly captured … a complex spy thriller reminiscent of Operation Mincemeat … or James Bond – if James Bond had aliens in it … a cast of well-developed characters and a good tale, well told

Starburst magazine
Justin Richards brings all his skills as a leading Dr Who writer to this tale of wartime intelligence at odds with some of H.P. Lovecraft's worst nightmares … Bulldog Drummond meets Luther Arkwright! Here's a story of World War Two and the Nazi war machine … Justin Richards puts all his usual expertise into this marvellous romp. Everything you would expect of this outstanding tale-spinner!

Michael Moorcock
I enjoyed this book. It combines elements of many genres. Parts of this made me think of Indiana Jones, or possibly the da Vinci Code with a bit of James Bond thrown in while others were much closer to sci-fi. But the overall story is completely original, something I find very refreshing with the amount of books I go through. This book has some degree of sexual tension, but no sex whatsoever, and while there is violence, it does not depend on blood or gore, but rather on actual plot … I believe I will enjoy the next one even more.

The Bookbag
The pace and vigour of the best of Alastair MacLean's thrillers with very 21st century SF and horror elements thrown in – recommended.

scifibullitin.com