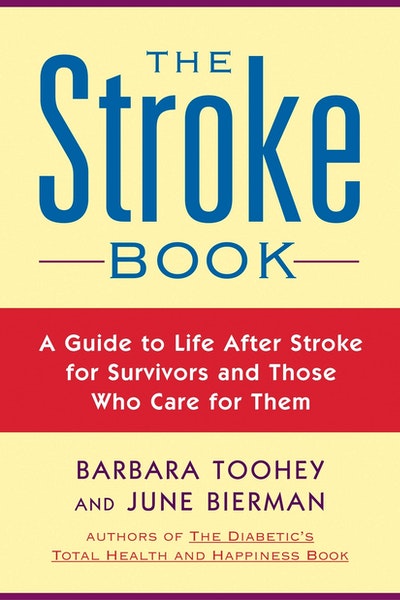 Published:

3 March 2005

ISBN:

9781585423743

Imprint:

Tarcher

Format:

Paperback

Pages:

256

RRP:

$29.99
The Stroke Book
A Guide to Life After Stroke for Survivors and Those Who Care for Them
---
---
An indispensable, sensitive guide for stroke sufferers and those who care for them
According to the U.S. Centers for Disease Control, an American suffers a stroke every forty-five seconds. More than 700,000 Americans each year find themselves struggling to recover from this affliction—and many hundreds of thousands more are there to help them mend.
June Biermann, a stroke survivor, and her coauthor—and caregiver—Barbara Toohey, authors of the bestselling Diabetic's Total Health and Happiness Book, offer this essential source for those recovering from a stroke and those providing them with support.
The Stroke Book offers readers:
- Clear explanations of the science of this often misunderstood condition
- Information on what to expect at the hospital and in rehabilitation
- Analyses of encouraging new developments in stroke therapy, including basic and alternative therapies, and traditional and cutting-edge medications
- Advice on coping with complex rehabilitation needs, including adjustments for nutrition, mobility, and everyday living, and on understanding after-stroke emotional and cognitive changes
- Suggestions for preventing future strokes
- Information on how people recovering from a stroke can reclaim their independence and quality of life—and how caregivers can manage their own stresses and sorrows
- Heartening words on keeping hope alive with patience and fortitude, and the curative power of humor
- Inspiring stories of the stroke and recovery experiences of well-known individuals
With stroke now the leading cause of serious, long-term disability in the United States, Biermann and Toohey's optimistic, user-friendly guide to living well after an attack is a vital tool for recovery.
Published:

3 March 2005

ISBN:

9781585423743

Imprint:

Tarcher

Format:

Paperback

Pages:

256

RRP:

$29.99