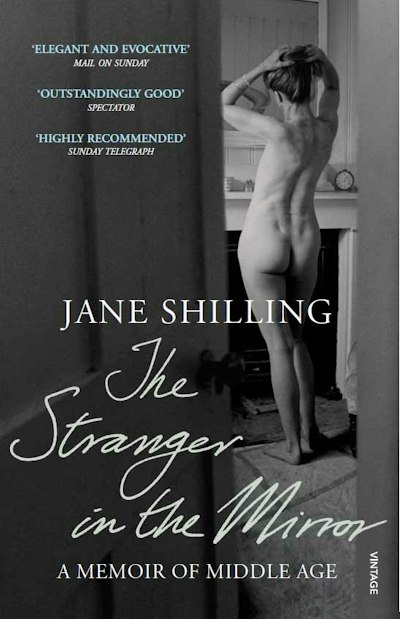 Published:

1 March 2012

ISBN:

9781446467848

Imprint:

Vintage Digital

Format:

EBook

Pages:

256
The Stranger in the Mirror
A Memoir of Middle Age
---
---
---
A remarkable and poignant memoir about one woman's attempt to understand middle age.
Middle age took Jane Shilling by surprise. She hadn't seen it coming, and she certainly wasn't ready for it. Living a flawed, bittersweet version of the idyll she dreamed of in her twenties, in a tumbledown urban cottage by the Thames, with a son, a cat and a horse in a livery fifty miles away, she wondered whether middle age was the beginning of the end. Or was there one last great adventure to be had?
The Stranger in the Mirror is one woman's attempt to understand what middle age means for her and whether, as a new generation of women turns fifty, a revolution is under way. It definitely won't reverse the signs of ageing - but it will make you laugh, it will make you think and it could just make you look in the mirror in a slightly different way...
Published:

1 March 2012

ISBN:

9781446467848

Imprint:

Vintage Digital

Format:

EBook

Pages:

256
Praise for The Stranger in the Mirror
Shilling's thoughts on love and ageing are so wise and so memorably expressed that they would grace a literary novel... Shilling's mild obsession with control and with the delicate, the exquisite and the theatrically miniature almost makes her into a latter day Jane Austen

New Statesman
I loved this book so much I gulped it down in just two sittings... Jane Shilling is a peerlessly elegant and evocative writer

Libby Purves, Mail on Sunday
Shilling is a gorgeous writer and there are chunks of this book that I would happily steal... If this woman wrote a novel I would buy it in a heartbeat... Shilling puts the ageing process under the microscope and, as we read, we squirm

Jenny Eclair, Observer
Jane Shilling is an outstandingly good writer...she also has emotional and intellectual courage

Spectator
Wry, quietly fuming and often moving memoir of a midlife cri de couer... exceptionally companionable, occasionally bejewelled and richly sustaining broth of a book

Sunday Telegraph
Shilling's style, dashingly cavalier and artfully artless, bubbles with wit and brio

Independent
Imagine Montaigne as a thoroughly modern unmarried mother and freelance journalist living in south London... Everywhere there is detail, and nuance, and care about others, and about words

Guardian
Shilling is brave and endearingly frank

Scotsman
An intelligent discursion on what it means to be a no-longer-youthful female in a world obsessed with staying young ... Her thoughts are refreshing, provocative and a pleasure to read

Metro
Jane Shilling is an excellent writer...this is detailed, personal and memorable

William Leith, Evening Standard
The essay form, with its drifts and lurches, suits Shilling's purposes perfectly as she catalogues her experience of middle-ages confusion and loss... all with detail, nuance, enthusiasm and care

Ian Sansom, Guardian
The usual stereotypes about grumpy old women are jettisoned in favour of ironic and nuanced observations about sexuality, identity and death in this crisply written memoir about middle age

Benjamin Evans, Daily Telegraph
An honest midlife memoir of ageing, false expectations and unrealised dreams

Michael Binyon, The Times
Detailed, personable and memorable

William Leith, Scotsman
Her story may not be unusual, but the elegance and range of her writing most certainly is. The journey is a delight

Daily Telegraph
Fans of this beautifully crafted, critically acclaimed memoir of middle-age might well take the view that it should be distributed free on the NHS to all women over 50... a penetrating analysis of the challenges and heartaches of life's middle phase

Katherine Whitbourn, Daily Mail
Shilling casts a self-critical eye over the events that have shaped her life

Emma Hagestadt, Independent