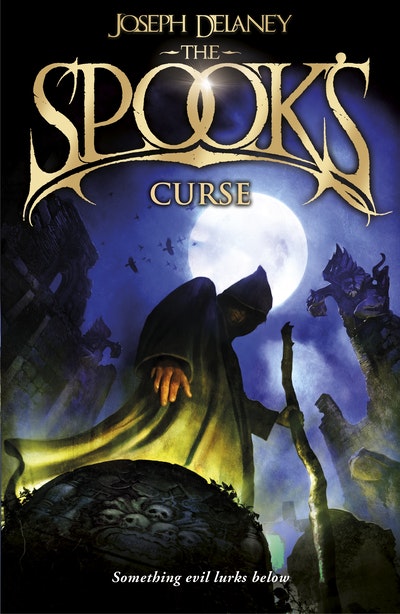 Published:

2 January 2014

ISBN:

9781782952466

Imprint:

Red Fox

Format:

Paperback

Pages:

448

RRP:

$17.99
The Spook's Curse
Book 2
---
---
---
Warning: Not to be Read After Dark! The second installment in The Wardstone Chronicles.
The Spook's Curse is the second book in Joseph Delaney's terrifying Wardstone Chronicles - over 3 million copies sold worldwide!
'By now the dark has noticed you and will be trying to hunt you down . . .'
It's the job of the Spook and his apprentice, Thomas Ward, to protect the County from the dark. But deep in the catacombs beneath Priestown lurks a creature the Spook has never been able to defeat - the Bane. As they prepare to battle it, yet another deadly enemy emerges to threaten Tom and his master.
Published:

2 January 2014

ISBN:

9781782952466

Imprint:

Red Fox

Format:

Paperback

Pages:

448

RRP:

$17.99
Praise for The Spook's Curse
'An evocative, spine-tingling sequel to the Spook's Apprentice.'

Amanda Craig, The Times
'Tom Ward is back in another eerie, spine-tingling adventure...you'll love getting lost in this spooky tale.'

Funday Times
Really impressed by [this] . . .genuinely creepy . . . very pacy . . .the characters were very believable.

Damian Kelleher, Radio 4 Front Row
'Full of scary moments which will get the hearts of even the most fearless readers pounding, while keeping them glued to the action.'

Lancashire Evening Post
'Readers who were spellbound by the goings-on in 'The Spook's Apprentice' will be equally engrossed by this sequel.'

Waterstone's Quarterly
Interview with Joe Delaney

Lancashire Evening Post
'Full of scary moments..the writing is amazingly descriptive...Delaney has once again penned a fabulous book.'

Lancashire Evening Post
Interview with Joe Delaney

Garstang Courier
'A new, spine-chilling adventure...exciting and creepy.'

Junior News & Mail
Article about promotional school visit

Rossendale Free Press
'Wonderful and terrifying.'

North West Evening Mail
'These are expertly written books.'

Teaching & Learning
Short review

Evening Echo (Cork)
A great read for all fantasy fans

tbk Mag
A sequel that will be greeted eagerly by fans of The Spook's Apprentice.

Fiona Lafferty, TES
Watch out for the new installment of Joe Delaney's Spook's series.

S (supp. to Sunday Express)
The second volume in an excellent series... the author eschews the usual predictable weirdo fantasy settings and places the characters in a kind of olden-days Lancashire.

Islington Tribune
The story has an intense, creepy feel from the very start, and is full of darkly atmospheric scenes, which are it's great strength

School Librarian
Delaney's tale of the Spook and his apprentice deftly combine elements of horror with the idea of the wandering, despised hero, as popularised in the western and it's imitators. The Wardstone Chronicles remain one of the strongest ongoing series of the moment.

Write Away!
Thrilling tale.

Carousel