Seven royal visits that had Australians spilling their tea.
Since Captain James Cook first claimed New South Wales for King George III in 1770, the pulse of Australia can be measured by the strength of its attachment to the royal family. 'There is certainly no rational reason why an increasingly diverse, modern Australia needs to cling to this ancient aristocratic bloodline from the other side of the world to provide our head of state,' writes historian David Hill in his book The Special Relationship: Australia and the Monarchy. 'But whatever the appeal, Australian interest in and appetite for the British royal family show no sign of ending soon.'
For the last 150-odd years, this appetite that Hill speaks of has been fuelled by royal visits to Australia. Let's take a look at seven royal visits that got the blood pumping for reasons good and unusual.
1. A Silver Lining
The first royal visit to Australia was made in 1867 by Queen Victoria's son Prince Alfred, Duke of Edinburgh. The trip turned sour when Alfred was shot in the back in an assassination attempt while picnicking on a Sydney beach. He made a full recovery and plans were laid for a memorial building to be erected in his honour – Sydney's Royal Prince Alfred Hospital, which is still in operation today.
2. A Man After Our Own Hearts
When future king Edward, Prince of Wales, travelled out in 1920 to thank Australians for their service in WW1, he was greeted with unprecedented scenes of excitement and loyalist sentiment. But near Bridgetown, Western Australia, his railway carriage overturned. The Prince was unharmed and made light of the situation – endearing him even further to Australian people and earning him the nickname 'The Digger Prince'.
3. A Royal Boost
First times are special, and a freshly sworn-in Queen Elizabeth II's 1954 visit to Australia was not only her first trip to the continent but also the first visit by any reigning British monarch. The country was transfixed – it's estimated that up to 75% of the population caught a glimpse of Elizabeth in person at least once. Prime Minister Robert Menzies commented in the Sydney Morning Herald: 'When 8 million people spontaneously pour out this feeling they are engaging in a great act of common allegiance and common joy… converting them from a mass of individuals to a great cohesive nation.'
4. A Fresh Prince
Cottesloe Beach, Perth, 1979: a lithe Prince Charles bounds along the beach and into the surf. 26-year-old bikinied model Jane Priest waits in the shallows. The photograph of the kiss that follows takes the world by storm. Suddenly sexy, Prince Charles 2.0 emerges from his awkward adolescence.
5. A New Family
Soon after Charles' 1981 marriage proposal, future Princess of Wales, Lady Diana Spencer, visited Yass, New South Wales. Shortly after that, Charles also made a solo visit. But on 20 March 1983, when the Prince and Princess of Wales along with their son Prince William arrived in Alice Springs, Australia got its first real taste of Diana-mania – elevating the popularity of the royals out of the stratosphere.
6. A Royal Gaffe
When photos emerged of Australian Prime Minister Paul Keating with his arm around the Queen during her 1992 visit, the UK tabloid press hit the roof. For his 'grope', Keating was dubbed 'The Lizard of Oz'. A one-off gaffe of this nature could possibly be excused, but Prime Minister John Howard had no excuses for making the same mistake eight years later – though he did strenuously deny that contact was made.
7. A New Generation
Greeted by scenes reminiscent of the Charles and Diana visit of 1983, in April 2014 Prince William arrived in Australia for a ten-day tour with his wife Kate, Duchess of Cambridge, and their son, Prince George. The outpouring of love for the family showed a softening of increased republican sentiments of the time. The Daily Telegraph's Andrew Carswell and Ben McClellan commented: 'There's nothing quite like a cute, happy eight-month-old to melt the heart of the most ardent republican and add another dimension to this nation's renewed love of royalty. And the feeling is mutual.'
---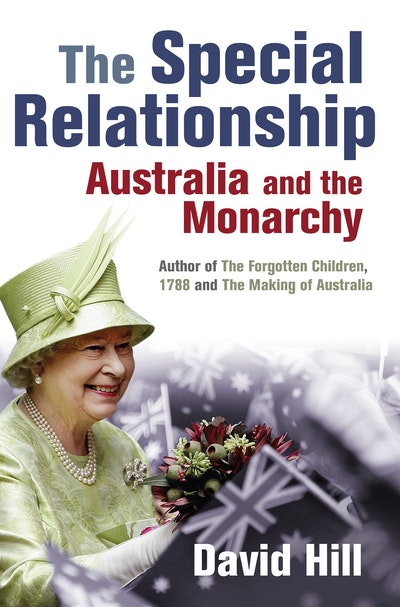 Australia and the British monarchy have an undeniably special relationship, yet they have always made for an odd couple: the rebellious, egalitarian nation wedded to an ancient symbol of social inequality. So what is the magic the royals hold over Australians?
Buy now
Buy now
---