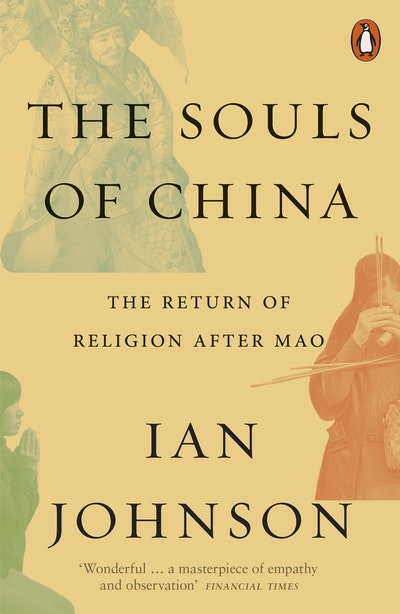 Published:

14 May 2018

ISBN:

9780141986081

Imprint:

Penguin Press

Format:

Paperback

Pages:

480

RRP:

$24.99
The Souls of China
The Return of Religion After Mao
---
---
---
The human story of the vast changes now transforming China, with religion sweeping up millions of people in ways which are a profound threat to the Communist Party.
In no society on Earth was there such a ferocious attempt to eradicate all trace of religion as in modern China. But now, following a century of violent antireligious campaigns, China is awash with new temples, churches, and mosques - as well as cults, sects, and politicians trying to harness religion for their own ends. Driving this explosion of faith is uncertainty - over what it means to be Chinese, and how to live an ethical life in a country that discarded traditional morality and is still searching for new guideposts.
The Souls of China is the result of some fifteen years of studying and travelling around China. The message of Ian Johnson's extraordinary book is that China is now experiencing a 'Great Awakening' on a vast scale. Everywhere long-suppressed religions are rebuilding, often in new forms, and reshaping the values and behaviours of entire communities.
Published:

14 May 2018

ISBN:

9780141986081

Imprint:

Penguin Press

Format:

Paperback

Pages:

480

RRP:

$24.99
Praise for The Souls of China
Extraordinarily rich and intimate... This vividly written, deeply researched book will be the primary work about religious faith in China for years to come.

Leslie T. Chang
This entrancing and engaging book challenges the modern assumption that religion is a thing of the past

Karen Armstrong
Ian Johnson breaks new ground with a brilliant approach, mixing theoretical explorations with real life vignettes from a convincing insider-outsider-combined perspective, making them commenting each other, illuminating in the same way as through the traditional Chinese criticism paradigm of 'I commentate the six classics which commentate me.' The Souls of China is a must read for an understanding of China

Qiu Xiaolong, author of The Inspector Chen Novels
The great Chinese writer Lu Xun once wrote that when many men pass along the same way, a new road is made. The Souls of China shows us how the Chinese people, some with heroic steps and others with hesitant ones, are making a new road for Chinese religion in the twenty-first century. The reappearance and flourishing of religion is perhaps the most surprising aspect of the dramatic changes in China in recent decades. With great sensitivity Ian Johnson guides us on a tour of the rituals, festivals, and above all some of the remarkable characters who make up this new Chinese religious world. This is a beautiful, moving and insightful book

Michael Szonyi, author of Cold War Island
The Souls of China is a rich, informative, and timely book, which explores a major aspect of Chinese life. Ian Johnson carries erudition lightly and describes the people and events with deep insights and personal involvement. Section by section, the writing shows long-term dedication and meticulous research. At heart this is also a personal book, full of feelings and exuberance. It's a tremendous accomplishment

Ha Jin
His tripartite masterpiece Wild Grass and his newest book, The Souls of China, are the most remarkable works to come from a western author in the past two decades.

Liao Yiwu, exiled Chinese author of God is Red: The Secret Story of How Christianity Survived and Flourished in Communist China
Ian Johnson has long been a resourceful and bracing guide to the biggest national transformation of modern history. In The Souls of China he masterfully opens up a little explored realm: how the quest for religion and spirituality drives hundreds of millions of Chinese

Pankaj Mishra
Through interviews conducted with a wide variety of practitioners, Johnson paints a vivid picture of the diversity of Chinese religious life....He provides a fascinating account of how traditional activities recovered after enduring severe repression during China's Cultural Revolution (1966-76). An excellent work that is highly recommended for readers interested in Chinese culture or religion

Library Journal
Johnson succeeds in having produced a nuanced group portrait of Chinese citizens striving for non-material answers in an era of frenetic materialism.

Julia Lovell, Guardian