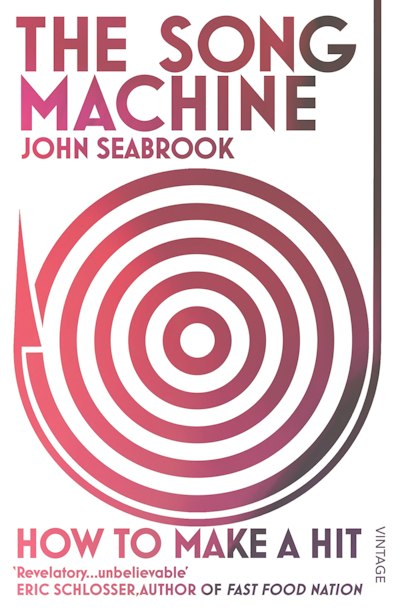 Published:

8 October 2015

ISBN:

9781448191017

Imprint:

Vintage Digital

Format:

EBook

Pages:

368
The Song Machine
How to Make a Hit
---
---
---
How do you make a song a global smash hit that is guaranteed to make $millions? Read The Song Machine, and find out

How do you make a song into a global smash hit that is guaranteed to make millions?
Read The Song Machine and find out!

From Tin Pan Alley and Motown to Rihanna and Taylor Swift, manufactured music has existed since the record industry began.
But who are the hit-manufacturers that can create a tune that is so catchy, so wildly addictive, that it sticks in the minds of millions of listeners?

In The Song Machine, John Seabrook dissects the workings of this machine, travelling the world to reveal its hidden formulas, and interview its geniuses - 'the hitmakers' - at the centre of it all. Hilarious and jaw-droppingly shocking, this book will change how you think and feel about music, as well as how you listen to it.
'Revelatory, funny, and full of almost unbelievable details', Eric Schlosser, author of Fast Food Nation
'As addictive as its subject' Sunday Times
Published:

8 October 2015

ISBN:

9781448191017

Imprint:

Vintage Digital

Format:

EBook

Pages:

368
Praise for The Song Machine
This is a fascinating tale about an amazing phenomenon

Walter Isaacson, author of 'Steve Jobs'
In The Song Machine, John Seabrook tells of a cutthroat and fascinating industry, where readers discover the gifted musical maestros who orchestrate hit after hit but rarely get their name in print. The narrative shows not just how technology has upended the music business but of how - despite prattle about "the long tail" - just one per cent of artists generate 80 per cent of the industry's profits. This is a story with as many surprises as Game of Thrones.

Ken Auletta, author of 'Googled: The End of The World as We Know It'
Revelatory, funny, and full of almost unbelievable details

Eric Schlosser, author of 'Fast Food Nation'
Anyone who wants to understand how the clash of cultures has shaped what we listen to should read this important book. John Seabrook has a marvelous ear for language - and perfect pitch when it comes to music journalism.

Bob Spitz, author of 'The Beatles: The Biography'
A revelatory ear-opener, as the music business remains in a state of significant flux.

Kirkus Reviews
Revealing, frightening, funny and unsettling

Roddy Doyle
Seabrook takes us on a lucid and well-researched tour of the places where modern hits are created

Peter Clark, Literary Review
His work is almost as easy to consume as the songs it discusses - and nearly as addictive.

Alix Buscovic, Record Collector
Explains in fascinating detail how pop stars are utterly dependent on the beats and hooks provided by a handful of largely Swedish hitmakers.

Robert Colvile, Weekly Telegraph
Weaving its way through two-and-a-half decades, one of The Song Machine's greatest achievements is to situate the pop song within a shifting matrix of technological evolution, diminishing revenue streams, and warring egos

Independent
Seabrook subtly explores not only the insides of a song, but how a song gets inside us

Observer
Seabrook's book takes the reader into a hidden world behind some of the most high-profile cultural products of the era

Guardian
A highly engaging narrative

Economist
A sobering peak inside Stockholm's Cheiron Studios.

Andy Gill, Independent
As addictive as its subject

Sunday Times
Reveals the formula for modern pop.

Helen Brown, Daily Telegraph
A gripping investigation of modern hitmaking. Seabrook's writing is as sleek and swift as a dolphin

New Statesman
An amazing story

David Hepworth, Week
· Lodge's short stories are as witty and surprising as his novels.

Kate Saunders, The Times
He seems so perfectly suited to the form. [A] well-observed collection that one wishes was twice as long.

Carl Wilkinson, Financial Times
This is a superb analysis of modern pop music.

i
Seabrook has written an interesting book, smearing away some of the gloss and glamour from the music industry, to reveal details of its inner workings. An interesting book overall on a global industry that has as many secrets as glitterballs.

Paul Cheney, Nudge