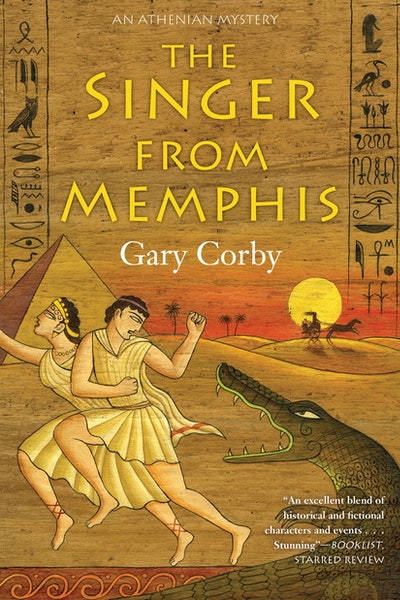 Published:

15 June 2017

ISBN:

9781616958077

Imprint:

Soho Press

Format:

Trade Paperback

Pages:

368

RRP:

$26.99
The Singer From Memphis
---
---
---
A historical murder mystery adventure that stretches from Classical Athens to Egypt in the footsteps of the first historian, Herodotus
Nicolaos, the only private investigator in ancient Athens, discovers that helping an author with his book research can be very dangerous. The would-be author Herodotus has hired Nico and his priestess wife, Diotima, to accompany him to Egypt to research that ancient country's history. Unfortunately, Egypt happens to be in the throes of a rebellion against its overlords, the Persian Empire. Pirates infest the sea route. Three different armies roam the Egyptian countryside. The river is full of crocodiles. Everywhere Nico turns, there's a secret agent ready to kill him, and he can't find a decent cup of wine anywhere. A simple historical investigation turns into a dangerous adventure of international espionage.
From the Hardcover edition.
Published:

15 June 2017

ISBN:

9781616958077

Imprint:

Soho Press

Format:

Trade Paperback

Pages:

368

RRP:

$26.99
Praise for The Singer From Memphis
Praise for The Singer from Memphis "Corby's trademark blend of humor, fascinating historical detail, and accessible presentation of the politics of the time has never been better." —Publishers Weekly, Starred Review "An excellent blend of historical and fictional characters and events lends an authenticity to Nico's witty, first-person account. [Corby's] contemporary tone moves the action along at a stunning pace. This sixth in the series is sure to amuse Lindsey Davis and Elizabeth Peters fans."  —Booklist, Starred Review "Think Mick Dundee meets the Pharaohs in a rip-roaring, pre-historic mix of fact, action and humour that puts Indiana Jones firmly in the corner with the rest of the old dodderers. And it's got crocodile wrestling too!" —Crime Review  "[Corby's] blend of history, notable figures, humor, and the tropes of noir transform his characters into old friends you sometimes want to smack up the side of the head, and then afterward enjoy a bottle of wine with. Recommended for lovers of historical mystery and all things ancient Greek (and Egyptian and Persian and Libyan)." —Historical Novel Society  "Corby's latest is brisk, cheeky, and full of well-researched historical tidbits."  —Kirkus Reviews  "Corby's sixth sprightly outing blends humor with fascinating details about the ancient world."  —Library Journal  "The Singer from Memphis has a wonderful setting and characters and an engrossing mystery with more than a hint of a treasure hunt to it. Gary Corby has prepared the feast, and it's sitting on the table, waiting for you. All you need to do is to sit down and begin enjoying yourself." —Kittling Books Praise for Gary Corby's Athenian Mysteries "Corby serves up a bubbly cocktail of clear history, contemporary wit, and heart-stopping action." —Booklist, Starred Review "Corby integrates the political intrigue of the day with fair-play plotting and welcome doses of humor. Fans of Steven Saylor's Gordianus novels will be enthralled." —Publishers Weekly, Starred Review "Gary Corby has managed an unlikely feat with his series . . . he's written mysteries that combine funny characters and intriguing crimes with accurate history . . . The Marathon Conspiracy is never dull . . . The escapades of the detective will keep readers laughing, while the history lesson will leave them feeling a little bit smarter." —Shelf Awareness "Every new volume further highlights the tricky thing Corby so consistently manages to create: comedic mysteries that still have heft . . . In the manner of what Lindsey Davis and David Wishart give readers for ancient Rome, Corby presents an ancient Greek world that's vibrantly, gawkishly alive." —Open Letters Monthly "A fast-paced, enjoyable, murder mystery that will make readers laugh and think in equal measure." —The Sydney Morning Herald "Corby has not only made Greek history accessible—he's made it first-rate entertainment." —Kelli Stanley, award-winning author of City of Dragons From the Hardcover edition.