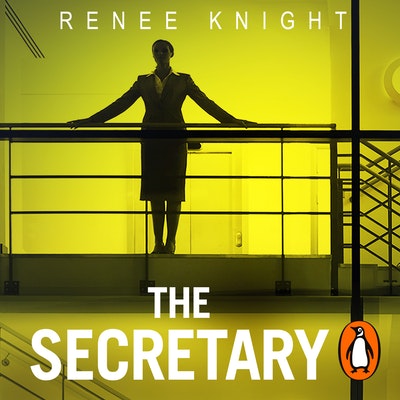 Published:

13 February 2019

ISBN:

9781473525764

Imprint:

Transworld Digital

Format:

Audio Download

Length:

8 hr 23 min

Narrator:

Victoria Hamilton

RRP:

$19.99
The Secretary
---
---
---
The new novel from the No.1 Sunday Times bestselling author of Disclaimer.
Brought to you by Penguin.
The eagerly anticipated new thriller from the No.1 bestselling author of Disclaimer.
'Poised to establish herself as a big name' Telegraph
Look around you. Who holds the most power in the room? Is it the one who speaks loudest, who looks the part, who has the most money, who commands the most respect?
Or perhaps it's someone like Christine Butcher: a meek, overlooked figure, who silently bears witness as information is shared and secrets are whispered. Someone who quietly, perhaps even unwittingly, gathers together knowledge of the people she's there to serve – the ones who don't notice her, the ones who consider themselves to be important.
There's a fine line between loyalty and betrayal. And when someone like Christine Butcher is pushed to her limit, she might just become the most dangerous person in the room . . .
(c) 2019, Renée Knight (P) 2019 Penguin Audio
Published:

13 February 2019

ISBN:

9781473525764

Imprint:

Transworld Digital

Format:

Audio Download

Length:

8 hr 23 min

Narrator:

Victoria Hamilton

RRP:

$19.99
Woah, you are in for a treat with The Secretary! Dark and intriguing with utterly compelling characters. I genuinely couldn't put it down.

Laura Marshall, author of FRIEND REQUEST
Deceptively clever and so unsettling. I love the way she casually slips in a twist that makes you shake your head at how wrong you were!

Lesley Kara, author of THE RUMOUR
I started reading #SecretaryBook last night and couldn't put it down . . . Such a deliciously dark, hugely satisfying read.

Paul Burston, author of THE BLACK PATH
An engrossing study of twisted dynamics in a relationship where one person holds all the power. Fans of Notes on a Scandal will love it.

Tammy Cohen, author of THEY ALL FALL DOWN
A cool, contemporary, whip-smart thriller.

Paula Hawkins, bestselling author of THE GIRL ON THE TRAIN and INTO THE WATER
Filled with a creeping sense of menace that intensifies beautifully as the novel unfolds. Watch out for this one . . . absolutely brilliant.

Fiona Cummins, author of RATTLE
A black diamond of a thriller - gleaming, sharp, deeply dark - but so much more: a cool, elegant novel with a heartbeat, a pulse, and a sting in its tail.

A. J. Finn, bestselling author of THE WOMAN IN THE WINDOW
Clever, clever, clever. At the black heart of this story is a personal assistant - the colleague in your office who hears and knows everything about everyone - and Renée leads us on a deeply unsettling exploration of the limits of loyalty. Believe me, chats by the photocopier will never be the same . . .

Fiona Barton, bestselling author of THE WIDOW
The Secretary is an excellent, dark and clever thriller with a compelling central character. The story draws you in from the start and builds and builds to an intense and unsettling conclusion. I loved it.

Jenny Quintana, author of THE MISSING GIRL
The Secretary is an absolute masterpiece of pace, plot and precision to detail. Renée Knight so deftly winches up the tension that I found I was shallow breathing by the end, desperate to see the conclusion but terrified to watch all at once. I loved Disclaimer and now with The Secretary following it, Renée Knight has become a must read author for me.

Holly Seddon, author of TRY NOT TO BREATHE
An explosive tale of revenge that had me completely hooked.

Good Housekeeping
A superb read - I couldn't turn the pages fast enough.

Prima
The Secretary is a dark addictive tale - utterly compelling - with characters drawn with such a subtle and subversive touch they compel you to plunge in headlong from page one to follow their twisted fate.

Kate Hamer, author of THE GIRL IN THE RED COAT
A bitter betrayal spirals into a chilling comeuppance. Readers are sure to be left breathless.

Publishers Weekly
A stunning finale. Knight, whose debut, Disclaimer, was highly praised, again shows her skill in creating an absorbing psychological thriller.

Booklist
A cinematic page-turner steeped in atmosphere and just awaiting its adaptation to mini-series.

Kirkus
Knight builds tension in this page-turning story about misplaced loyalty, secrets, manipulation, and class . . . slowly revealing what happens when one woman's desire to be helpful and needed ruins her life. Highly recommended.

Library Journal
A scintillating double psychological portrait . . . an arresting ending reminiscent of Rendell at her flintiest.

Sunday Times
I totally loved #TheSecretary. Fabulous tale of the person in the room who is so often overlooked. Office politics at their most evil.

Clare Pooley, author of THE AUTHENTICITY PROJECT
Truly menacing. A meticulously constructed thriller . . .

Susie Steiner, author of MISSING, PRESUMED