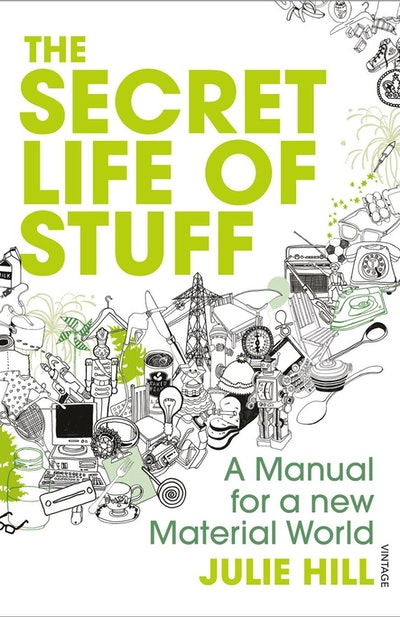 Published:

15 March 2011

ISBN:

9781409040231

Imprint:

Vintage Digital

Format:

EBook

Pages:

368
The Secret Life of Stuff
A Manual for a New Material World
---
---
---
Like The Omnivore's Dilemma, this inventory of how we consume stuff is a wake-up call - shocking but inspiring.
Would you like:
- Products that don't damage the environment?
- A better way of life without agonising about your 'footprint'?
- To really know your stuff?
Climate change? Biofuels? Nuclear power? Landfills? Recycling? Non-renewables? Environmental issues can feel overwhelming. But, in fact, it is simple; it all comes down to one thing – stuff.
How we use the earth's resources – whether a slice of bread or a cargo ship, a cotton shirt or a nuclear reactor – effects our environment. In The Secret Life of Stuff Julie Hill takes a journey through everything around us and how we use it. She uncovers the true origin and cost of stuff and, while her inventory will shock, it is the first step towards overcoming waste. Over-consumption is not your fault, but it is not something you can ignore either. Hill shows how politicians, business people and we, as consumers and citizens, together can create a new, and better, material world.
Published:

15 March 2011

ISBN:

9781409040231

Imprint:

Vintage Digital

Format:

EBook

Pages:

368
Praise for The Secret Life of Stuff
Instead of piling doom and gloom onto the shoulders of readers, Julie Hill outlines a positive plan for a world spring clean...the result makes fascinating reading

Daily Echo
Hill is refreshingly, defiantly optimistic... The more you read this book, the more you come to realise that the future she describes isn't the pie-in-the-sky environmentalist wish-fulfilment fantasy it first appears - it's within our grasp.. At first, the idea that we should feel empowered by having power taken away from us seems a little counter-intuitive, but, as with so much in this book, the more you think about it, the more it makes perfect sense.

Roger Cox, Scotsman