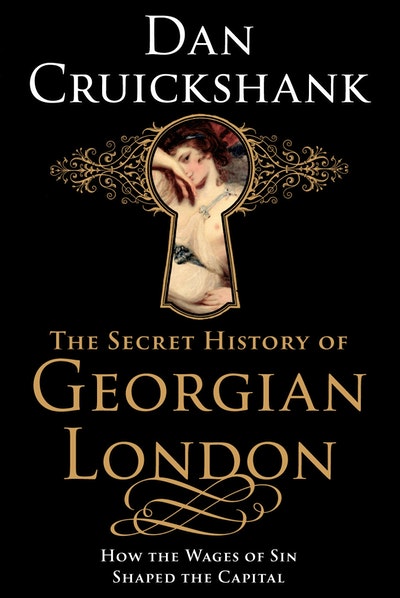 Published:

1 July 2010

ISBN:

9781407089515

Imprint:

Cornerstone Digital

Format:

EBook

Pages:

672
The Secret History of Georgian London
How the Wages of Sin Shaped the Capital
---
---
---
One of our leading historians describes how Georgian London was shaped by the sex industry
Georgian London evokes images of elegant buildings and fine art, but it was also a city where prostitution was rife, houses of ill repute widespread, and many tens of thousands of people dependent in some way or other on the wages of sin. The sex industry was, in fact, a very powerful force indeed, and in The Secret History of Georgian London, Dan Cruickshank compellingly shows how it came to affect almost every aspect of life and culture in the capital.
His approach is an ambitiously wide-ranging one. He examines the nature of the sex trade and the sort of people who became involved in it. He looks at the ways in which it shaped the building of Georgian London, from the smart new streets that sprang up in Marylebone to the squalid alleys around Charing Cross, and from the coffee houses where many prostitutes operated to the popular bathhouses, or bagnios, now known to us often only from fleeting references and tantalising archaeological remains. He examines the impact of prostitution on the arts and, in particular, on such artists as William Hogarth and Joshua Reynolds.
And he discusses the very varied attitudes of contemporaries – those who sympathised (the writer Richard Steele, for example), those who indulged (including the notorious Sir Francis Dashwood), and those who condemned (not least Saunders Welch, author of A Proposal to Render Effectual a Plan to Remove the Nuisance of Common Prostitutes from the Streets of This Metropolis). Finally, he draws on memoirs, newspaper accounts and court records to give us vivid portraits of some of the women who became involved in the world of prostitution. As Dan Cruickshank powerfully argues, these women, and many thousands like them, shaped eighteenth-century London, and they also helped determine its future development.
Published:

1 July 2010

ISBN:

9781407089515

Imprint:

Cornerstone Digital

Format:

EBook

Pages:

672
Praise for The Secret History of Georgian London
Belle de Jour for the 18th century. Funny, fantastical, full of impossible facts and scandalous stories. Scholarly, but also the ideal stocking (and suspender) filler

Jeanette Winterson, Guardian
I heartily recommend this scholarly romp through the bordellos, inns and prisons of Henry Fielding's and John Wilkes's London

A.N. Wilson, Reader's Digest
Fascinating ... Cruickshank removes the bland façade to expose one of London's biggest and most lively industries - its trade in sex ... a lively and scholarly panorama of Georgian London before the sex trade was chased underground by the Victorians and we all became prudish instead

Daily Mail
This is a colossal melting pot of a book: ambitious, rigorously researched, vigorously narrated and marvellously illustrated. All of life is here, but not as we know it

Sunday Times
The author paints an illuminating, eye-opening and generous account of the capital's courtesans, harlots, bath-houses and brothels. A book to read by the light of a flickering candle

Nigel Slater, Telegraph
Dan Cruickshank enters this world with relish ... the book's capaciousness and breadth is tremendous, providing much to fascinate, provoke and inform

Country Life
An original and engaging history of the capital ... Cruickshank pieces together [the] evidence with meticulous care to create a compelling portrait

Sunday Telegraph
Richly informative ...This is a monumental work which leaves no stone unturned in its quest to create a full and brutally honest picture of the lives of Georgian London's dispossessed ... The result is a broad panorama and a compelling thesis which can be considered a commendable contribution to scholarship, as well as a gripping read

BBC History Magazine
Engagingly and comprehensively assembled. Dan Cruickshank is a humane guide ... His relish for the subject is clear but so too is his understanding of the harsh price often exacted

Literary Review
Cruickshank brilliantly sketches the wild whirligig of drunkenness, debauchery, theft, exploitation, merriness, subversion, corruption, lust, fantasy, violence, disease, starvation and early death

Telegraph
Witty, elegantly written and memorable

Architectural Review