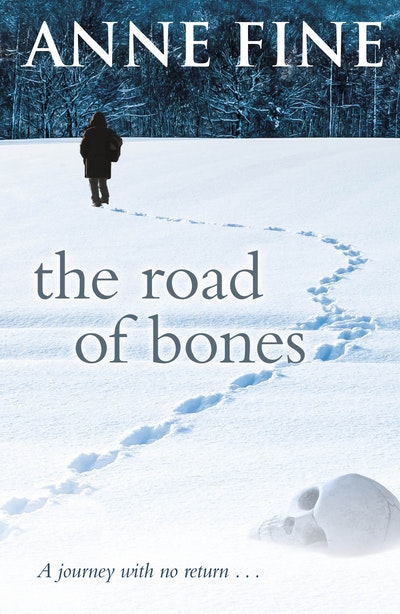 Published:

1 September 2010

ISBN:

9781409024040

Imprint:

Penguin eBooks

Format:

EBook

Pages:

256
The Road of Bones
---
---
---
A chilling and dramatic tale of belief and freedom, of imprisonment and of escape - from multi-award-winning author Anne Fine
Told who to cheer for, who to believe in, Yuri grows up in a country where no freedom of thought is encouraged - where even one's neighbours are encouraged to report any dissension to the authorities. But it is still a shock when a few careless words lead him to a virtual death-sentence - sent on a nightmare journey up north to a camp amidst the frozen wastes. What, or who, can he possibly believe in now? Can he even survive? And is escape possible . . . ?
Published:

1 September 2010

ISBN:

9781409024040

Imprint:

Penguin eBooks

Format:

EBook

Pages:

256
Praise for The Road of Bones
Beneath its cold white cover a story of magnitude unfolds.

Diane Samuels, Guardian
A hybrid of political concern and an excruciatingly exciting adventure-thriller, Anne Fine's The Road of Bones could easily be described as a Magnum Opus.... A major achievement... The Road of Bones might be cold in setting, but at heart glows with an intensity of warmth, passion, fervour and belief, it is THE novel that all should resolve to read.

Jake Hope, Achuka
This is a remarkably bleak and unforgiving book...it carries lessons to be re-assimilated by young readers - how society can be deceived, how people can become powerless and how tyranny can breed tyranny.

The Bookseller
The novel retains a strong sense of momentum and there are many twist and turns to keep readers intrigued as well as shocked. This is a powerful novel that works on many levels... there is a strong sense that this novel intends to transcend borders and challenge the wider issues of belief, control and human nature regardless of nationality. Consequently, as a class reader, there is plenty of scope for discussion and sophisticated debate.A thought-provoking journey.

Writeaway
Fine, the former Children's Laureate, has addressed many contemporary problems, from divorce to bullying, with a robust and engaging wit.
Short review
This is Fine's bleakest novel so far; an impressive athough sometimes uncomfortable achievement
A rather bleak but astonishing book from this remarkable writer.
The Road of Bones is one of Anne Fine's moat rewarding books.
Fine follows his journey to its disturbing end, one which will raise questions worth asking in the minds of this age group.
It is impossible to read without wanting to reach out and wrap him [Yuri] in your arms...This novel would make a fantastic film.
Article by Anne Fine about writing fantasy books for young people
A challenging and thoughtful look at a totalitarian regime
short review
The fear that dominates every page of Road of Bones by Anne Fine is so palpable that the stomach tenses.
A book to read and read again.
...grim , gripping and necessary...Yuri's voice - his resilience and disheartening transformation - are the novel's real strengths.
A thought provoking read for those aged 12 and over, including adults.
Children's books need more novels like this, novels that are rich in cultural investment, rich in drama, and that don't trivialise or sentimentalise the child's relationship to the world in which we live.
A gripping book - you really can't put it down... an unforgettable book.
...the fast pace fo this story, and the unpredictable and exciting events that occur are enough to keep those in the dark about the background tothe revolution entertained.
Article about author's visit to the 100th Birthday of the Chestnut Library. Description of book: chilling and dramatic tale of belief and freedom, of imprisonment and of escape.

Dan Peters, Hoddleson & broxbourne Mercury
At a time when too many children's novels are too easily complimented on being `thought-provoking` it is a welcome change to encounter one which genuinely merits such praise

Books for Keeps
The Road of Bones is a startling achievement, not least for its refusal to wrap it all up into a neat and tidy happy ending. It will leave its young readers with a great deal to think about. Most children will know of the Holocaust, but few will realise how many perished during Stalin's purges. This alone is a story worth telling. Cleverly though, The Road of Bones also makes its warnings contemporary, timeless even.

www.thebookbag.co.uk
At a time when too many children's novels are too easily complimented on being 'thought-provoking' it is a welcome change to encounter one which genuinely merits such praise.

Books for Keeps
A compelling story...an important book, which is frighteningly relevant in the context's of today's Russia.

Agnes Niewenhuizen, 'Right Book, Right Time' 500 Great Reads for Teenagers
This ambitious book is a rare achievement...This book is subtle, stimulating and morally complex, but it is also evocative and convincing: we feel keenly the chill of both soulless hegemony and its frozen wastes.

The Sunday Times