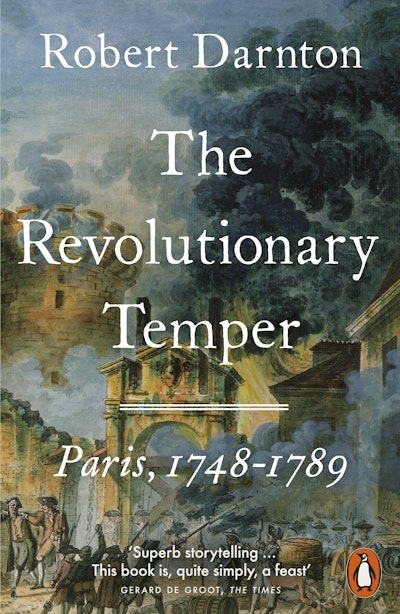 Published:

2 November 2023

ISBN:

9780241632741

Imprint:

Penguin eBooks

Format:

EBook

Pages:

576
The Revolutionary Temper
Paris, 1748–1789
---
---
---
A brilliant account of the coming of the French Revolution, and the culminating work of this most distinguished historian
'Events do not come naked into the world. They come clothed – in attitudes, assumptions, values, memories of the past, anticipations of the future, hopes and fears and many other emotions. To understand events, it is necessary to describe the perceptions that accompany them, for the two are inseparable.'
When a Parisian crowd stormed the Bastille in July 1789, it triggered an event of global consequence: the overthrow of the monarchy and the birth of a new society. Most historians account for the French Revolution by viewing it as the outcome of underlying conditions such as a faltering economy, class conflict or Enlightenment ideology. Without denying any of these, Robert Darnton offers a different explanation: what Parisians themselves, those at the centre of the Revolution, thought was happening at the time and how it guided their actions.
To understand the rise of what he calls 'the revolutionary temper', Darnton draws on a lifetime's study of pamphlets, books, underground newsletters, songs and public performances, exploring Paris as an information society not unlike our own. Its news circuits were centred in cafes and market-places, on park benches, and under the Palais-Royal's Tree of Cracow, a favourite gathering-place for gossips. He shows how the events of forty years – from disastrous treaties, official corruption and royal scandal to thrilling hot-air balloon ascents and a new conception of the nation – all entered the collective consciousness of ordinary Parisians. As news and opinion travelled across this profoundly unequal society, public trust in royal authority eroded, its legitimacy was undermined, and the social order unravelled.
Much of Robert Darnton's work has explained the hidden dynamics of history, never more so than in this exceptional book. It is a riveting narrative, but it adds a new dimension, the perceptions of contemporary Parisians, which allows us to see these momentous decades afresh.
Published:

2 November 2023

ISBN:

9780241632741

Imprint:

Penguin eBooks

Format:

EBook

Pages:

576
Praise for The Revolutionary Temper
What did Parisians think and gossip, sing and obsess about over the decades before the storming of the Bastille? In The Revolutionary Temper Robert Darnton paints a sumptuous mural of the eighteenth-century mind. With the Encyclopédie, with manned balloons in the air, reason seemed on a roll. With posters, pamphlets, and public readings, the written world appeared supreme. A few vicious libels, some stock market manipulation, a lurid adultery trial, one notorious diamond necklace, any number of court intrigues, skyrocketing bread prices and plunging temperatures combined, among other elements, to shake a nation to its core. A rich, beautifully crafted book that plants the reader in a Paris that feels at all times electric.

Stacy Schiff, author of The Revolutionary: Samuel Adams
What did Parisians think and gossip, sing and obsess about over the decades before the storming of the Bastille? In The Revolutionary Temper Robert Darnton paints a sumptuous mural of the eighteenth-century mind. With the Encyclopédie, with manned balloons in the air, reason seemed on a roll. With posters, pamphlets, and public readings, the written world appeared supreme. A few vicious libels, some stock market manipulation, a lurid adultery trial, one notorious diamond necklace, any number of court intrigues, skyrocketing bread prices and plunging temperatures combined, among other elements, to shake a nation to its core. A rich, beautifully crafted book that plants the reader in a Paris that feels at all times electric.

Stacy Schiff, author of The Revolutionary: Samuel Adams
What did Parisians think and gossip, sing and obsess about over the decades before the storming of the Bastille? In The Revolutionary Temper Robert Darnton paints a sumptuous mural of the eighteenth-century mind. With the Encyclopédie, with manned balloons in the air, reason seemed on a roll. With posters, pamphlets, and public readings, the written world appeared supreme. A few vicious libels, some stock market manipulation, a lurid adultery trial, one notorious diamond necklace, any number of court intrigues, skyrocketing bread prices and plunging temperatures combined, among other elements, to shake a nation to its core. A rich, beautifully crafted book that plants the reader in a Paris that feels at all times electric.

Stacy Schiff, author of The Revolutionary: Samuel Adams
Standing at the summit of Robert Darnton's towering intellectual career, The Revolutionary Temper plunges the reader into the coffeeshops, workrooms, and alleys of pre-revolutionary Paris. Following the traces of songs and rumors, insults and discontent, Darnton allows us to eavesdrop, almost miraculously, on whispers nearly two and a half centuries old. Here is the hivemind of ordinary people in extraordinary times, as they shake loose the thought and feeling of ages and past, and decide - slowly, and then all at once - to begin the world anew.

Jane Kamensky, author of A Revolution in Color
Standing at the summit of Robert Darnton's towering intellectual career, The Revolutionary Temper plunges the reader into the coffeeshops, workrooms, and alleys of pre-revolutionary Paris. Following the traces of songs and rumors, insults and discontent, Darnton allows us to eavesdrop, almost miraculously, on whispers nearly two and a half centuries old. Here is the hivemind of ordinary people in extraordinary times, as they shake loose the thought and feeling of ages and past, and decide - slowly, and then all at once - to begin the world anew.

Jane Kamensky, author of A Revolution in Color
Standing at the summit of Robert Darnton's towering intellectual career, The Revolutionary Temper plunges the reader into the coffeeshops, workrooms, and alleys of pre-revolutionary Paris. Following the traces of songs and rumors, insults and discontent, Darnton allows us to eavesdrop, almost miraculously, on whispers nearly two and a half centuries old. Here is the hivemind of ordinary people in extraordinary times, as they shake loose the thought and feeling of ages and past, and decide - slowly, and then all at once - to begin the world anew.

Jane Kamensky, author of A Revolution in Color
The Revolutionary Temper is more than a historical account of a city at war with a regime; it is a hymn to the power of hope. Darnton's sparkling prose and unique eye for the human detail in every complex situation is in full force here. This is his best work yet.

Amanda Foreman, author of A World on Fire: An Epic History of Two Nations Divided
The Revolutionary Temper is more than a historical account of a city at war with a regime; it is a hymn to the power of hope. Darnton's sparkling prose and unique eye for the human detail in every complex situation is in full force here. This is his best work yet.

Amanda Foreman, author of A World on Fire: An Epic History of Two Nations Divided
The Revolutionary Temper is more than a historical account of a city at war with a regime; it is a hymn to the power of hope. Darnton's sparkling prose and unique eye for the human detail in every complex situation is in full force here. This is his best work yet.

Amanda Foreman, author of A World on Fire: An Epic History of Two Nations Divided
Distilling a lifetime's immersion in the literary world of pre-revolutionary France, Robert Darnton's long-awaited final verdict on the Revolution's origins lays out in vivid detail how the minds of Parisians were prepared to contemplate the collapse of the regime under which they lived. With unmatched knowledge of the sources for metropolitan opinion as the monarchy stumbled into ever-deeper crises, he shows how confidence ebbed away from established ways and institutions and how by 1789 Parisians were ready for everything to be recast. A final chapter surveys the unprecedented scale and enduring importance of the Revolution that followed.

William Doyle, author of The Oxford History of the French Revolution
Distilling a lifetime's immersion in the literary world of pre-revolutionary France, Robert Darnton's long-awaited final verdict on the Revolution's origins lays out in vivid detail how the minds of Parisians were prepared to contemplate the collapse of the regime under which they lived. With unmatched knowledge of the sources for metropolitan opinion as the monarchy stumbled into ever-deeper crises, he shows how confidence ebbed away from established ways and institutions and how by 1789 Parisians were ready for everything to be recast. A final chapter surveys the unprecedented scale and enduring importance of the Revolution that followed.

William Doyle, author of The Oxford History of the French Revolution
Distilling a lifetime's immersion in the literary world of pre-revolutionary France, Robert Darnton's long-awaited final verdict on the Revolution's origins lays out in vivid detail how the minds of Parisians were prepared to contemplate the collapse of the regime under which they lived. With unmatched knowledge of the sources for metropolitan opinion as the monarchy stumbled into ever-deeper crises, he shows how confidence ebbed away from established ways and institutions and how by 1789 Parisians were ready for everything to be recast. A final chapter surveys the unprecedented scale and enduring importance of the Revolution that followed.

William Doyle, author of The Oxford History of the French Revolution
A marvellously captivating book, sweeping in its range, depth and erudition. Darnton traces the inexorable downfall of the old order in the decades before 1789 through the maze of Parisian café conversations, popular songs, festivals and street brawls, and shows how the hatred of despotism and the love of liberty and virtue became powerful revolutionary weapons. A towering achievement, from one of the world's most eminent historians of modern France.

Sudhir Hazareesingh, author of Black Spartacus: The Epic Life of Toussaint Louverture
A marvellously captivating book, sweeping in its range, depth and erudition. Darnton traces the inexorable downfall of the old order in the decades before 1789 through the maze of Parisian café conversations, popular songs, festivals and street brawls, and shows how the hatred of despotism and the love of liberty and virtue became powerful revolutionary weapons. A towering achievement, from one of the world's most eminent historians of modern France.

Sudhir Hazareesingh, author of Black Spartacus: The Epic Life of Toussaint Louverture
A marvellously captivating book, sweeping in its range, depth and erudition. Darnton traces the inexorable downfall of the old order in the decades before 1789 through the maze of Parisian café conversations, popular songs, festivals and street brawls, and shows how the hatred of despotism and the love of liberty and virtue became powerful revolutionary weapons. A towering achievement, from one of the world's most eminent historians of modern France.

Sudhir Hazareesingh, author of Black Spartacus: The Epic Life of Toussaint Louverture
[Darnton] has become the internationally recognized doyen of scholars working in the field of eighteenth-century French history and culture ... Written in his strikingly clear prose, argued with cogency, craft and conviction, and drawing on a lifetime of distilled research ... The range and the variety of sources that Darnton deploys to penetrate the Parisian "temper" is extremely impressive ... He is a shrewd, observant, wise and unfailingly entertaining guide through these dense, thought-provoking and colourful thickets of Parisian experience.

Colin Jones, Times Literary Supplement
[Darnton] has become the internationally recognized doyen of scholars working in the field of eighteenth-century French history and culture ... Written in his strikingly clear prose, argued with cogency, craft and conviction, and drawing on a lifetime of distilled research ... The range and the variety of sources that Darnton deploys to penetrate the Parisian "temper" is extremely impressive ... He is a shrewd, observant, wise and unfailingly entertaining guide through these dense, thought-provoking and colourful thickets of Parisian experience.

Colin Jones, Times Literary Supplement
[Darnton] has become the internationally recognized doyen of scholars working in the field of eighteenth-century French history and culture ... Written in his strikingly clear prose, argued with cogency, craft and conviction, and drawing on a lifetime of distilled research ... The range and the variety of sources that Darnton deploys to penetrate the Parisian "temper" is extremely impressive ... He is a shrewd, observant, wise and unfailingly entertaining guide through these dense, thought-provoking and colourful thickets of Parisian experience.

Colin Jones, Times Literary Supplement
The Revolutionary Temper is a richly researched, ambitious and fascinating history ... delicate and revealing.

Camilla Cassidy, Sunday Telegraph
The Revolutionary Temper is a richly researched, ambitious and fascinating history ... delicate and revealing.

Camilla Cassidy, Sunday Telegraph
The Revolutionary Temper is a richly researched, ambitious and fascinating history ... delicate and revealing.

Camilla Cassidy, Sunday Telegraph
A riveting synthesis of Darnton's life work ... he writes beautifully and has a weather eye for quirky detail.

Ruth Scurr, Spectator
A riveting synthesis of Darnton's life work ... he writes beautifully and has a weather eye for quirky detail.

Ruth Scurr, Spectator
A riveting synthesis of Darnton's life work ... he writes beautifully and has a weather eye for quirky detail.

Ruth Scurr, Spectator
It's difficult to summarise a book of such breadth… Short chapters stand alone as delightfully intriguing stories about a society in turmoil… This book is, quite simply, a feast, but one that, thanks to superb storytelling, is easy to digest.

Gerard de Groot, The Times
It's difficult to summarise a book of such breadth… Short chapters stand alone as delightfully intriguing stories about a society in turmoil… This book is, quite simply, a feast, but one that, thanks to superb storytelling, is easy to digest.

Gerard de Groot, The Times
It's difficult to summarise a book of such breadth… Short chapters stand alone as delightfully intriguing stories about a society in turmoil… This book is, quite simply, a feast, but one that, thanks to superb storytelling, is easy to digest.

Gerard de Groot, The Times
Darnton's book is a very fine account of how 18th-century Parisians received and interpreted public events, putting them on the road to revolution.

Tony Barber, Financial Times
Darnton's book is a very fine account of how 18th-century Parisians received and interpreted public events, putting them on the road to revolution.

Tony Barber, Financial Times
Darnton's book is a very fine account of how 18th-century Parisians received and interpreted public events, putting them on the road to revolution.

Tony Barber, Financial Times
Deep, rich and enthralling.

Kathryn Hughes, Guardian
Deep, rich and enthralling.

Kathryn Hughes, Guardian
This book is, quite simply, a feast.

Gerard DeGroot, Sunday Times
Robert Darnton is one of the world's greatest historians, and this is an exceptional book ... each chapter brims with life and colour ... A titanic work.

Sunday Times Books of the Year
A marvellously captivating book, sweeping in its range, depth and erudition. Darnton traces the inexorable downfall of the old order in the decades before 1789 through the maze of Parisian café conversations, popular songs, festivals and street brawls, and shows how the hatred of despotism and the love of liberty and virtue became powerful revolutionary weapons. A towering achievement, from one of the world's most eminent historians of modern France.

Sudhir Hazareesingh, author of Black Spartacus: The Epic Life of Toussaint Louverture
Distilling a lifetime's immersion in the literary world of pre-revolutionary France, Robert Darnton's long-awaited final verdict on the Revolution's origins lays out in vivid detail how the minds of Parisians were prepared to contemplate the collapse of the regime under which they lived. With unmatched knowledge of the sources for metropolitan opinion as the monarchy stumbled into ever-deeper crises, he shows how confidence ebbed away from established ways and institutions and how by 1789 Parisians were ready for everything to be recast. A final chapter surveys the unprecedented scale and enduring importance of the Revolution that followed.

William Doyle, author of The Oxford History of the French Revolution
Standing at the summit of Robert Darnton's towering intellectual career, The Revolutionary Temper plunges the reader into the coffeeshops, workrooms, and alleys of pre-revolutionary Paris. Following the traces of songs and rumors, insults and discontent, Darnton allows us to eavesdrop, almost miraculously, on whispers nearly two and a half centuries old. Here is the hivemind of ordinary people in extraordinary times, as they shake loose the thought and feeling of ages and past, and decide -- slowly, and then all at once -- to begin the world anew.

Jane Kamensky, author of A Revolution in Color
The Revolutionary Temper is more than a historical account of a city at war with a regime; it is a hymn to the power of hope. Darnton's sparkling prose and unique eye for the human detail in every complex situation is in full force here. This is his best work yet.

Amanda Foreman, author of A World on Fire: An Epic History of Two Nations Divided
What did Parisians think and gossip, sing and obsess about over the decades before the storming of the Bastille? In The Revolutionary Temper Robert Darnton paints a sumptuous mural of the eighteenth-century mind. With the Encyclopédie, with manned balloons in the air, reason seemed on a roll. With posters, pamphlets, and public readings, the written world appeared supreme. A few vicious libels, some stock market manipulation, a lurid adultery trial, one notorious diamond necklace, any number of court intrigues, skyrocketing bread prices and plunging temperatures combined, among other elements, to shake a nation to its core. A rich, beautifully crafted book that plants the reader in a Paris that feels at all times electric.

Stacy Schiff, author of The Revolutionary: Samuel Adams