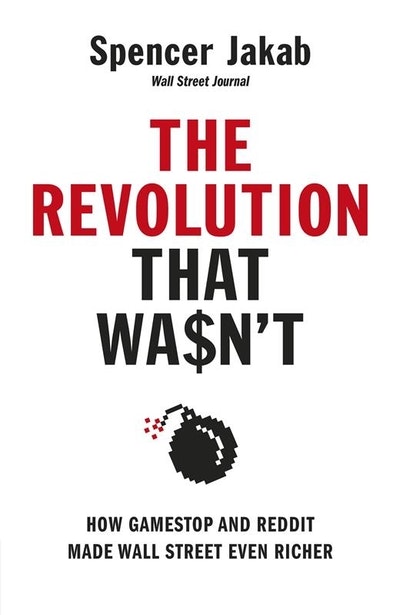 Published:

1 February 2022

ISBN:

9780241572627

Imprint:

Penguin General UK

Format:

Trade Paperback

Pages:

304

RRP:

$35.00
The Revolution That Wasn't
How GameStop and Reddit Made Wall Street Even Richer
---
---
---
From Wall Street Journal columnist Spencer Jakab, a contrarian story of the GameStop squeeze that uncovers the surprising winners of a rigged game.
January 2021: in one week, a motley crew of retail traders on Reddit's r/wallstreetbets forum seemingly accomplish the impossible - they bring down some of the biggest, richest players on Wall Street. Their weapon is GameStop, a failing retailer whose shares briefly become the most-traded security on the planet and the subject of intense media coverage.
The Revolution That Wasn't is the riveting story of how the meme stock squeeze unfolded, and of the real architects (and winners) of the GameStop rally. Drawing on his years as a stock analyst at a major bank, Jakab exposes technological and financial innovations such as Robinhood's habit-forming smartphone app as ploys to get our dollars within the larger story of evolving social and economic pressures. The surprising truth? What appeared to be a watershed moment - a revolution that stripped the ultra-powerful hedge funds of their market influence and placed power back in the hands of everyday investors, only tilted the odds further in the house's favour.
In this nuanced analysis, Jakab shines a light on the often-misunderstood profit motives and financial mechanisms to show how this so-called revolution is, on balance, a bonanza for Wall Street. But, Jakab argues that there really is a way for ordinary investors to beat the pros: by refusing to play their game.
Published:

1 February 2022

ISBN:

9780241572627

Imprint:

Penguin General UK

Format:

Trade Paperback

Pages:

304

RRP:

$35.00
Praise for The Revolution That Wasn't
The saga of GameStop and other meme stocks is revealed with the skill of a thrilling whodunit. Jakab writes with an anti-Midas touch. If he touched gold, he would bring it to life.

Burton G. Malkiel, author of A Random Walk Down Wall Street
Jakab adeptly skewers the popular but dangerously wrong narrative of Reddit's David thumping Wall Street's Goliath, and shows how the casino always wins in the end.

Robin Wigglesworth, author of Trillions
The real story of the GameStop short squeeze. Jakab walks us through every twist and turn with nuanced insight and sheds a clarifying light on the shifts happening in today's retail revolution.

Jaime Rogozinski, founder of Reddit's WallStreetBets
A timely and hugely important book. The GameStop saga shows what happens when the little guy takes on Wall Street at its own game: there can only be one winner. Spencer Jakab is a top-drawer journalist who understands this industry inside out. I can't recommend this book highly enough.

Robin Powell, journalist, author and editor of The Evidence-Based Investor
Ever since the GameStop saga erupted into the headlines in the winter of 2021, we've all been waiting for the definitive take. This book is it.

Bethany McLean, bestselling co-author of The Smartest Guys in the Room and All The Devils Are Here
A gripping account of the social movement that took over the investing world in 2020-2021. The heroes here thought they were sticking it to the man, but became the man's stick. Jakab tells this story with warmth and humor, making financial concepts accessible to a lay audience. You will be entertained.

Scott Galloway, Professor of Marketing at NYU Stern School of Business, and New York Times bestselling author of The Four and Post Corona
An important look at how markets - and people - defy prediction and occasionally lose their minds.

Morgan Housel, bestselling author of The Psychology of Money
An unputdownable post-mortem of the freakiest tale of pandemic-age finance - and of how investing became gamified. Jakab speaks with the key characters and highlights the structural issues, deploys the nihilistic "degen" jargon and recounts priceless anecdotes, cutting through the narrative to tell us what really happened during the GameStop short squeeze

Gian M. Volpicelli, Senior Writer, Wired
When an ailing video games retailer saw its shares soar into the stratosphere for no reason other than that newbie traders wanted to put one over on arrogant hedge funds, it was hard not to cheer David's felling of Goliath. But in this meticulous examination of the Gamestop saga, Spencer Jakab reminds us of a simple truth - the house, or in this case Wall Street, always wins in the end.

Rory Cellan-Jones, former BBC technology correspondent
Thrumming narrative ... Anybody who buys and sells stocks, and anyone who "invests" in anything old or new, should read this book.

Los Angeles Times