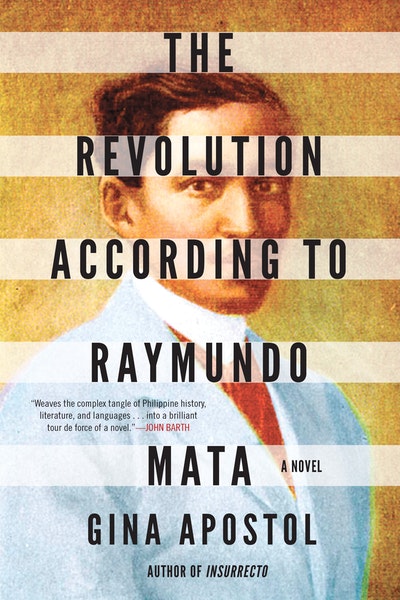 Published:

30 March 2021

ISBN:

9781641292771

Imprint:

Soho Press

Format:

Paperback

Pages:

20

RRP:

$24.99
The Revolution According to Raymundo Mata
---
---
---
The first ever US publication of Gina Apostol's Philippine National Book Award–winning novel.
The story of Raymundo Mata, a visually impaired member of a 19th century anti-Spanish Philippine revolutionary society, is a polyphonic whirlwind of voices and histories. Told in the form of a memoir, the novel traces Mata's childhood, his education in Manila, his love affairs, and his discovery of the writer and revolutionary, Jose Rizal. Mata's autobiography, however, is de-centered by present-day foreword(s), afterword(s), and footnotes from three fiercely quarrelsome and comic voices: a nationalist editor, a neo-Freudian psychoanalyst critic, and a translator, Mimi C. Magsalin (who also appeared as a character in Apostol's novel Insurrecto).
In telling the contested and fragmentary story of Mata, Apostol finds new ways to depict the violence of the Spanish colonial era, and to reimagine the nation's great writer, Jose Rizal, who is considered by many to be the father of Philippine independence and was executed by the Spanish for his revolutionary activities.
The publication of The Revolution According to Raymundo Mata for the first time outside of the Philippines is a literary event. Brilliantly revised and expanded by the author for this edition—an act of re-creation in perfect keeping with the book's own textual preoccupations—this novel offers an intoxicating blend of fact and fiction, uncovering lost histories while building dazzling, riotous modes of narrative.
Published:

30 March 2021

ISBN:

9781641292771

Imprint:

Soho Press

Format:

Paperback

Pages:

20

RRP:

$24.99
Praise for The Revolution According to Raymundo Mata
Praise for The Revolution According to Raymundo Mata   Winner of 2010 Philippine National Book Award  Winner of 2010 Gintong Aklat (Golden Book) Award "Gina Apostol's The Revolution According to Raymundo Mata weaves the complex tangle of Philippine history, literature, and languages (along with contemporary academic scholarship) into a brilliant tour de force of a novel. Brava!" —John Barth "Gina Apostol tells our revolutionary history—or fragments of our history—using a pastiche of writing from the academe, a diary, stories within stories, jokes, puns, allusions, a virtual firecracker of words. Her novel is fearlessly intellectual, anchored firmly on the theories of Jacques Lacan. But it is also funny and witty as it picks—lice, nits, and all—on the hoaxes in our history. It affirms, if it still needs to be affirmed, the power of fiction to shape and reshape the gaps in the narratives of our history as a nation. The main character here is History, and its protagonist, Imagination. For this audacious sword-play of a novel, the National Book Award is given to Gina Apostol's The Revolution According to Raymundo Mata." —Judges' Citation, Philippine National Book Award    "Edward Said wrote that the role of the intellectual is to present alternative narratives on history than those provided by the 'combatants' who claim entitlement to official memory and national identity—who propagate 'heroic anthems sung in order to sweep all before them.' In this fearlessly intellectual novel, Gina Apostol takes on the keepers of official memory and creates a new, atonal anthem that defies single ownership and, in fact, can only be performed by the many—by multiple voices in multiple readings. We may never look at ourselves and our history the same way again." —Eric Gamalinda, author of My Sad Republic