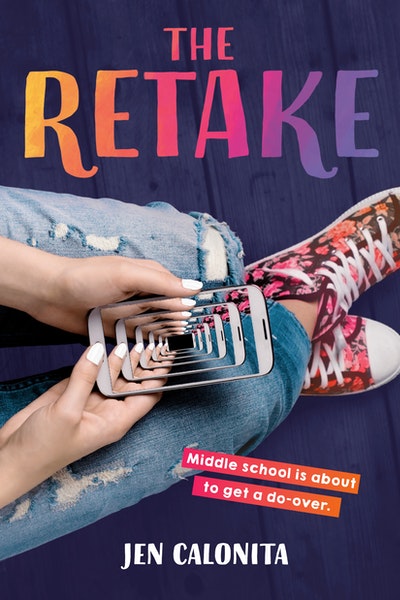 Published:

1 March 2021

ISBN:

9780593174142

Imprint:

RH USA Kids Trade

Format:

Hardback

Pages:

272

RRP:

$29.99
The Retake
---
---
"A book about a time-traveling app? I'm in! Jen Calonita strikes again with a coming-of-age middle grade full of wit and a little bit of magic. " —NYT bestselling author of the Whatever After and Upside Down Magic series' Sarah Mlynowski
You can retake your photos...but what if could redo moments in your life too? With one magical app, Zoe is able to do just that! A smart and funny twist on time travel from New York Times bestselling author Jen Calonita, for fans for Disney's Zapped and The Swap.
Zoe knows that the only thing harder than middle school is losing a best friend. She and Laura used to do everything together from taking silly selfies, to joining all the same clubs together and even throwing surprise birthday parties for one another.
But lately things have been weird between them. Now Laura will post a photo of her hanging out with other girls before responding to Zoe's simple text. She doesn't even want to sit with her at lunch anymore. Zoe is heartbroken--all she wants is for things to go back to normal.
But then a magical app downloads on her phone...and things get even weirder! Suddenly Zoe can travel back in time to moments where her and Laura started drifting apart. It is like a dream come true. A chance for Zoe to mend their friendship.
But as Zoe goes back to moments of middle school drama--sleepover games gone wrong, field trips with cliques and crushes, and school projects that bring on more-than-awkward encounters--she realizes that second chances don't always go as planned and that sometimes you need to trust the magic of new beginnings.
The Retake is a picture-perfect look at tween friendship, that also explores more serious themes of social media pressure, bullying and what it means to be yourself.
Published:

1 March 2021

ISBN:

9780593174142

Imprint:

RH USA Kids Trade

Format:

Hardback

Pages:

272

RRP:

$29.99
"A book about a time-traveling app? I'm in! Jen Calonita strikes again with a coming-of-age middle grade full of wit and a little bit of magic. "  —NYT bestselling author of the Whatever After and Upside Down Magic series' Sarah Mlynowski "Jen Calonita puts a magical spin on all-to-real middle school drama. Warm, witty and wise, THE RETAKE is for anyone who has broken up with a best friend and wished they could go back to the way it used to be."—Megan McCaferty, author of True to Your Selfie and Jessica Darling's It List series.