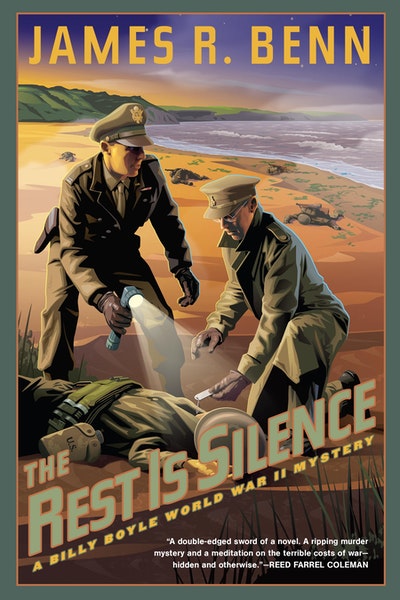 Published:

15 August 2015

ISBN:

9781616955700

Imprint:

Soho Press

Format:

Trade Paperback

Pages:

384

RRP:

$27.99
The Rest Is Silence
---
---
The fog of war surrounding D-Day and Operation Tiger provides cover for one of Billy Boyle's grisliest investigations.
  When an unidentified corpse washes ashore at Slapton Sands on England's southern coast, US Army Captain Billy Boyle and his partner, Lieutenant Piotr "Kaz" Kazimierz, are assigned to investigate. The Devonshire beach is the home to Operation Tiger, the top-secret rehearsal for the approaching D-Day invasion of Normandy, and the area is restricted; no one seems to know where the corpse could have come from. Luckily, Billy and Kaz have a comfortable place to lay their heads at the end of the day: Kaz's old school chum David lives close by and has agreed to host the two men during their investigation. Glad for a distraction from his duties, Billy settles into life at David's family's fancy manor, Ashcroft, and makes it his mission to get to know its intriguing cast of characters.
Just when Billy and Kaz begin to wrap up their case, they find themselves with not one soggy corpse on their hands but hundreds following a terrible tragedy during the D-Day rehearsal. To complicate things, life at Ashcroft has been getting tense: secret agendas, buried histories, and family grudges abound. Then one of the men meets a sudden demise. Was it a heart attack? Or something more sinister?

From the Hardcover edition.
Published:

15 August 2015

ISBN:

9781616955700

Imprint:

Soho Press

Format:

Trade Paperback

Pages:

384

RRP:

$27.99
Praise for The Rest Is Silence
Praise for The Rest Is Silence "This Billy Boyle World War II mystery is an exceptionally written book . . . the plot and historical sights and sounds are top-notch. Whether a reader holds WWII books or suspense books close to their heart, this one will be a true find." —Suspense Magazine "Everything about this particular entry in the Billy Boyle series and the series in general makes for great reading. Benn does his research, and it shows in the quality of his writing. The scenes are intense, the dialogue powerful and genuine. Spend some time with Billy Boyle. You'll be glad you did." —The Weirs Times "With its very smooth mix of mystery and historical references (with a dash of Downton Abbey), just about everybody will find something of interest in this fizzy retro cocktail." —Library Journal  "This series continues to grow, with the characters adding depth in each episode, and the ever-fascinating historical material dexterously tucked into the plot." —Bill Ott, Booklist "Benn offers a thrilling mix of fact and fiction in his ninth whodunit featuring Boston cop-turned-army investigator Billy Boyle. The affable and capable Boyle continues to grow as a character, and Benn effectively uses the impending Allied invasion of Europe as the background for the whodunit plot." —Publishers Weekly  "[W]hiz-bang first-person narrative keeps the story afloat, and its Greatest Generation plot gives it an appealing sense of nostalgia." —Kirkus Reviews "A double-edged sword of a novel. A ripping murder mystery and a meditation on the terrible costs of war—hidden and otherwise." —Reed Farrel Coleman Praise for A Blind Goddess, the previous Billy Boyle WWII Mystery "James Benn has written a gripping and entertaining mystery, but also . . . realistically and sensitively explores the rarely discussed race relations and power struggles in the U.S. Armed Forces in World War II Britain." —Susan Elia MacNeal, author of the Maggie Hope mystery series "One of Mr. Benn's best books of the series . . . A pleasure to read." —Seattle Post-Intelligencer "[Benn] achieves an impressive authenticity of time and place . . . without sacrificing a sense of underlying urgency, and it's his engaging characters, complex whodunit(s), and subtle humor that will sustain the more traditional mystery reader. Those who are first initiated to Billy Boyle with A Blind Goddess will find it hard to resist the desire to revisit the author's earlier offerings." —Examiner.com "[An] excellent eighth Billy Boyle whodunit . . . The superior plot and thoughtful presentation of institutional racism directed against American soldiers about to risk their lives for their country make this one of Benn's best." —Publishers Weekly, Starred Review "Benn's thoroughly researched exploration of segregation in the wartime armed services is revealing and sensitively handled. Another nice mix of human drama and WWII history." —Booklist "A Blind Goddess is a gripping, exciting entry in this outstanding series . . . The disparate storylines are clever and credible in their setup and execution, resulting in a superior mystery that fans of the series will thoroughly enjoy." —Mysterious Reviews "James R. Benn is getting even better . . . [A Blind Goddess] is all a big bag of delicious intrigue if you love World War II-era stories. Definitely a series you should look into." —Bookgasm "A good and disturbing read. Highly recommended." —I Love a Mystery Praise for the Billy Boyle series "This book has got it all—an instant classic." —Lee Child "Terrific . . . Razor sharp." —Joseph Finder "Full of action, humor and heart." —Louise Penny "Spirited wartime storytelling." —The New York Times Book Review "A fast-paced saga set in a period when the fate of civilization still hangs in the balance." —Wall Street Journal "Consistently entertaining." —WWII Magazine "Stark and poignant." —Denver Post "Benn's Billy Boyle mysteries are always entertaining, filled with riveting characters, and beautifully plotted stories." —Seattle Post-Intelligencer "Benn does a superb job of simultaneously capturing the personal anguish of war and creating a splendid adventure novel." —Library Journal, Starred Review From the Hardcover edition.