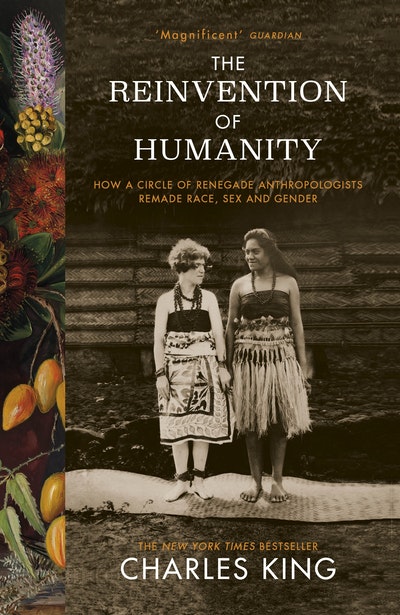 Published:

7 November 2019

ISBN:

9781473547896

Imprint:

Vintage Digital

Format:

EBook

Pages:

448
The Reinvention of Humanity
A Story of Race, Sex, Gender and the Discovery of Culture
---
---
---
The riveting story of the intrepid women anthropologists who redefined race, sex, gender and normality in the early twentieth century.
*THE NEW YORK TIMES BESTSELLER*
*SHORTLISTED FOR THE BRITISH ACADEMY NAYEF AL-RODHAN PRIZE 2020*
The riveting story of the pioneers who redefined conceptions of 'normality' in the early twentieth century.
Under the guiding eye of cultural anthropologist Franz Boas, these scientist-explorers - most of them women - made intrepid journeys into far-flung communities all over the world, where they documented radically different social approaches that overturned Western assumptions about human diversity and
challenged the era's scientific consensus.
Here, the boundary-breaking lives and achievements of Margaret Mead, Ruth Benedict, Ella Deloria and Zora Neale Hurston are brought fully into light for the first time, showing how their trailblazing discoveries helped shape the moral universe we inhabit today.
*WINNER OF THE FRANCIS PARKMAN PRIZE 2020*
*FINALIST FOR THE NATIONAL BOOK CRITICS CIRCLE AWARDS 2019*
Published:

7 November 2019

ISBN:

9781473547896

Imprint:

Vintage Digital

Format:

EBook

Pages:

448
Praise for The Reinvention of Humanity
Magnificent ... In this brilliantly written and deftly organised book, Charles King tells the story of how the study of humankind [was revolutionised] in the first half of the 20th century

Kathryn Hughes, Guardian
Hugely informative and adhesively readable

John Carey, Sunday Times
Stunning ... every syllable seems perfectly positioned for pitch, stress, euphony and evocative power; the brilliant vignettes of the anthropologists' leisure moments … the vividness with which their private lives, sexual intrigues and secret thoughts are captured … elegant and entertaining

Literary Review
An intellectual adventure story of the best sort - elegantly written, thought-provoking and full of biographical riches

SARAH BAKEWELL, author of At the Existentialist Café
Charles King, author of this illuminating biographical history [has] a great gift for nicely balanced epigrammatic prose … as King writes with a typically fine flourish, Boas can be seen to have been "on the front line of the greatest moral battle of our time" and he, along with the talented women who learnt from him, won out in the end

Lucy Hughes-Hallett, New Statesman
Written with verve and authority, this exciting – even entrancing – story follows the first cultural anthropologists to far-flung field sites that suggested antidotes to the racism and xenophobia of society

DAVA SOBEL, author of Longitude
Stunning. Wickedly perceptive, a scholarly masterpiece

DAVID OSHINSKY, Pulitzer Prize-winning author of Polio
Elegant and kaleidoscopic … this looks to be the perfect moment for King's resolutely humane book

NEW YORK TIMES
Deeply intelligent and immensely readable

Alison Gopnik, Atlantic
The notion of cultural relativism was as unique in its way as was Einstein's theory of relativity in the discipline of physics, a shattering of the European mind. This remarkable book explains why. Franz Boas's intuitions and insights, distilled in theory and practice by generations of scholars, a lineage that includes Ruth Benedict, Margaret Mead, and Zora Neale Hurston, all brilliantly portrayed in the book, continue to inform contemporary anthropology, allowing the discipline to stand today as the antidote to nativism and the poisonous rhetoric of political demagogues. The entire purpose of anthropology, wrote Ruth Benedict, is to make the world safe for human differences. Never has the voice of anthropology been more important, and the arrival of this astonishing book can only be described as a gift to us all

Wade Davis, author of Into the Silence
Masterful. A vital book for our times

IBRAM X. KENDI, National Book Award-winning author of How To Be An Antiracist
Engaging, deeply thought-provoking and brilliantly written. Charles King takes you on an unforgettable journey as daring anthropologists unravel the profound mysteries of culture and mankind

DAVID HOFFMAN, Pulitzer Prize-winning author of The Dead Hand
Vitally relevant

GILLIAN TETT, Financial Times
A motley crew of rebellious young female scientists, inspired by a scar-faced mad-genius professor, boldly set out on intrepid journeys to study strange far-flung worlds, and discover that their own home-world is stranger than they thought. Along the way, they have tempestuous love-affairs, scary adventures, swashbuckling battles against armies of racists, sexists and eugenicists. In the end, they change our moral universe. Sounds like a sci-fi fantasy movie? It happened, here on Earth, nearly a century ago. A fascinating and important story, beautifully told

KATE FOX, author of Watching the English
As told very engagingly by Charles King, their research turned upside down the then unshakeable assumption that certain people were innatley superior to others, because of their skin colour, culture and gender

Julia Lllewellyn Smith, *****Mail on Sunday
Nothing short of magnificent … in many ways a deeply touching book. Charles King's prose is immensely readable and perceptive and lends itself perfectly to telling one of the most fascinating tales of twentieth-century science

All About History
No one until now has told this story of anthropology's rise to [its] 'master key' status … Charles King's book … does this with both subtlety and panache … A compelling account of mutliculturalism's intellectual precursors

Peter Mandler, History Today