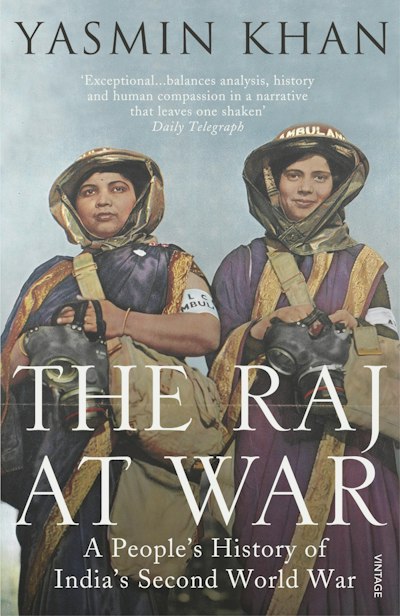 Published:

16 July 2015

ISBN:

9781409029649

Imprint:

Vintage Digital

Format:

EBook

Pages:

432
The Raj at War
A People's History of India's Second World War
---
---
---
The story of India's home front in the Second World War, as told by the many lost voices of Indian soldiers and civilians
The Second World War was not fought by Britain alone. India produced the largest volunteer army in world history: over 2 million men. But, until now, there has never been a comprehensive account of India's turbulent home front and the nexus between warfare and India's society. In The Raj at War we hear the myriad voices of ordinary Indian people, from the first Indian to win the Victoria Cross to the three soldiers imprisoned as 'traitors to the Raj' who returned to a hero's welcome, from the nurses in Indian General Hospitals to labourers and their families in remote villages.
Yasmin Khan presents the overlooked history of India at war, and shows how mobilisation for the war unleashed seismic processes of economic, cultural and social change - decisively shaping the international war effort, the unravelling of the empire and India's own political trajectory.
Published:

16 July 2015

ISBN:

9781409029649

Imprint:

Vintage Digital

Format:

EBook

Pages:

432
Praise for The Raj at War
This fascinating book tells the story of World War Two's impact on India: the shattering of the ordered relations which underpinned the Raj making its end inevitable. It's also a much needed reminder of India's contribution to that war

Mark Tully
Exceptional...balances analysis, history and human compassion in a narrative that leaves one shaken

Juliet Nicolson, 5 stars, Daily Telegraph
Epic and intimate

Aamer Hussein, Independent
Masterly

John Keay, Literary Review
Almost impossible to put down

New Statesman
[Has] brought undeservedly obscure histories into a powerful and startling light

Matthew Price, National
A fascinating, vividly written history full of surprises, some of them shocking

The Times
The Second World War is one of the most written-about episodes in all world history: every month sees a dozen new titles published. Yet, astonishingly, The Raj at War breaks new ground on almost every page

William Dalrymple, Spectator
A striking example of people's history, packed with anecdotes, memories and information about a shared but largely unwritten global past

Guardian
[Khan marshals] a dazzling array of first-hand sources - soldiers and politicians, but also non-combatants such as nurses, refugees, peasants and prostitutes - to illustrate the effect the conflict had on South Asian society and politics

Saul David, 4 stars, Mail on Sunday
an intricately detailed insight into an underexplored area of wartime history

Emma Jolly, Who Do You Think You Are?
[an] important book

Jason Burke, Observer
[an] important book

Jason Burke, Guardian
Khan's research has been extensive and she combines it with a gift for storytelling. She is at her best and most original in bringing us the revealing perspectives of witnesses other historians might ignore.

Zareer Masani, History Today
An exhaustively researched history that uses a dazzling array of first-hand sources to illustrate the effect the Second World War had on South Asian society and politics

Saul David, Evening Standard
[Khan] shows convincingly how Indians could no longer be fooled, or fool themselves, that the British presence was either benign or irreversible

David Horspool, Guardian
Yasmin Khan...offers a richly researched social history of wartime India that is peppered with fascinating detail

The Economist
Unprecedented in scope...rich both in detail and in its unique insights... Khan's history has paved the way for a more complex understanding of the Second World War as India's War

Vinay Lal, Indian Express
Revelatory study. Khan balances analysis, history and human compassion in a narrative that leaves one shaken.

Sunday Telegraph
Remarkable Account. Compassionate, judicious and brilliantly readable, this is a compelling account of a dramatic, but little examined, aspect of history

Daily Mail
Khan has written a first class book... Exceptionally well told facts throughout the book, I was staggered at her revelations . It is a bitter, sweet story throughout . Overall, the book enlightened me in many ways, perhaps it makes me regard the Indian in a different light today. It certainly has made me look up other deeper facts about various matters pertaining to the era of the Second World War, and that has to be a good inducement to read the book.

Reg Seward, Nudge