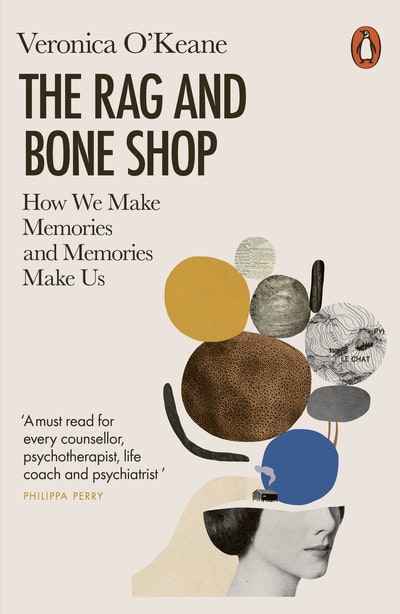 Published:

17 May 2022

ISBN:

9780141991016

Imprint:

Penguin Press

Format:

Paperback

Pages:

240

RRP:

$22.99
The Rag and Bone Shop
How We Make Memories and Memories Make Us
---
---
---
A leading psychiatrist unpacks the mysteries of how our experiences define the functions of memory in the human brain
Practicing psychiatrist, Veronica O'Keane, has spent many years observing what happens when the memory process is disrupted by mental illness how our recall of and access of memory determines how we function in the world.
Memories have the power to move us, often when we least expect it, a sign of the complex neural process that continues in the background of our everyday lives. A process that shapes us: filtering the world around us, informing our behaviour and feeding our imagination.
Drawing on poignant case studies and enriched with exploration of literature and fairy tales, O'keane uses the latest neuroscientific research to illuminate the role of psychiatry today and the extraordinary puzzle that is our human brain.
Published:

17 May 2022

ISBN:

9780141991016

Imprint:

Penguin Press

Format:

Paperback

Pages:

240

RRP:

$22.99
Praise for The Rag and Bone Shop
A wonderful book in which Veronica O'Keane distils what she has learned about people in her life as a psychiatrist and neuroscientist. The reader will appreciate Dr O'Keane's beautiful prose and her caring attitudes, and will effortlessly pick up knowledge about how the brain determines our behaviour.

Robin Murray, Professor of Psychiatric Research at King's College London
Wonderful. I love the way Veronica writes . . . difficult concepts made comprehensible with rich case studies. A must read for every counsellor, psychotherapist, life coach and psychiatrist.

Philippa Perry, author of The Book You Wish Your Parents Had Read
Searching, thoughtful . . . at once scientific, philosophical, medical and literary . . . rich, revelatory and, in the best way, unsettling.

James McConnachie, Sunday Times
Fascinating . . . leaves you with a marvelling awareness of what humans collectively share as memory makers and reminds us that each one of us is a singular translator of our world.

Kate Kellaway, Observer
Vivid, unforgettable . . . a fascinating, instructive, wise and compassionate book . . . there is much for the reader to learn, but there is also a lot that is simply delightful.

John Banville, Guardian
A roving, riverine inquiry into memory, experience, the brain...O'Keane does not try to dazzle us with interpretations and cures, but dazzle she does with the science, the clarity with which she can conjure something as ordinary, as bafflingly complex and beautiful, as a memory forming in the brain. . . O'Keane evokes a robin in her backyard with a vividness that would shame a good many novelists I've encountered this year

Parul Seghal, New York Times
O'Keane draws from her clinical experiences to offer a comprehensive tour of the current state of knowledge about how memory operates in the brain . . . what makes O'Keane's book engaging is how she incorporates references to literature and folklore

Elizabeth Landau, Salon
A ruminative yet well-evidenced investigation . . . Most remarkable, though, are her own, extraordinary personal encounters with patients - psychotics, depressives, amnesiacs - whose memories have in some way let them down. O'Keane's unsettling conclusion . . . will haunt you as much as her revealing and sometimes harrowing real-life stories

The Sunday Times, Books of the Year