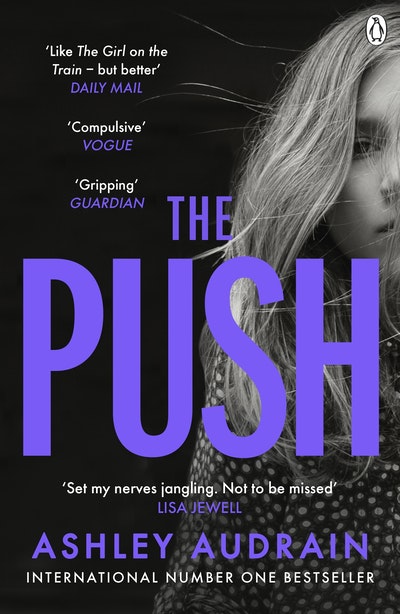 Published:

15 June 2022

ISBN:

9781405945042

Imprint:

Michael Joseph

Format:

Paperback

Pages:

400

RRP:

$22.99
The Push
---
---
---
If she is a monster then what am I? The haunting Sunday Times Top 10 Bestseller.
'I think she pushed him,' I said to you quietly. 'I think she pushed him . . .'
The arrival of baby Violet was meant to be the happiest day of my life. But as soon as I held her in my arms I knew something wasn't right.
I had always known that the women in my family aren't meant to be mothers. My husband Fox says I'm imagining it. He tells me I'm nothing like my own mother, and that Violet is the sweetest child.
But something feels very wrong. Is it her? Or is it me? Is she the monster? Or am I?
Published:

15 June 2022

ISBN:

9781405945042

Imprint:

Michael Joseph

Format:

Paperback

Pages:

400

RRP:

$22.99
With its riveting prose and deep convictions, Ashley Audrain's The Push had me in its clutches from the first page. Audrain's astute portrayal of motherhood was unsettling in its insights, yet highly entertaining on the page. Complex, nuanced, and unflinching, I inhaled this debut in one sitting

Karma Brown, bestselling author of Recipe for a Perfect Wife
Starkly original and compulsively readable, Ashley Audrain's The Push is a deep dive into the darkest nooks and crannies of motherhood. Raw, visceral, and often disturbing, this is an intense psychological drama that will be embraced by serious book clubs and fans of Lionel Shriver's We Need to Talk About Kevin

Kristin Hannah
I was totally hooked. Compelling, addictive, chilling. Smashing read

Elizabeth Macneal
The most thought-provoking exploration of motherhood I've come across since We Need to Talk About Kevin

Clare Pooley
Intensely absorbing, gripping until the final page, The Push excavates the myths of motherhood, deftly exploring the shape-shifting landscape of parenting, the powerful impact of the past on the present, and the deep unease of our inability to ever fully know even those we hold the closest

Kim Edwards, bestselling author of <i>The Memory Keeper's Daughter</i>
The Push was a poetic, propulsive read that set my nerves jangling in both horror and recognition. I read it one sitting and it stayed with me for days afterwards. Not to be missed

Lisa Jewell
Stayed up too late finishing [Audrain's] deeply unsettling The Push about the darkest reaches of motherhood . . . Visceral, provocative, compulsive, and with the most graphic and relatable description of childbirth I've read (or written)

Sarah Vaughan, bestselling author of <i>Anatomy of a Scandal</i>
The Push is written on the edge of a knife. It's a howl in the face of what we think we know - or want to believe - about motherhood. Relentlessly compelling, distressing and beautiful, Ashley Audrain's debut is the next Gone Girl, with shades of We Need to Talk About Kevin. I devoured it whole

Marissa Stapley, bestselling author of <i>The Last Resort</i>
Compelling, beautifully written and wickedly entertaining... A tremendously thought-provoking read

Liz Nugent, author of <i>Little Cruelties</i> and <i>Lying in Wait</i>
Ashley Audrain's The Push is not only a propulsively entertaining, read-in-one-sitting novel, it is also a deeply provocative and fearless look at motherhood written in some of the prettiest prose you'll read all year

Aimee Molloy, <i>New York Times</i> bestselling author of <i>The Perfect Mother</i>
Written with a courage that borders on audacity, and with uncanny emotional and psychological precision, Ashley Audrain's The Push is a taut, tour-de-force literary thriller that draws you in from the very first pages and plunges you into the most harrowing of journeys: parenthood

Bill Clegg, <i>New York Times</i> bestselling author of <i>Did You Ever Have A Family?</i>
A meteoric debut. Ashley Audrain's The Push is a force of nature, an unforgettable arrival that will linger in your heart--shimmer, darken and then haunt you. Every sentence is just so achingly alive. Audrain descends with near pointillistic precision into the gore of motherhood and love. Perhaps if Stephen King had experienced motherhood--the singular exaltation and morbid terror of that state--he might have been able to dream up this book. Wise, monstrous, and tender, The Push operates at a different frequency. It seemed to pulse in my hands. I could not put it down. I could not look away

Claudia Dey, author of <i>Heartbreaker</i> and <i>Stunt</i>
The Push is a freight train of a read - it barrels into you and propels you along, taking you places you're not sure you want to go. I found it disturbing, upsetting, and utterly compelling

Beth Morrey, author of <i>Saving Missy</i>
I was gripped . . . dazzling and gloriously complete

Daisy Buchanan
One to watch ... The Push is told from the point of view of Blythe Connor, whose experience of motherhood is not what she hoped for

The Bookseller
I loved it - such a dark and compelling exploration of motherhood. Absolutely haunting: a brilliant, thought-provoking page-turner

Caroline Lea
A tense and unsettling thriller that's immersive, chilling, and provocative. A book that's best read in one sitting

Iain Reid, author of <i>I'm Thinking of Ending Things</i>
Astonishingly good. Beautifully written, gripping, disturbing

Jane Fallon, author of <i>Queen Bee</i>
Suspenseful with extreme We Need To Talk About Kevin vibes, this is the Book Club Book that'll have everyone talking next year

Grazia
Most anticipated books of 2021 'Pre-order now and thank yourself later'

Marie Claire
A thrilling debut

Harper's Bazaar, This Winter's Best New Releases from Rising Novelists
I was completely engrossed in The Push from the very first page. So tense, so all-encompassing! It's a jet-black story of motherhood, inheritance and expectations, and I loved it

Abigail Dean, author of <i>Girl A</i>
The Push is not a book you'll be able to forget easily . . . an unputdownable story that will be the book everyone is talking about in 2021

Grazia
Visceral, compulsive and astonishing. I could not put this down

Raynor Winn, bestselling author of <i>The Salt Path</i>
'Best books to look forward to in 2021'

Cosmopolitan
The chilling novel that caused a bidding frenzy more than lives up to the hype

Red Online
This chilling tale barrels along towards a dark, thought-provoking ending

Good Housekeeping
Ashley dares us to find the relatable in the worst we can imagine . . . the knife-edge between relatability and horror keeps the reader hooked

Grazia
This psychological family drama will be your next one-sit read . . . you won't want to miss it

Silversurfers
A creepy, nuanced story that, with a growing sense of dread, subverts the ideals of motherhood so often presented as inviolable

Publishers Association
Buckle up for a riveting read . . . will have you alternately whizzing through the pages to see what happens next, and reading slowly with widened eyes

Prima, 'My Book of the Month'
A gripping debut that explores and manipulates the fears and insecurities of mothers everywhere . . . Well thought out, vividly realised and gripping

Guardian
[An] exploration of love, obsession and the dark truths of motherhood

Cosmopolitan, Best Books 2021
An inventive twist on the psychological thriller formula . . . Audrain sustains the suspense expertly through assured handling of her unravelling protagonist's voice

Sunday Times
Reminiscent of We Need to Talk About Kevin, Ashley Audrain has delivered a provocative, compulsive novel about modern motherhood

Vogue UK
Included in 'Books for 2021'

Sun
A terrifying, psychological suspense tale of motherhood and nature versus nurture

Sunday Mirror
Written with an unflinching eye and a stylistically sharp, tight economy The Push is a single-sitting read, as suspenseful as any thriller, as thoughtful as any literary novel, with an almost physical force behind each of its turns and revelations. By the end, the reader will feel wrung out in the way only the best of books leaves you. Audrain's debut is a stunning, devastating novel and, frankly, one hell of a way to start a year of reading

Toronto Star
A provocative, compulsive novel about modern motherhood

Vogue
Powerful and immersive

Emma Stonex, author of <i>The Lamplighters</i>
Suspenseful, dark and intriguing . . . It's going to be a big discussion point in 2021

Stylist, Book to Watch 2021
A bold exploration of motherhood, as well as a suspenseful thriller, this will have you in its grips from the very first page - and will stay with you long after you've put it down. Do not miss

Heat, 'Book of the Week'
Included in 'Books to Watch 2021'

Evening Standard
Audrain nimbly stokes the mystery as to whether nature or nurture is at play in Violet's increasingly hostile disposition. Executed with gripping precision

New York Times
Hooks you from the very first page and will have you racing to get to the end

Book Club Selection, Good Morning America
The tense, gripping novel - which, after a nine-way bidding war, has already been optioned for film by the producer of ugly-cry-inducing Marriage Story - will stay with you long after you finish the last page

Refinery29
A haunting tale about the expectations and reality of motherhood. Stunning . . . You end up staying up all night to finish The Push

E! Online
The Push is a vivid and complex spiral of questioning your grasp on reality, of uttering unspeakable thoughts, when the world tells you it's all in your head. Book blurbs often say they'll be devoured in one sitting - it's rare it proves so true

The Skinny
Staggering - it is an intoxicating rush of a book that grips you tight from the first few pages and will not let you go

Cambridge Edition
Included in 'Best New Books'

New York Post
This is a sterling addition to the burgeoning canon of bad seed suspense, from an arrestingly original new voice

Publishers Weekly
This taut and tense hurricane of a debut is best devoured in one sitting

Newsweek
This dazzling debut mixes page-turning suspense with a psychological drama

Working Motheer
Once you start in on this story, it becomes difficult to control yourself. A twisted, tight, and exhilarating drama

Goop
This psychological thriller about a mother's bond with her daughter will keep you turning pages

Woman's Day
This nuanced book challenges the notion of nature versus nurture, and whether a mother's love is enough. It's disturbing, painful and brilliant, holding a mirror up to society

Woman's Weekly
A tense, chilling dip into the dark side of motherhood . . . The Push is uncomfortable and provocative, like a train wreck that demands your gaze

Washington Post
Utterly mesmerising. Ashley Audrain's powerful debut novel explores the challenges of motherhood and the terrifying isolation of being trapped within a sinister truth that no-one else believes.

Fiona Valpy, bestselling author of <i>The Beekeeper's Promise</i>
I read it in two nights . . . it's giving us The Girl On The Train, it's giving us We Need to Talk About Kevin, it's going to be one of the books of the year . . . it has absolutely blown me away . . . it will spark conversation and divide people . . . I can't stop thinking and talking about it

Candice Brathwaite, BBC Radio 2
You're drawn into this world . . . it is a difficult read but no wonder it's a cause celebre in the publishing world, trust me everyone wants this book . . . a publishing sensation

Nihal Arthanayake, BBC Radio 5 Live
The most tense, thrilling read that will chill and enthral in equal measure

Sun
Disturbingly brilliant . . . will render you speechless

Woman & Home 'Book of the Month'
A page-turning debut crafted with shrewd expertise - read it before the inevitable screen adaptation

Metro
The mother of all thrillers! Like The Girl on the Train - but better!

Daily Mail
Unflinching, moving and very, very powerful

Grazia
The clever and powerful psychological thriller everyone has been talking about . . . an unsettling, breathtaking and powerful read about obsession and our deepest fears that will stay with you long after you turn the final page

My Weekly
Audrain has the ability to mesmerise . . . heart-wrenching. A dark, pacy read

My Weekly
A chilling and beautifully written novel that will strike dread into the heart of any new parent. The ending gave me goosebumps

Mark Edwards, bestselling author of <i>Here To Stay</i>
A thought-provoking novel that delves deep into the emotional crevices of motherhood

Courier
Taut and gripping, this is a provocative look at motherhood

Psychologies
This has all the hallmarks of a best seller . . . Riveting . . . An intelligent, painstaking and thought-provoking account of parenting that will move anyone

Daily Mail
Compelling . . . A disturbing and complex tale about dysfunctional mother-daughter relationships. It's not always an easy read but it's absolutely one you won't be able to put down

Culturefly
A compelling, compulsively readable thriller that never lets up and will keep you guessing right to the very last page

Daily Express
The Push is an unsettling and powerful read about obsession and our deepest fears that will stay with you long after you turn the final page

Eastern Daily Press
One of the most anticipated novels of this year . . . fast-paced, it has the ability to distract you from anything. Exactly what we need right now

Grazia
The Push is a thriller that is also a compelling examination of motherhood and of how trauma is passed down through generations

Herald
A gripping and vivid thriller . . . It's easy to understand why The Push has caught the attention of Hollywood film producers

Business Post
Exploring the dysfunctional lives of three generations of women, The Push deals with the way damage is handed down

Literary Review
Compelling

The Herald
Remarkably told story which I couldn't put down. Deftly drawn characters...What a book! And the last line is creepy, haunting perfection

Christina Sweeney Baird, author of <i>The End of Men</i>
The danger that simmers throughout is so unbearably tense! A wonderful incisive look at maternal guilt ... the effect is staggering

Imran Mahmood
A powerful debut about obsession and our deepest fears . . . will have you hooked

Living North
I was gripped from the first word to the last. I've been wanting a book to take me back to how I felt when I first read We Need to Talk About Kevin. When you close the book but can't function until you know how it ends ... I really recommend this one

Dawn O'Porter
Fasten your seatbelt because this book is a face paced, page turning, psychological drama that will have you on the edge of your seat until the very last line

The Avondhu
Challenges the idyllic picture of motherhood, and will change what you know about being a mother. It is tenacious and really makes you think about what it's like when women aren't taken seriously

Female First
The mother of all thrillers! Like The Girl on the Train - but better!

Daily Mail
A compelling, visceral and bruising portrayal of motherhood that once read cannot ever be forgotten

Woman & Home
This dark, psychological thriller offers such twists and turns that we start to doubt what we believe . . . And that sharp-intake-of-breath ending!

Manx Independent
Utterly addictive

Paula Hawkins
I didn't sleep for a week after I finished it, but that's a small price to pay for a great book

Lauren Weisberger, author of <i>The Devil Wears Prada</i>
An unflinching examination of motherhood. Audrain lets no one in the Connor family off the hook, yet every character managed to elicit my sympathy. Brilliant, insightful, compassionate, and horrifying. I wish I could read it for the first time over and over. One of the best books I've read all year

Stephanie Wrobel
One of the most talked-about books of the year. This nuanced psychological book will make you question the notion of nature vs nurture. Disturbing, painful and brilliant

Woman & Home
This unsettling debut was so riveting it had me devouring pages and then reading slowly with widened eyes

Prima
For fans of mum noir, The Push is an unsettling, breathtaking and powerful read about obsession and our deepest fears that will stay with you long after you turn the final page

Eastern Daily Press
Addictively readable . . . shines a disturbing light into the darkest recesses of motherhood

Daily Mail, Must Read Paperbacks
Compulsively readable

Daily Express
An unsettling, breathtaking and powerful read about obsession and our deepest fears that will stay with you long after you turn the final page.

Eastern Daily Press
A raw and visceral exploration of a mother-daughter relationship; a haunting and heartbreaking novel that will leave you thinking about it for days after you finish the last page

Female First