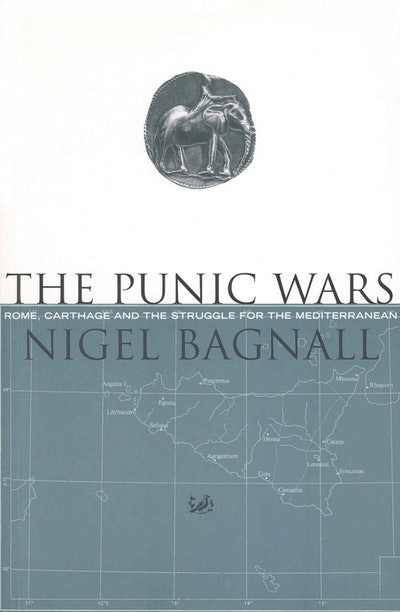 Published:

1 September 2010

ISBN:

9781409022534

Imprint:

Vintage Digital

Format:

EBook

Pages:

368
The Punic Wars
Rome, Carthage and the Struggle for the Mediterranean
---
---
---
A vivid and fascinating study of the conflict between Rome and Cathage which changed the course of world history.
The Punic Wars (264-146BC) sprang from a mighty power struggle between two ancient civilisations - the trading empire of Carthage and the military confedoration of Rome. It was a period of astonishing human misfortune, lasting over a period of 118 years and resulting in the radical depletion of Rome's population and resources and the complete annihilation of Carthage.
All this took place more than 2,000 years ago, yet, as Nigel Bagnall's comprehensive history demonstrates, the ancient conflict is remarkable for its contemporary revelance.
Published:

1 September 2010

ISBN:

9781409022534

Imprint:

Vintage Digital

Format:

EBook

Pages:

368
Praise for The Punic Wars
Hannibal and his elephants and, perhaps, Flaubert's Salammbô in all its cruel, vivid colours form the sum of most people's knowledge of those ancient wars that set Rome on its path to imperial domination...Now here is a British Field-Marshal concentrating his skilss on the Punic Wars...By choosing to write about wars as distant from modern technology as it is possible to be he avoids clutter and can concentrate on the essentials of any study of warfare - strategy and tactics. His book is to be commended...It is a fine piece of military and political history...a clear and convincing account of what happened, devoid of any high-flown romanticism...He constructs his analysis in such a way as to demonstrate that what happened...might just happen again.

Economist
A serious and well-informed book on the wars between Rome and Carthage...it is, however, not simply a piece of disinterested research but a tale with a moral for current politics...On the interplay of strategic and operational decisions, on the risks of politics in time of war, on the importance of morale: this book gives much food for reflection.

Spectator