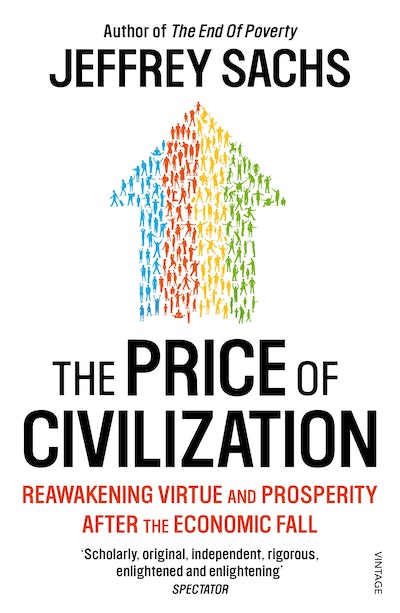 Published:

3 October 2011

ISBN:

9781407092553

Imprint:

Vintage Digital

Format:

EBook

Pages:

336
The Price of Civilization
Economics and Ethics After the Fall
---
---
---
Our planet is crowded. Our natural resources are scarce. In The Value of Everything, leading economist Jeffrey Sachs brilliantly sets out his plan for how we can make a difference and bring about positive change for a sustainable future.
* We have less time for the needed global transformation than many had hoped or expected. Resource scarcity is already upon us in the form of soaring oil and food prices and a cascade of climate shocks. The soaring prices are not merely cyclical or the result of financial speculation - these remarkable price hikes, considered together with the climate shocks that helped to cause them, are actually the leading edge of the ecological crises that will sink us unless we act more rapidly and decisively. It's high time - indeed in the nick of time - for us to identify what each region of the world must do to stay afloat and to prosper, while also contributing to the global solutions to climate change, food scarcity, and bulging populations.
* We need a new set of economic rules to analyse these issues - and we need it fast. Mainstream economics focuses on monetary and fiscal policies, trade flows, and the business environment, but these standard concerns merely scratch the surface. The new economics should be based on a holistic assessment of the economy, one which incorporates energy resources, climate change, infrastructure, population, urbanisation, migration, water and geopolitics into a dynamic framework - a tool that allows us to understand the different stresses faced by each region.
* The Value of Everything serves as a guide to action - one that goes beyond the remit of traditional economic frameworks and helps us to understand how each part of the world can best ensure its own prosperity and contribute to global sustainability.
Published:

3 October 2011

ISBN:

9781407092553

Imprint:

Vintage Digital

Format:

EBook

Pages:

336
Praise for The Price of Civilization
This is the latest in a spate of books provoked by the world economic crisis and one of the best.

Robert Skidelsky, Guardian
The economic critique stands on its own merits

Oliver Kamm, Times
The Price of Civilization has the air of the world traveller who returns home to find his country a much worse place than he remembered... [T]his is such an important book.

Martin Sandbu, Financial Times Weekend
This intelligently argued description of the ills of American society and the positive plan of what can be done to improve matters makes salutary reading.

The Resident