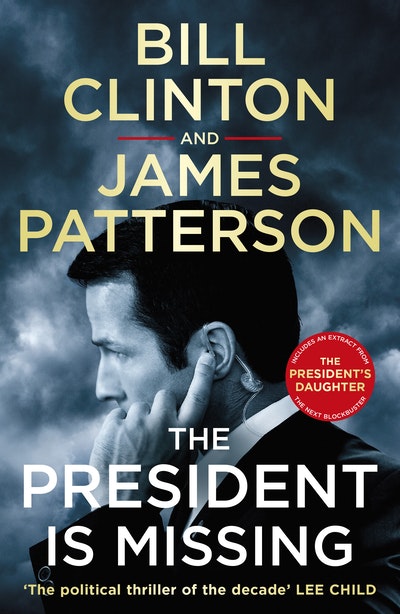 Published:

21 May 2019

ISBN:

9781787460171

Imprint:

Arrow

Format:

Paperback

Pages:

544

RRP:

$19.99
The President is Missing
The political thriller of the decade
---
---
---
**US TV deal announced**The thriller only a President could write.
SOON TO BE A MAJOR TV SERIES STARRING DAVID OYELOWO'The dream team delivers big time . Clinton's insider secrets and Patterson's storytelling genius make this the political thriller of the decade.' - Lee Child________________________________The President is missing.As an unprecedented cyberterrorist attack cripples the United States, the President must face an unthinkable truth:
There is a traitor in his Cabinet. His life is in danger.
And the only way to stay ahead of the shadowy forces tearing at the heart of America is to go off the grid, leaving behind his presidential protection. The President must go missing - and he may never resurface.
Set over the course of three days that shake a nation to its core, The President is Missing sheds a stunning light upon the inner workings and vulnerabilities of the American government. Filled with information that only a former President could know, this is the most authentic, terrifying thriller in years._____________________________
Includes an extract from the next blockbuster, The President's Daughter.This book was recently reissued with a new cover and bonus extract, so stock may vary.________________________________
'A bullet train of a thriller. The Day of the Jackal for the twenty-first century.' - A.J. Finn, author of The Woman in the Window'This book moves like Air Force One. Big and fast.' - Michael Connelly, author of the Harry Bosch series
'The President Is Missing is a big, splashy juggernaut of a novel, combining thrills with a truly authentic look at the inner happenings in Washington. I read it in one gulp. You will too.' - Harlan Coben, #1 bestselling author of Don't Let Go
'Yes, The President is Missing is fiction - it's a thriller - but James Patterson and I have come up with three of the most frightening days in the history of the presidency. And it could really happen... These days, the seemingly impossible can happen. And it happens so fast. I believe that readers will not soon forget President Jonathan Duncan and his story.' - Bill Clinton
'Needless to say, we had some great conversations about the presidency, what life in Washington is really like, and about the state of America and the rest of the world.' - James Patterson'I felt like I was right along with the characters for the shocking twists and turns you'll never guess are coming. Patterson and Clinton have created a truly unique character in their 'missing' President. The President is Missing puts the listener inside the White House and inside the mind of a President grappling with extraordinary circumstances.' - Dennis Quaid on the audiobook of The President is Missing
'Relentless in its plotting and honest in its examination of issues that strike close to our hearts.' - Jeffery Deaver'A first-rate collaboration from a couple of real pros! Engrossing from page one.' - David Baldacci'The President is Missing is more than a thriller - it's a skeleton key that lets you inside the head of a U.S. president.' - Brad Meltzer, author of The Escape Artist'From the pens of two American icons comes a political thriller that rocks... a helluva story.' - Nelson DeMille, author of The Cuban Affair'The President Is Missing is heart-pounding, gripping, terrifying... a genuinely masterful thriller. My knuckles are still white!' - Louise Penny, #1 bestselling author of Glass Houses
'Marry the political savvy of Bill Clinton with the craftsmanship of James Patterson and you get a fabulously entertaining thriller that is meticulous in its portrayal of Washington politics, gripping in its pacing, and harrowing in its depiction of the perils of cyberwarfare.' - Ron Chernow, #1 bestselling and Pulitzer Prize-winning author of Alexander Hamilton and Grant
Published:

21 May 2019

ISBN:

9781787460171

Imprint:

Arrow

Format:

Paperback

Pages:

544

RRP:

$19.99
Praise for The President is Missing
The dream team delivers big time … Clinton's insider secrets and Patterson's storytelling genius make this the political thriller of the decade.

Lee Child
The President Is Missing is a big, splashy juggernaut of a novel, combining thrills with a truly authentic look at the inner happenings in Washington. I read it in one gulp. You will too.

Harlan Coben, #1 bestselling author of DON'T LET GO
The book's biggest selling point is the guarantee of political authenticity… the kite-mark of unmatchable psychological veracity… The eventual revelation of the villain, which is satisfying and surprising, really does feel like the outcome of a conversation between one writer with an unusual skill at thriller plotting and another with an exceptional grasp of global politics. The literary running mates have earned a second term.

The Guardian
An entertaining romp… thoroughly enjoyable… it works. It is a quick, slick, gripping read

The Times
Page-turning… In a plot crammed with twists, readers are granted thriller writing that delivers… Nobody will walk away from The President Is Missing feeling disappointed if they are looking for a vigorous, fast-moving thriller that takes the reader into the corridors of power

Barry Forshaw, i newspaper
A brilliant, tricksy first chapter… unmistakably shows that their partnership works… The President Is Missing enthrallingly interweaves a cyber-thriller, a Homeland-style battle against jihadi terrorism and a find-the-mole hunt à la Tinker Tailor Soldier Spy – and it has aspects of a Cold War geopolitical thriller, too… To paraphrase Katherine Hepburn on Fred Astaire and Ginger Rogers, Bill gives James class and James gives Bill sexed-up plotting

Sunday Times
The plotting is immaculate… the writing is taut

Josh Glancy, Sunday Times
Marry the political savvy of Bill Clinton with the craftsmanship of James Patterson and you get a fabulously entertaining thriller that is meticulous in its portrayal of Washington politics, gripping in its pacing, and harrowing in its depiction of the perils of cyberwarfare. This dark tale is, at bottom, a warning and a prophecy about the mortal threats to our democracy posed by terrorists abroad, homegrown extremism, and the technological miracles that have rendered us both powerful and defenceless at once.

Ron Chernow, #1 bestselling and Pulitzer Prize-winning author of ALEXANDER HAMILTON and GRANT
A high-octane collaboration... the addictive qualities are undeniable

Daily Telegraph
A bullet train of a thriller. The Day of the Jackal for the twenty-first century.

A.J. Finn, author of THE WOMAN IN THE WINDOW
A first-rate collaboration from a couple of real pros! Engrossing from page one.

David Baldacci
Relentless in its plotting and honest in its examination of issues that strike close to our hearts.

Jeffery Deaver
A showstopper… if you like thrillers and you like American politics, you're going to love this book... You feel the authenticity of the two writers writing hand in glove... It's a cracker

Ryan Tubridy, RTE
Fast-paced and well-engineered… Clinton's input is well deployed on the White House insider scenes, and… Patterson can tell a story

Financial Times
The political thriller of the year

The Sun
A high-tension thriller ... Bill Clinton's insider perspective and James Patterson's pacy plotting combine to irresistibly page-turning effect.'

Jane Shilling, Daily Mail
Patterson [is the] master of the gripping page-turner, terse writing and masterly plotting ... Patterson's brilliance makes it very exciting … the book scores high on the authenticity scale

Judy Finnigan, Daily Express
The President Is Missing is heart-pounding, gripping, terrifying. As I read, ferociously turning the pages, I kept asking myself, "Could this really happen?" Bill Clinton's insight into the pressures of being president and life in the White House coupled with James Patterson's chops as an action writer have combined to give us a genuinely masterful thriller. My knuckles are still white!

Louise Penny, #1 bestselling author of GLASS HOUSES
The President is Missing is more than a thriller – it's a skeleton key that lets you inside the head of a U.S. president.

Brad Meltzer, author of THE ESCAPE ARTIST
vivid, engrossing – and authentically frightening.

Carl Hiaasen, author of RAZOR GIRL
From the pens of two American icons comes a political thriller that rocks... a helluva story.

Nelson DeMille, author of THE CUBAN AFFAIR
A writing team like no other

Rebecca Jones, BBC Breakfast
Hotly anticipated

Radio Times
The publishing event of the year… a White House thriller of unique insight

World of Cruising magazine
Good twists

Guardian
A brilliant read

Ross King, ITV
Difficult to put down

Daily Express
The book is action all the way, and feels incredibly true to life

Sun
Twisty plotting

Economist
Could I put The President Is Missing down? Of course not, except when I absolutely had to

Yahoo! Finance
Intriguing… you'll whip through it on the beach, that's for sure

Press Association
Enough pacy action and fun to keep those pages turning

Sunday Mirror
Fast-paced, frenetic action and fun

Sunday People
What gives the book the edge is Clinton's input. Small throwaway touches… make the whole thing feel authentic

The Pool
Patterson can tell a story

Adam LeBor
James… is a tireless champion of the power of books

Natasha Harding, The Sun
Patterson knows how to make a story go so fast…

Jake Kerridge, Daily Express
[A] ripping yarn… Co-author James Patterson is one of the biggest-selling writers of all time so unsurprisingly the unfolding and convergence of [President] Duncan and [assassin] Bach's plotlines is achieved with consummate skill

Jake Kerridge, Sunday Express
[It] will keep you hooked until the last page

Bella
We really enjoyed this brilliant political thriller

Closer
The perfect book for the beach.

Daily Mail
The most authentic, gripping presidential thriller ever.

Essence
The perfect book for the beach: a big, fast-paced, twisty engrossing thriller packed with spectacular detail of what it is really like to be President of the United States.

Daily Mail Ireland
Fast-paced is too inadequate a description for this dark, suspense-filled tale.

Guardian
Both a first-rate thriller and fascinating insight into the goings on within the White House.

Trucker magazine
A page-turner from start to finish

The People's Friend
Insightful and gripping

Good Living (ASDA)
A top-notch thriller.

Sun
A top-notch thriller.

Sun
Video
The President is Missing
The countdown to 4 June, the publication day of THE PRESIDENT IS MISSING, is now on! President Bill Clinton has partnered with James Patterson for a powerful, one-of-a-kind thriller filled with the kind of insider details that only a President can know! Learn more - https://www.penguin.com.au/books/the-president-is-missing-9781780898407
Video