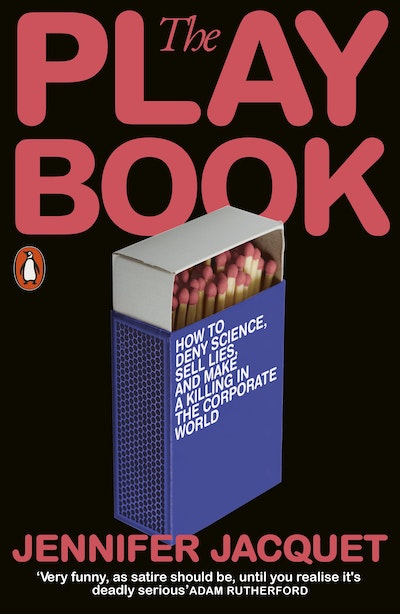 Published:

10 October 2023

ISBN:

9780141982342

Imprint:

Penguin Press

Format:

Paperback

Pages:

240

RRP:

$24.99
The Playbook
How to Deny Science, Sell Lies, and Make a Killing in the Corporate World
---
---
---
A biting satire of corporate power and disinformation: how it works, how it harms us and what we can do about it
Knowledge is power. Which is why the rich and powerful don't want you to have it.
The Playbook is an exposé of the extraordinary lengths that corporations will go to in order to deny the scientific facts - whether on climate change, public health risks, worker safety, or anything else - when they don't suit their agenda.
Written in the form of a corporate handbook for tobacco, oil and pharmaceutical company executives, it outlines obfuscation techniques, denial, delays and outright lies, including: how to recruit an academic 'expert' who is willing to compromise their integrity (or is wants to raise some cash), how to massage the statistics, how to use legal and even physical intimidation against reporters and activists, and how, just as in a casino, to keep the customers comfortable, unquestioning, unthinking and playing along for as long as possible.
Part satire, part social history, part guide to resistance, The Playbook is a charge sheet against the powerful. It shows us how, by understanding the methods and motives of disinformation, it may be possible to outwit them.
Published:

10 October 2023

ISBN:

9780141982342

Imprint:

Penguin Press

Format:

Paperback

Pages:

240

RRP:

$24.99
This brilliantly subversive and witty book lays bare the techniques of manipulation and disinformation that keep the rich and powerful rich and powerful. It's a handbook to show you all their tricks - with working examples. If you want to be a vile, greedy capitalist, this how-to book will be a great help. And if you want to identify vile greedy capitalists it will show you how to recognise them. It's a landmark book

Brian Eno
A training manual and fake guidebook for companies. . . very funny, as satire should be, until you realise it's deadly serious

Adam Rutherford, BBC Radio 4 Start the Week
Jacquet has found a brilliantly effective way of revealing just how extensive and systematic corporate strategies of doubt and denial are - by creating a Machiavellian secret guide for executives worried about what the latest science might mean for their business. Far more entertaining, but also far more disturbing than a more sober historical account or polemic would be

The Observer
If you feel exhausted from constantly taking the high road, The Playbook offers an enticing alternative . . . with Jacquet's dry humor suffusing each chapter, the book's tongue-in-cheek format is a chilling realization that the villains in The Playbook are extraordinarily banal. The tactics that enable their misconduct have been recycled across decades

Scientific American
This whip-smart and delightfully snarky exposé gives readers the tools to recognize and refute corporate deception . . . Fashioned as a strategy manual, Jacquet's satirical advice explains . . . how to challenge the existence of a problem, the integrity of those who raise it, and the need for policies to address it

Publishers Weekly
A savage satirical stab at corporate malfeasance draws blood. . . Jacquet takes an original approach to indicting the ethical vacuum that besets much of big business. . . A sharp warning to corporations that deep pockets and armies of accomplices won't stall a reckoning forever

Kirkus Reviews