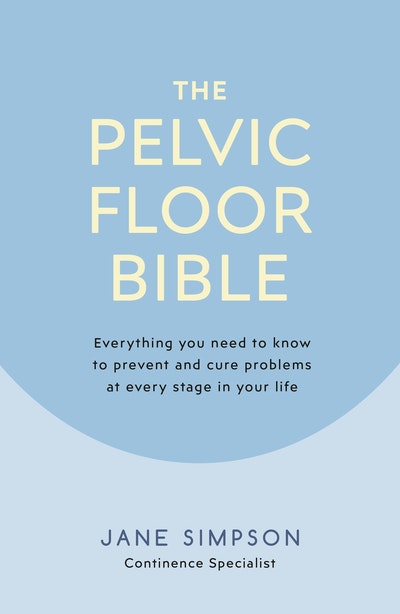 Published:

25 June 2019

ISBN:

9780241386538

Imprint:

Penguin Life

Format:

Paperback

Pages:

192

RRP:

$22.99
The Pelvic Floor Bible
Everything You Need to Know to Prevent and Cure Problems at Every Stage in Your Life
---
---
---
The only book that tells you everything you need to know about your pelvic floor at every stage in your life
Have you ever laughed so much you wet yourself - just a little bit? Or found yourself crossing your legs on the doorstep frantically searching for your keys? Do you get up at night to go to the toilet more than once?
An estimated 200 million people around the world suffer from some form of urinary incontinence. It's an embarrassing problem that affects women disproportionately as a result of pregnancy and childbirth.
In The Pelvic Floor Bible, Jane Simpson argues that it's time for us all to feel the squeeze and celebrate the wonder of our pelvic floor muscles. She shows you how to incorporate pelvic floor exercises as part of your daily routine in order to prevent issues in later life and cure existing problems now. Learn how to treat common problems such as stress incontinence, overactive bladder and prolapse, get back into shape post-pregnancy and enjoy a healthy sex life at every stage of your life.
Incontinence is both preventable and curable through pelvic floor exercises and rehabilitation but too many people assume nothing can be done, follow incorrect advice or are ashamed to seek help. We need to end the taboo now.
Published:

25 June 2019

ISBN:

9780241386538

Imprint:

Penguin Life

Format:

Paperback

Pages:

192

RRP:

$22.99
Praise for The Pelvic Floor Bible
I loved reading this guide and found all the tips super informative and helpful after the birth of my second child

Anniki Sommerville, The Selfish Mother
Jane's book is something that is very much needed - a book that addresses a topic we try to brush under the carpet, but one that is necessary to get out there and have information on. She is without doubt the perfect person for the job on this - as she has the right manner, attitude and help to make this subject less taboo.

Emma Forbes, Radio and TV Presenter
Wonderful that the spotlight is being shone on and taboos broken about this common condition which so many women endure in silence - too ashamed to even talk about it. Now is the time for all of us to speak out about the reality of what it means to be female.

Jennifer Nadel, Co-author of WE: The Uplifting Manual for Women Seeking Happiness and the co-founder of Compassion in Politics
Straightforward, no-nonsense guidance on one of the most vital (and often ignored) women's health and wellbeing issues. A must-read!

Rebecca Schiller, CEO of Birthrights, the human rights in childbirth charity and author of The No-Guilt Pregnancy Plan
Every woman should have access to this information. It's just not enough to just tell women to 'do pelvic floor exercises.' We need to really understand how important our pelvic floor is, how it can change throughout our lives and what we can do to take care for it. Finally, a book on the pelvic floor I can read and make sense of

Sophie Fletcher, leading UK hypnotherapist and author of Mindful Hypnobirthing
If ever there was a muscle that women neglect to exercise, it's the pelvic floor, but this confronting book will have you squeezing with every sentence

Red Magazine
The more I talk to Simpson, the more I am radicalised. This is about valuing yourself, deep down, or on the inside, in the most practical way

Helen Rumbelow, Times T2
A fabulous and useful book for anyone, having tips and tricks useful to both men and women...share it with your friends, colleagues and partners. It is a wonderful self management book for us all.

Nursing Times