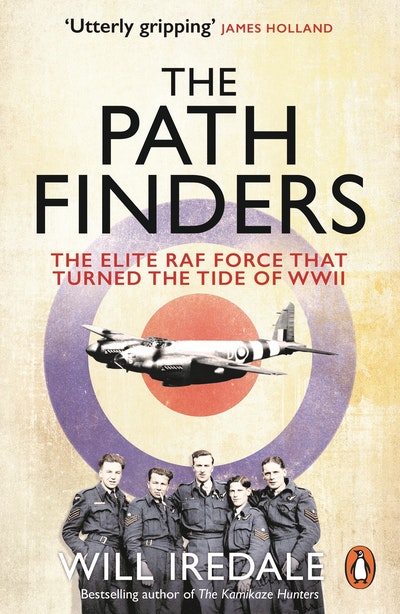 Published:

29 November 2022

ISBN:

9780753557822

Imprint:

WH Allen

Format:

Paperback

Pages:

464

RRP:

$24.99
The Pathfinders
The Elite RAF Force that Turned the Tide of WWII
---
---
---
The untold story of the elite force that spearheaded almost every British bombing raid over Nazi Germany by the Sunday Times bestselling author of The Kamikaze Hunters. Perfect for fans off John Nichol's Spitfire, Patrick Bishop's Fighter Boys and Dambusters
THE SUNDAY TIMES BESTSELLER!
Military History Matters Book of the Year Bronze Award Winner
'Compelling... sensitive, colourful and moving' -- Saul David, Telegraph
'Fascinating and utterly gripping' -- James Holland
'Absorbing' -- Daily Mail Book of the Week
The incredible story of the crack team of men and women who transformed RAF Bomber Command and helped the Allies deliver decisive victory over Nazi Germany.
The Pathfinders were ordinary men and women from a range of nations who revolutionised the efficiency of the Allies' air campaign over mainland Europe. They elevated Bomber Command - initially the only part of the Allied war effort capable of attacking the heart of Nazi Germany - from an impotent force on the cusp of disintegration in 1942 to one capable of razing whole German cities to the ground in a single night, striking with devastating accuracy, inspiring fear and loathing in Hitler's senior command.
With exclusive interviews with remaining survivors, personal diaries, previously classified records and never-before seen photographs, The Pathfinders brings to life the characters of the airmen and women - many barely out of their teens - who took to the skies in legendary British aircraft such as the Lancaster and the Mosquito, facing almost unimaginable levels of violence from enemy fighter planes to strike at the heart of the Nazi war machine.
Published:

29 November 2022

ISBN:

9780753557822

Imprint:

WH Allen

Format:

Paperback

Pages:

464

RRP:

$24.99
Praise for The Pathfinders
Painstakingly researched and brilliantly told: Will Iredale has really captured the essence of the RAF's elite pathfinder force

Keith Lowe, bestselling author of SAVAGE CONTINENT
Painstakingly researched and brilliantly told: Will Iredale has really captured the essence of the RAF's elite pathfinder force

Keith Lowe, bestselling author of SAVAGE CONTINENT
Painstakingly researched and brilliantly told: Will Iredale has really captured the essence of the RAF's elite pathfinder force

Keith Lowe, bestselling author of SAVAGE CONTINENT
A highly-readable account of raw courage and technical innovation, brought to life by a master historian

Paul Beaver, historian and heritage pilot
A highly-readable account of raw courage and technical innovation, brought to life by a master historian

Paul Beaver, historian and heritage pilot
A highly-readable account of raw courage and technical innovation, brought to life by a master historian

Paul Beaver, historian and heritage pilot
Another excellent book by Will Iredale, delving into the story of Bomber Command's Pathfinder Squadrons with drama and pace. The human stories, and the incredible advancements in aerial warfare, leap from the page from start to finish

John Nichol, author of TORNADO - In the Eye of the Storm
Another excellent book by Will Iredale, delving into the story of Bomber Command's Pathfinder Squadrons with drama and pace. The human stories, and the incredible advancements in aerial warfare, leap from the page from start to finish

John Nichol, author of TORNADO - In the Eye of the Storm
Another excellent book by Will Iredale, delving into the story of Bomber Command's Pathfinder Squadrons with drama and pace. The human stories, and the incredible advancements in aerial warfare, leap from the page from start to finish

John Nichol, author of TORNADO - In the Eye of the Storm
Fascinating and utterly gripping ... Will Iredale's painstaking research is impeccable, as is his storytelling. This stunning book is scored with unforgettable characters, reminding us this is a human story of resourcefulness, ingenuity, and above all, extraordinary courage

James Holland
Fascinating and utterly gripping ... Will Iredale's painstaking research is impeccable, as is his storytelling. This stunning book is scored with unforgettable characters, reminding us this is a human story of resourcefulness, ingenuity, and above all, extraordinary courage

James Holland
Fascinating and utterly gripping ... Will Iredale's painstaking research is impeccable, as is his storytelling. This stunning book is scored with unforgettable characters, reminding us this is a human story of resourcefulness, ingenuity, and above all, extraordinary courage

James Holland
A sensitive, colourful and moving account... Compelling

Saul David, Telegraph *****
A sensitive, colourful and moving account... Compelling

Saul David, Telegraph *****
A sensitive, colourful and moving account... Compelling

Saul David, Telegraph *****
A superb book full of evocative stories

Britain at War magazine
A superb book full of evocative stories

Britain at War magazine
A superb book full of evocative stories

Britain at War magazine
They were the bravest of the brave... [an] absorbing history

Daily Mail (Book of the Week)
They were the bravest of the brave... [an] absorbing history

Daily Mail (Book of the Week)
They were the bravest of the brave... [an] absorbing history

Daily Mail (Book of the Week)
Book of the Year Bronze Award Winner

Military History Matters
Book of the Year Bronze Award Winner

Military History Matters
Book of the Year Bronze Award Winner

Military History Matters
Mesmeric ... their contribution to Britain's victory was vital ... skillfully interweaves details of the brave pilots' lives with a weighty account of British military strategy

Observer
Mesmeric ... their contribution to Britain's victory was vital ... skillfully interweaves details of the brave pilots' lives with a weighty account of British military strategy

Observer
Mesmeric ... their contribution to Britain's victory was vital ... skillfully interweaves details of the brave pilots' lives with a weighty account of British military strategy

Observer